By Rob Patrick
Photos by Rick Nation
"In 30 years, he's one of the five best quarterbacks I've seen," declared Bryant defensive coordinator Steve Griffith. "He's a heck of a football play and you have to admire that. But what we've got to do is take the lesson he gave us tonight and see if we can get better."
Hornets head coach Paul Calley said he was having a hard time thinking of anyone he'd seen that was better.
The Bryant coaches were talking about Fort Smith Northside quarterback Tanner Knight who ran and passed his team to a 36-21 win over the Hornets on Friday night. A week after throwing for over 500 yards in a loss to Pine Bluff, Knight was "held" to 329 yards passing but added 134 rushing to account for all but 100 yards of the Grizzlies' 563 yards of total offense.[more]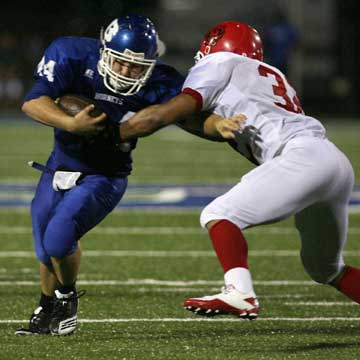 Northside head coach Darrell Henry had said that his team's mistakes were all that kept them from scoring right along with Pine Bluff in that with 51-35 game the opening weekend. This time, it was the Hornets' miscues that kept them from keeping up.
"We knew we weren't going to have an opportunity to overcome mistakes because they're so efficient on offense," Calley said. "We wanted to take time off the clock. We wanted to call plays at the line of scrimmage to get ourselves in the best possible play. We did that and we made plays but then again, we turned the ball over twice, we dropped passes, we had penalties at crucial times. They put the ball on the ground (four times). We didn't get it. They got it every time but once. We couldn't afford to make those mistakes."
Yes, the Hornets had their chances to keep up but they couldn't overcome a Northside drive for a field goal to end the first half and a drive for a touchdown on the opening possession of the second which, incredibly, accounted for the only points scored after halftime. The Grizzlies led 29-21 at the intermission on four Knight TD passes and the field goal.
"As we told the kids after the game, we put them on the schedule for a reason," stated Griffith. "The reason is for us to get better. Now, we planned on getting better and still winning but we're still going to be better as the year progresses because we played these guys.
"We're not going to see anybody that can throw the ball as well as (Knight) has and he did tonight," he continued. "So, we've had that experience and it should make us better down the line as we play some the spread teams we'll see as we go into conference. It's ultimately our goal to win a conference championship, advance to the state playoffs and win a state championship. All of those goals are in place. What we've got to do is keep our head up, come back Monday and get to work to see if we can improve and eliminate a few of the mistakes.
"A couple of their big plays came off mistakes where we didn't get a check made up at the front we should have," Griffith explained. "We had a coverage breakdown. Those things are ultimately correctible. I think we'll see that we took some bad angles. We didn't quite execute the way we're supposed to and we've got to get better tackling."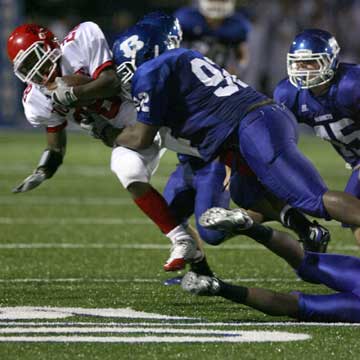 The Hornets had two deep passes dropped that looked like scoring plays, had another pass picked off in the end zone and were prevented from catching a long toss because the Northside defender, who was beat on the play, decided it was better to be called for pass interference than give up the 6. He shoved the Bryant receiver down resulting in the 15-yard mark off.
"They played us a little different than they did Pine Bluff," Calley said of the Grizzlies approach on defense. "Against Pine Bluff, they put a lot of people in the box, played them close to the line of scrimmage in a two tight-end look. Against us, they spread out more because, against Pine Bluff, they gave up so many runs. They gave up long runs because they were all stacked in the box and when somebody popped out, there was nobody there to tackle them.
"Tonight, they played a little softer and they weren't as aggressive," he explained. "They were aggressive a couple of times and we knew they were going to be aggressive in those situations but we still had some young guys in there that don't understand, you've got to be focused every play, you've got to have your eyes up and know what's going on. They took advantage of us a couple of times."
Bryant got on the board first. The Hornets gained their second possession after the defense had stopped a fourth-down pass with corner Dillon Winfrey coming up to keep Northside's Shaquille Jones from collecting the pass.
Fullback Dylan Pritchett, on his first carry of the season, slashed 11 yards. Tailback Stephen Clark followed with a 22-yard jaunt. A play later, a defensive holding penalty kept the Hornets from hitting a big pass as Davidson tried to get it to Sawyer Nichols on a post route.
An additional penalty for jumping offside had Bryant at the Northside 13. From there, Davidson shot a pass to Tanner Tolbert on a slant. Tolbert made a splendid grab and got into the end zone for the touchdown.
Jace Denker kicked the extra point.
It was a pretty swift and efficient drive, covering 67 yards in four plays taking just over two minutes off the clock.
Northside answered with a 65-yard drive in four plays, taking just 51 seconds off the clock.
Knight passed to Kenrick Burns for 19, Cran Townsel for 5 then scrambled for 31 yards to the Bryant 10. On the next play, he found Shaquille Jones for the touchdown.
Jones latched onto 10 of Knight's passes for 97 yards and two scores. Knight wound up 28 of 44 for 329 yards. He rushed 22 times for 134 more, displaying an uncanny ability to find the open receiver and, when there weren't any, pulling the ball down and lacing his way through the defense on the run.
The Grizzlies never huddled. They got to the line of scrimmage and often the officials barely got the 25-second play clock started before they were snapping it.
"We were prepared for that," Griffith said. "We knew that, as soon as the play was over, we had to get our defense called, the kids had to get that communicated and, honestly, most of the night we did a good job. We had a couple of breakdowns and, unfortunately, they're the type of football team that can make you pay."
But Bryant at its turn after a long kickoff return by Clark. The Hornets drove to the Northside 38. But, on a first-and-5 there, Northside's P.J. Caldwell dropped back in front of a Davidson throw for an interception.
The Hornets' defense held as Knight threw three straight incompletions. A short put gave the ball back to Bryant at its own 40 but, on the first play there, sophomore quarterback Hayden Lessenberry and Clark didn't get a good mesh on a handoff. The ball came loose and Northside's Michael Hilburn recovered.
The Grizzlies drove to the 18. Knight tried to throw a swing pass to Burns but the Hornets' corner Dylan Blasi saw it coming. He took on the blocker ahead of Burns, fought through him and, despite being held, dropped the receiver for a loss of 4. The penalty pushed it back to the 32.
Two plays later, the Grizzlies faced a third-and-24 from the 32. The Hornets increased the rush on the play and got to Knight just as he was throwing the ball. But the quarterback somehow got a decent throw, though it was high down the left sideline. Winfrey had Jones covered pretty well on the play but Jones just out-jumped him to haul it in then taking it to the house for a 32-yard touchdown pass.
Instead of being faced with a punting situation, the Grizzlies had a 14-7 lead.
Bryant answered right back, however. A 30-yard completion from Lessenberry to Nichols and a 13-yard completion to Caleb Garrett got them to the 18 then consecutive runs by Jalen Bell produced the points. Bell's 10-yard touchdown run included a broken tackle at the 3.
And it was Northside's turn. After Kody Perlson and Ben Seale stopped Knight for a loss of a yard on first down from the 20, Knight threw to Jones who went to a knee to make the catch. Blasi, coming up to make a tackle, couldn't stop and hit the receiver resulting in a personal foul.
Knight completed three passes in a row and ran for a first down to convert a third-and-1 from the Bryant 34. His fourth pass went to Burns for a 30-yard touchdown. A bad snap sabotaged the extra point so the Hornets had an opening, trailing 26-21.
Bell made a 19-yard run and Pritchett broke for 17 as the Hornets dug out from deep in their own end after penalty on the kickoff return. They reached the Northside 46. On third down, Winfrey got open on a deep post but just couldn't hang on to Lessenberry's throw and, instead of a touchdown, the Hornets were forced to punt.
Tolbert's kick got into the end zone for a touchback. On the very next play, Knight hit Townel in stride and the receiver turned it into an 80-yard touchdown play.
A try for two failed but Northside held a 26-14 lead.
The Hornets responded with another scoring drive of their own. Tolbert returned the kick to the Northside 49. A play later, Lessenberry threw to Bell on a screen pass and sprung by a knockdown block by Jordan Murdock, the sophomore scampered 24 yards. Four plays later, Jacob Powell powered into the end zone from 4 yards out and Denker kicked the extra point to make it 26-21 with 3:38 left in the half.
And that was just barely enough for Northside to drive from its 20 to the Bryant 1 and the Martinez field goal.
The key play came on a second-and-10 from the Bryant 35. Knight's pass was intercepted by Hunter Mayall at the 24 but the play was negated by a Bryant holding penalty.
Not only did Northside retain possession but the Grizzlies had a first down. They reached the 1 in the final minute and had a first-and-goal. But the Hornets defense stopped two running plays. Out of timeouts, Knight spiked the ball to stop the clock. Martinez came on and it appeared the Mayall was in position to block the kick. Somehow it got through to make it an 8-point lead the the half.
Calley said later, he considered an onside kick to start the second half but decided to try to push the Grizzlies deep into their own territory and that's what happened. In fact, the Hornets nearly got a big break when Townsel fumbled on the return. But he scrambled and got back on it at the 17.
Sparked by a 22-yard run by Donnie Jones and falling on another fumble along the way, the Grizzlies drove 83 yards in 11 plays to add to their total. Knight ran it in from the 3.
The Hornets got another big return from Tolbert on the kickoff but, a play later, Lessenberry was sacked. Northside, however, was flagged for a flagrant face mask penalty and, when the defenders continued to wrestle with Lessenberry after the whisle, tearing off his helmet, a personal foul was tacked on.
Suddenly, the Hornets were at the Northside 39.
They drove to the 20 on runs by Clark, Bell and Pritchett but could get no closer. A fourth-dwon pass from the 22 was knocked down by Northside's Tyler White inside the 5.
But the Hornets defense responded by forcing a three-and-out. Knight punted the Hornets back to their own 44. The pushed it to the Grizzlies 42, mostly on Lessenberry's 12-yard pass to Nichols. On third down, Lessenberry tried to hit Garrett deep over the middle. A Northside defender flashed in front of the receiver at the last moment but the ball got through only to ricochet off his hands incomplete.
The Grizzlies then blocked Tolbert's punt, taking over at the 48.
A holding penalty negated a long pass but the Grizzlies overcame the first-and-24, mosting on a 22-yard keeper by Knight. They reached the 19 eventually where Knight was stopped short of a first down at the 12. Martinez came on to try a field goal but Mayall got a piece of it and it went wide left.
Twice during the subsequent possession, Lessenberry went deep, trying to connect with Tolbert. He was open the first time but was interfered with as he went for the ball. The 15-yard penalty was less than half of what the play would've picked up had the pass been completed. On the next play, Tolbert was covered a little better and the deep throw was knocked down by Lazon Hodge.
On a third-and-8 at the Bryant 47, Lessenberry had Nichols open on a deep post but White, behind Nichols by a step, pushed him down to prevent the touchdown. After the 15-yards was walked off, Lessenberry hit Clark with a swing pass that the running back turned into a 38-yard touchdown.
But the play was called back because of a holding penalty.
Backed up to their own 47, the Hornets pushed into Northside territory again thanks to Lessenberry's throw to Hayden Daniel who picked up some yardage after the catch. A play later, however, they still needed 4 yards for a first down. They appeared to have it as Bell hauled in a throw and advanced to the 23. But an illegal block negated the play. A second fourth-down throw was knocked down by Caldwell.
With 7:51 left, the Hornets needed a break to keep their hopes of a comeback win alive. They got it with 5:33 left when Carter was separated from the ball at the Bryant 25. Defensive tackle Josh Hampton picked up the ball and headed the other way. He got all the way to the Northside 37 before he was caught.
A 24-yard scramble by Lessenberry reached the 11 with just under 5:00 to play. Lessenberry rolled to his right trying to find a receiver breaking to the outside in the end zone but the ball appeared to slip from his grasp. The pass came up short and White picked it off.
Northside ate up the final 4:44 in the game to secure the win.
"I'm disappointed we lost, obviously," Calley commented. "We wanted to win but, offensively, they were extremely good and there was nothing defensively we could do. We made some plays and we stopped them. But when we did, we couldn't put the ball in the end zone. When we did put the ball in the end zone, we got penalties.
"Those are the kind of games we've always had late in the season," he added. "Hopefully, we'll get it out now and we won't have one of those again."
Both teams are 1-1 on the season. The Grizzlies host Little Rock Catholic next Friday while the Hornets travel to Texarkana.
FORT SMITH NORTHSIDE 36, BRYANT 21
Score by quarters
FS Northside 14 15 7 0 — 36
BRYANT 7 14 0 0 — 21
Scoring summary
First quarter
BRYANT — Tolbert 13 pass from Davidson (Denker kick), 5:27
FS NORTHSIDE — S.Jones 10 pass from Knight (Martinez kick), 4:36
FS NORTHSIDE — S.Jones 32 pass from Knight (Martinez kick), 1:06
Second quarter
BRYANT — J.Bell 10 run (Denker kick), 11:03
FS NORTHSIDE — Burns 30 pass from Knight (kick failed), 8:39
FS NORTHSIDE — Townsel 80 pass from Knight (pass failed), 6:49
BRYANT — J.Powell 4 run (Denker kick), 3:38
FS NORTHSIDE — Martinez 18 field goal, 0:05.5
Third quarter
FS NORTHSIDE — Knight 3 run (Martinez kick), 8:40
Team stats
Northside Bryant
First downs 30 22
Total offense 563 312
Rushes-yds 37-234 33-184
Passing 28-44-0 10-23-2
Passing-yds 329 128
Punts-avg. 2-28.5 3-17.3
Fumbles-rec. 4-1 1-0
Penalties-yds 13-139 7-75
INDIVIDUAL STATS
Rushing: BRYANT, J.Bell 8-51, Clark 6-37, Pritchett 3-33, Powell 8-29, Lessenberry 7-29, Harris 1-5; FS NORTHSIDE, Knight 22-134, D.Jones 6-75, Carter 9-25.
Passing (C-A-I-Y): BRYANT, Lessenberry 8-16-1-97, Davidson 2-7-1-31; FS NORTHSIDE, Knight 28-44-0-329.
Receiving: BRYANT, Nichols 4-67, J.Bell 2-19, Garrett 2-9, Daniel 1-20, Tolbert 1-13; FS NORTHSIDE, S.Jones 10-97, Burns 7-91, Townsel 5-99, Thurman 5-35, D.Jones 1-7.