Photos by Kevin Nagle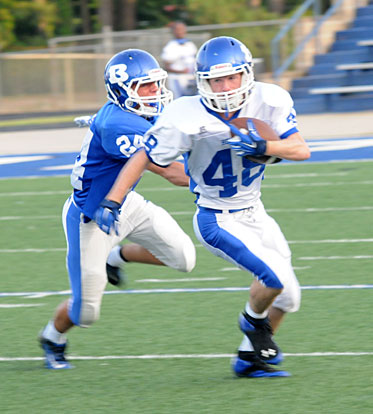 Most of the Bryant Hornets' starters were held out of Friday night's Blue-White scrimmage at the annual Fan Fair in lieu of Tuesday's pre-season benefit game at War Memorial Stadium on Tuesday. But that didn't mean Friday's intersquad wasn't important.
"I told them before we went out," related Hornets head coach Paul Calley afterward. "I said, 'Some of you are looking to move up and get on the travel bus and some of you are trying to keep from moving down and off the travel bus.'"
The travel bus is, of course, the one that takes the varsity to its road games.
"The main thing that we needed was to get on the field," Calley added. "We needed to see the speed of the game. We didn't need to have a quick whistle anymore (like in practice). That's a big thing to overcome. When you're trying to keep from over-heating and you're trying to keep from getting anybody hurt, the quick whistle, it leads to bad habits, especially on the offensive side. We've been going three-quarters speed, so to speak. Tonight, full speed? You get a completely different opinion of where you're at."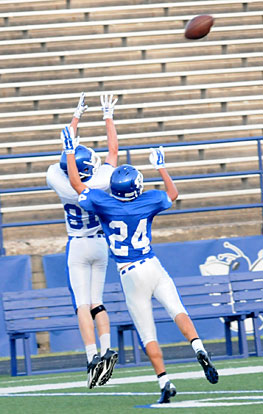 The Hornets' scrimmage on Tuesday begins at around 7:45 p.m., after a scrimmage between 7A/6A-Central Conference rival Little Rock Catholic and Jonesboro.
In assessing the team's work on Friday, which featured a nice touchdown pass play from Madison Schrader to DeAmonte Terry, Calley said, "We protected the ball for the most part. We weren't careless with it. Our pass protection wasn't great. We had some missed assignments offensively. We hadn't seen a ton of stunts.
"Defensively, I thought we tackled well," he continued. "I thought we gang-tackled. I thought the defense pretty much dominated the night. We haven't tackled to the ground any this fall — one day we did. So I think it may be a product of them wanting to tackle somebody to the ground and that's the reason they were flying to the ball.
"There were a couple of people that surprised me but we'll be able to tell more when we look at the film," he concluded.
The Hornets open the 2014 season with the 15th annual Salt Bowl at War Memorial Stadium in Little Rock. It'll be the 42nd meeting against their Saline County rivals, the Benton Panthers. Bryant will be seeking its ninth straight victory in the series, and 15th in the last 17 meetings.