Photos by Kevin Nagle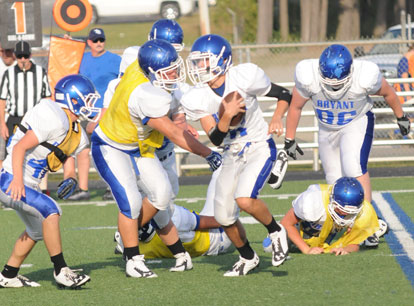 When you talk about fast-break offense, you often think of baskeball, but the Bryant Hornets freshman football team, under head coach Kenny Horn, are working on their own fast-break offense.
The team, which is set to host a scrimmage against the Pine Bluff Zebras' freshmen on Monday at 5:30 p.m., gained a renewed sense of what that means when they scrimmaged briefly at the annual Fan Fair at Bryant Stadium Friday night.
"I think that everybody's out of shape," stated Horn afterwards. "So we're going to work on that and try to get that better.
"You know, they're just young kids and they're not sure how to get the pace going," he explained. "They're not understanding the pace we want. So, we're going to work on our pace and our tempo."
Otherwise, the coach was pleased.
"I thought we executed pretty good tonight, offensively and defensively," he related. "We're just out of shape. But we'll get there. It's been hot all week and we've been pushing them so that had a lot to do with it too. I know they're legs weren't all the way under them.
"The offensive line played well, I thought," he continued. "We caught the ball pretty good and I thought our running backs — all four of them — looked pretty good."
The Hornets enjoy six straight home games to start the regular season. They open on Thursday, Sept. 4, against Cabot South.