Photos by Kevin Nagle
Long touchdown runs by Hunter Ulmer and Sebastian Dunn for Bryant Blue and a touchdown pass from Jesse Windemaker and Clift Chaffin for Bryant White provided the scoring in the preseason scrimmage between the eighth grade teams at the annual Hornets Fan Fair on Friday night.
Bryant Blue of Bethel Middle School is getting ready to open the 2014 season on Tuesday, Sept. 2, against Immaculate Conception Junior High of North Little Rock. Bryant White of Bryant Middle School opens the 2014 campaign on Thursday, Sept. 4, at home against Cabot South.
New Bethel head coach Shane Clancy assessed his team's play this way: "The twos and threes played really good. They took advantage of their opportunities, did things right, did the little things and that's why they were successful on offense and defense.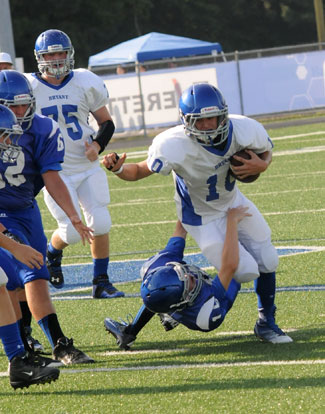 "Our first group, we didn't do the little things and gave up big plays," he continued. "When you play eight-minute quarters, we only got two plays in the first quarter with our offense because they took too much time. We did better in the fourth quarter but we've just got some stuff we've got to clean up. I'm glad we won but we better play better football than that."
Bryant White was playing a man down, so to speak. Head coach Brad Smothermon was with his wife who gave birth just the day before. Assistant Heath Long talked about the team's work on Friday, saying, "We were happy with the execution. We did a lot of good things, we thought. The things we've been working on in practice I thought we went out and executed well. And I thought we held up pretty well defensively too.
"What we have to make sure we do is that we're disciplined enough to know what our assignment is and execute our assignment and not try to do everybody else's job," he added. "Just focus on the job that each individual player has to do. We'll all look at the tape together and we'll decide what we need to work on going forward.
"The highlight for us was the touchdown pass, the points we put on the board. That's something we can take moving forward and build some confidence out of."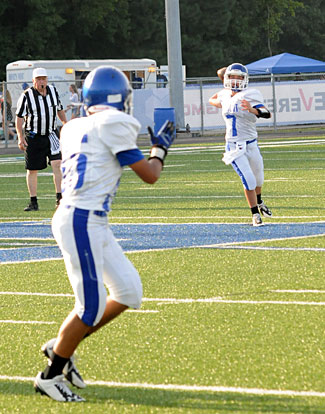 Asked what his team would be focused on in the coming week, Clancy said, "Tackling and paying attention to details. After that, eliminating a few dumb penalties. We've got some guys that are getting blown off the ball and not holding their gap. We had some guys in some other groups that got a promotion tonight.
"They show up to work," he stated. "They work hard every day. They want to be coachable and they want to get better. As long as they do that and take it day by day, we have a chance to win some football games."