Photos by Kevin Nagle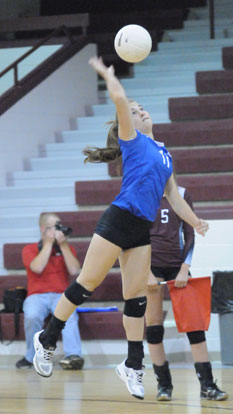 BENTON — The Bryant Lady Hornets got a fresh taste of intent competition at a pre-season jamboree on Thursday. In varsity games against Mount St. Mary Academy and Benton, junior varsity games against Pulaski Academy and Little Rock Christian and a sophomore game against Malvern — each to 25 — the Lady Hornets came up on the short end.
"We can learn from our mistakes and look forward to showing if we have improved from the previous match," said interim head coach Lawrence Jefferson. "I think we were nervous for our first competition."
The Lady Hornets and the rest of the Bryant volleyball program will be part of the annual Bryant Showcase on Saturday with a pair of Blue-White scrimmages at noon and 2:40 p.m.
The Showcase begins at 10 a.m., with a Bryant Middle School seventh grade scrimmage. At 10:40, the Bryant Middle School eighth grade team will scrimmage followed by the freshman scrimmage at 11:20. After the first high school scrimmage at noon, the Bethel Middle School seventh grade team will take the floor at 12:40 p.m., followed at 1:20 by the Bethel eighth grade at 1:20. At 2, the freshman team will scrimmage the high school junior varsity with the varsity returning to wrap up the day at 2:40.
"They worked hard today," Jefferson said after Friday's practice. "I saw some improvement."
Bryant opens the season officially with a match at Fountain Lake on Tuesday.