Photo by Rick Nation
A not-so-funny thing happened to the Bryant Hornets on their way to a seven straight win over the rival Conway Wampus Cats.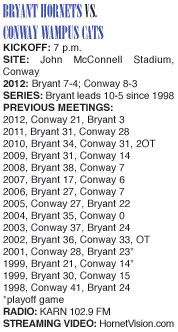 They lost.
It was a lightning-shortened game that the Cats led 21-3 when it was called. Bryant head coach Paul Calley said flat-out that his team wasn't ready and he blamed himself. Primarily, he pointed to his team's pre-season scrimmage against lowly Little Rock Hall, a decimated team (fewer than 30 players dressed) that looked every bit like the 0-10 squad it was destined to be.
Of course, Conway's determination to end that losing streak to Bryant was no small factor. Yet, it figures they were no more so than the previous year when, playing at home, the Cats fell to the Hornets 31-28.
Anyway, Calley made sure his team would be better prepared for a quality team like Conway by scheduling a scrimmage in which his team worked out against defending Class 7A State champion Fayetteville and perennial state power Pulaski Academy.
In a half against Fayetteville, the Hornets wound up trailing 17-7. After a break while the Bulldogs and Bruins battled for a half, the Hornets finished out the scrimmage against P.A., outscoring the Bruins 21-7.
"We're excited about the season coming up," said Bryant assistant head coach and defensive coordinator Steve Griffith. "At this point, we're feeling pretty good. We're proud of the effort against Fayetteville and, especially against Pulaski Academy. We challenged (the defense) between games to come up with a little more effort and they really responded well."
Conway is still a favorite in the game, which kicks off at 7 p.m., and will be broadcast live on KARN 102.9 FM with streaming video planned for HornetVision.com.
The Wampus Cats reached the semifinals in the Class 7A State playoffs last year, losing to the eventual champion.
"We've got several guys back on defense," said Cats coach Clint Ashcraft. "At this time, we're still battling some injuries. We've got some guys that we don't know if they're going to get to play or not who have been on the field a lot for us the last two years. It's nothing so serious that they won't make it back at some point this year but I'm sure every team is battling that."
"They have a very physical front three guys," reported Bryant offensive coordinator Lance Parker, referencing nose guard Cortez Akins and ends Kevasia Tate and Andre Willard. "They've got high-motor guys. They've got good linebackers. They've got two or three returners in the secondary. It looks like their outside linebackers are new.
"The main thing is we're just going to have to stay on our blocks," he assessed. "We're going to have to hit them quick. We can't give those front three guys a lot of time to shed blocks and make tackles. We're going to try to spread them out and run it. Hopefully we can throw and catch and complete some screens and keep our defense fresh."
Bryant's experienced offensive line of tackles Jacob Jones and Cameron Davis, guards Seth Hoffmans, Jacob Ward and Josh Earls along with center Kurt Calley will be charged with dealing with that challenge as they try to protect junior quarterback Brandan Warner in his first varsity start and make room for running backs Brendan Young, Kylon Boyle and Jarron Wade.
"We're a multiple-formation team," Parker said. "We don't necessarily run a ton of plays. The goal is to be unpredictable. So we're trying to run it, throw it and screen people and make people defend every blade of grass because they have to. I think we've got the personnel to do it. We do a little bit of everything but we try not to be too heavy in one thing."
Bryant big-play guy is wideout Brushawn Hunter, who was a major force in the offense as a sophomore last year.
As for the Conway offense, Ashcraft said, "We've got a couple of starters back up front on the line and we've got a couple of backs with some game-time experience. We're breaking in several new receivers and, obviously, our new quarterback, sophomore Breylen Smith. So we've got some challenges on that side of the ball. But that's something we work hard on every day to try to get those guys gelled together."
"You oftentimes see in the media that Conway's a spread team," mentioned Griffith. "Conway is a power running football team. They have been since Coach Ashcraft came up there. They want to establish the run. They want to establish their physical nature.
"We've responded well to that over the years," he noted. "We were disappointed both as coaches and players last year that we did not have the response we've had in the past. We're excited to get a chance to come back and, hopefully, be prepared to deal with the physical downhill running game that we've traditionally seen out of Conway. Hopefully, playing Fayetteville and their two-back set will help us be a little bit better prepared than we were when we played them last year.
"They've got a couple of new guys back their at running back but they don't look a whole lot different than the guy that was back there last year and he was, arguably, the best running back we saw all year," Griffith said, referring to Jeff Anderson who rushed for 185 yards against Bryant. "They'll come off of that with play-action passes and screens, which you have to be prepared for but you have to be prepared for the physical, downhill running game."
Asked about Bryant, Ashcraft said, "You know you're going to see a well-coached team on both sides of the ball. Their guys are going to play hard. There's going to be some good athletes out there. That's why they win as many games as they do year after year after year. You put those things together, athletes and good coaches and discipline, you see their success and how it comes to them."
"We've had a good spring, a good summer and a good fall camp," Griffith said of his defense. "The guys have been attentive, focused on the things we're trying to get done. We feel like we've got a pretty smart group of kids. That, from a coaching standpoint, makes it easier to get things installed. When you have to make adjustments, those kids pick those adjustments up a little bit better.
"We don't have a lot of depth," he noted. "We don't have a lot of kids, especially in the back-up roles, that are proven on the field. We hope to get to see that in some of the JV games and get them some experience."
Asked what the key might be for victory, Ashcraft related, "The first game is so tricky. You can't get a lot off your scrimmage film. You just don't know. I don't know if I could pinpoint something on either side of the ball that's got to happen for one team or the other.
"I think when you go into this first game week one, there's a lot of feeling each other out and teams getting comfortable, kind of seeing what the opposing coaches have game-planned for us," he said. "I think, by halftime, you know what you've got to do and what you've got to stop but, it's just so early in the year, it's hard to do that (going into the game)."