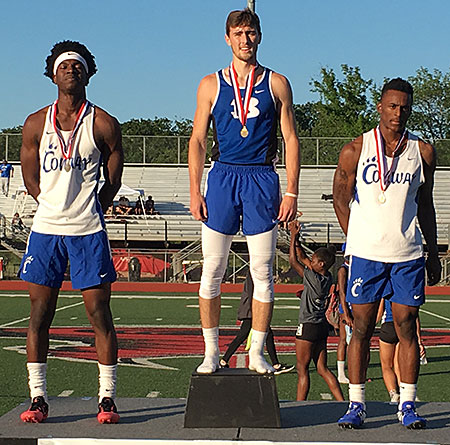 Hornets win three events at Meet of Champs for the first time
EDITOR'S NOTE: In this time of COVID-19, with no sports action, BryantDaily.com will be posting past stories of Bryant athletics either posted on BryantDaily.com (from 2009 to the present) or published in the Bryant Times (from 1998 to 2008).
RUSSELLVILLE — Landon Abernathy captured an individual Meet of Champs victory and helped out with a leg of the winning 4×400-meter relay on Saturday at the annual meet, which brings together the top performers from each classification.
The Hornets also got a Meet of Champs win from the 4×100 releay team. In addition, John Carder finished fifth in the 3200-meter run.
Joining Abernathy in the 4×400 was Josh Robinson, Malik Dockery and Diante Woodson. They combined on a 3:24.13, a season best.
In the 4×100, MacKenzie Martindale, Andre White, Woodson and Randy Thomas turned in the best time in the state this season with a 42.66.
Abernathy won his Meet of Champs event in the 300-meter hurdles. His time was the best in the state this season as well. He finished in 38.88.
Carder ran a 9:45.67 in the 3200.
In the girls competition, the 4×400 team turned in a third-place finish with a time of 4:05.70. Megan Lee, Zhania Hall, Zeia Robinson and Maggie Laws teamed up in the event.
In addition, Kayla Scott placed fifth in the 300 hurdles with a time of 47.57. Taylor McKinney was eighth in the discus with a fling of 94'0".
"What a great day for the Hornets," declared Bryant boys head coach Steve Oury. "This was the first time we have picked up three victories in the Meet of Champions.
"The 4×100-meter relay performance was a huge surprise," he noted. "We got a break when North Little Rock failed to make the handoff in the third exchange, but we ran a season best by about a half of a second, so we were able to take advantage. Randy Thomas caught and passed the anchor leg for Hamburg with about 30 meters to go. All four boys showed great poise and executed their handoffs flawlessly.
"Landon Abernathy saved his best race for last," Oury continued. "All year, he has battled against Conway's two outstanding hurdlers (Kevin Holder, 39:07, and Darnell Washington, 39.08), so he knew what to expect. He did a great job of maintaining his form in the last 50 meters and holding off the expected charge from the two Conway runners. Coach Keith Dale has done a great job with him in the hurdles this year."
Regarding the 4×400 team, Oury said, "They ran a great race. North Little Rock ran a very strong first leg and took the lead, but Josh Robinson put us in position to go after them. Malik Dockery caught them just before the handoff to Diante Woodson. Woodson ran a very strong leg and gave Abernathy a lead. Both North Little Rock and Lake Hamilton made a run at Landon with about 200 to go, but Landon's strength held them off. What a great way to finish the season!
"I can't say enough about what a great young man John Carder is," the coach mentioned. "I know he would have liked to have run a little faster in his last race as a Hornet, but he has had a great career. I'm looking forward to watching him progress as a college runner at Arkansas State University."