By Rob Patrick
The last time the Bryant Hornets and the Lake Hamilton Wolves met in a high school football[more] game, it was epic.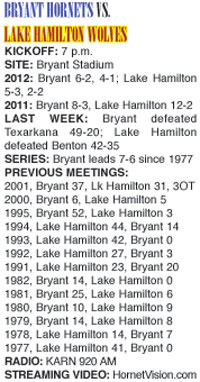 It was 2001. A trio of players whose names show up all over the Bryant football record book and one that isn't mentioned at all came up big in the third overtime. Quarterback Lance Parker, on his way to re-writing the passing and total offense records, completed a pass to Zack Cardinal, a sophomore who would become the top receiver in school history, that reached the 1-yard line moments after a touchdown play had been negated by a penalty. From the 1, Matt White, who owned most of the rushing records until a guy named Chris Rycraw came along, scored to put the Hornets up 37-31.
But an extra point try failed, leaving the door open for the Wolves to win it with a TD and a PAT.
Lake Hamilton had burned the Hornets earlier with a halfback pass, went to it again on the subsequent possession but this time Brandon St. Pierre intercepted in the back of the end zone to end the marathon battle.
It was a crucial win for the suddenly emerging Bryant program. After a breakthrough 1999 season in which the Hornets broke a 13-year stretch without a winning record by going 10-0 in the regular season and finishing 11-1, the 2000 team had slipped back to 5-5. The win over Lake Hamilton assured the Hornets of a winning record, improving them to 6-2. They went on to make the playoffs for just the third time in school history and, after not qualifying in 2000, they haven't missed post-season play since.
In tonight's renewal of the rivalry that dates back to 1977, there's more riding on the outcome for the Hornets than the Wolves. Lake Hamilton, with lowly Little Rock Fair on the schedule next week, has pretty much settled into the No. 3 seed for the Class 6A State playoffs. The two teams that have beaten them in conference play, Pine Bluff and El Dorado, are set at one and two.
Bryant, meanwhile, is battling for seeding position for the Class 7A State playoffs. The Hornets will be seeded with the West conference teams and, going into tonight, sits in the No. 4 spot with key games still to be played among the West teams. Bentonville, Fayetteville and Springdale Har-Ber are those ahead of the Hornets. Fayetteville plays the other two this week (Har-Ber) and next (Bentonville).
The Hornets close out at El Dorado next Friday.
In 2001, the Hornets improved to 6-2 with the win over Lake Hamilton. In 2012, they are 6-2 going into the game, coming off of a 49-20 win at Texarkana.
The Razorbacks struck quickly to take an early lead in last week's game but Bryant found its bearings and ran off and left them with 35 unanswered points.
"Last week, we had a little slow start," acknowledged Hornets defensive coordinator Steve Griffith. "We didn't do a good job early of reading keys. When we did, we put ourselves in position and started making plays and we were able to get things pretty much under control for the remainder of the game."
Offensively, the Hornets put together a balanced attack, piling up 168 yards on the ground and 171 yards in the air.
"I thought we did a good job — we didn't block everybody; there were times when people were shedding blocks but it seemed like we were running the ball well enough," commented Bryant offensive coordinator Lance Parker (yes, the same guy mentioned above). "We made guys miss. Throwing the ball, we were real efficient with our passing. I think we only had one ball hit the ground. That's obviously pretty good as far as that goes."
Senior Hayden Lessenberry completed 14 of his 15 passes and sophomore Brandan Warner hit all three of his throws.
Parker, however, lamented the Hornets' two turnovers.
"That's just too many," he said. "We've done a pretty good job of hanging onto the football this year. Those will cost you in a close game."
Lake Hamilton, meanwhile, outlasted the Benton Panthers 42-35 in a vital victory that pretty much secured a home playoff game for the Wolves.
"Lake Hamilton has a big offensive line, something they always have," said Griffith, who was a Bryant assistant in 2001. "They've got a good quarterback. They throw and catch the ball. The quarterback (Clay Jessie) and (Trevor Mittelstadt) especially are a good combination. Big number 26 (Chris Eastburn) plays linebacker and he does a great job also of running the football downhill. He's not going to try to make anybody miss. We've got to be in position and be willing to take him on, get some help, some pursuit and catch up.
"The big challenge is they have a huge variety of sets," Griffith added. "We've worked really hard this week at keeping things simple, making sure we get lined up, read through our key progressions and, hopefully, put ourselves in position to make a play."
Parker said the Hornets want to avoid three-and-out series when they're on offense.
"Lake Hamilton's going to be tough," he said. "They're going to be hard to run on. They're not going to give us anything. There's a chance they could hold onto the ball a little while. They're a power running team. We can't give them extra possessions or give them a short field. We need to make sure we hold onto the football."
Better depth will help the Hornets.
"Lake Hamilton's got good players but they never come off the field," Parker mentioned, "so we're hoping that, since we're a two-platoon team, we can wear them down. We're going to try to make sure they're running across the field to the ball and we hope they'll eventually get tired. We hope depth will take over later on in the game."