Editor's note: This is a regular feature profiling senior athletes at Bryant High School.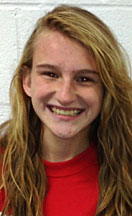 NAME: Hannah Raney

PARENTS: Judi A. Holladay and Chad S. Holladay
SIBLINGS: William D. Holladay, 7.
FAVORITE SUBJECT IN SCHOOL: Math
WHAT DO YOU LIKE TO DO IN YOUR SPARE TIME? Soccer, run, hang out with family and friends
FAVORITE FOOD: Pasta
FAVORITE MUSIC ARTIST OR GROUP: Lee Brice
FAVORITE MOVIE: Beauty & the Beast[more]
FAVORITE TV SHOW: NCIS
WHAT WAS YOUR FAVORITE TOY AS A KID? My stuffed lamb
WHAT ARE YOUR PLANS AFTER HIGH SCHOOL? Attend college to become a physical therapist.

OTHER THAN YOUR PARENTS, WHO HAS HAD THE BIGGEST INFLUENCE ON YOUR LIFE? Grandfather, he was my father-figured growing up.
FAVORITE THING ABOUT CROSS COUNTRY: My coach and my team; they make each day a new adventure.
WHAT'S YOUR APPROACH TO A RACE (Strategy/Preparation)? Talk to my guardian angel; listen to Fearless by Mark Dowdy; go out hard and establish a good pace and position; finish strong.
WHAT DO YOU THINK OF THE SEASON? I think our team is doing pretty well so far. We just have to want it more than any other team out there.
WHAT'S BEEN THE HIGHLIGHT TO THE SEASON? Setting a new personal record at the first meet.
AFTER YOU'RE THROUGH RUNNING CROSS COUNTRY AT BHS, WHAT DO YOU THINK YOU'LL REMEMBER MOST FONDLY ABOUT IT? Morning runs at 5:30 every Wednesday and Friday.