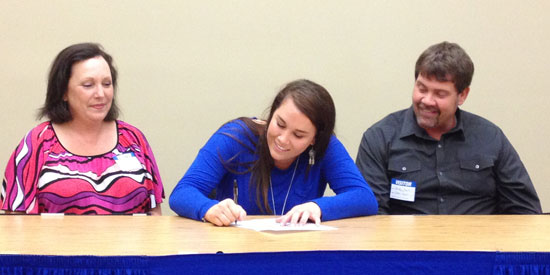 By Rob Patrick
Brooke Howell is a legend in her own time.
And it's not just because of her exuberance and[more] personality, though they are considerable.
No, it's more about "the hammer," as Williams Baptist College volleyball coach Eric Newell called her right arm after the Bryant senior outside hitter agreed to a scholarship offer to continue her athletic and academic career at the Walnut Ridge school.
It happened on Sept. 20, 2012. Howell and the Lady Hornets were facing their archrivals, the Benton Lady Panthers, on the road in a crucial 7A/6A-South Conference game. It had been a long time since a Lady Hornets team had defeated a Lady Panthers team on the volleyball court so emotions were high.
During the hotly-contested match, Howell got a set from Hannah Rice and powered a spike. A Benton player didn't get her hands or arms up and it struck her in the head, knocking her cold. The match was put on hold for at least 20 minutes and the girl was taken by EMT to the hospital.
"I was really upset," recalled Howell on Wednesday at her official signing ceremony with WBC. "I cried for like 30 minutes because I thought I'd killed her. My principal (Jay Pickering) calmed me down and said, 'Hey, she's okay. She's going to the hospital. You can't get back on the court until you stop crying.' So I dried up my tears and I got back on the court and we won. That was really overwhelming.
"I texted her that night and she told me that she was going to be okay and that she just had a mild concussion," she continued. "We've talked recently and she's doing good.
"I wouldn't say it was the hardest I've hit," Howell stated. "It was more about the placement."
"We can talk about it now because we know everything's okay," acknowledged Lady Hornets coach Beth Solomon. "But it's the first time that I've ever known a girl to get knocked out with a hit from a volleyball. Because of Brooke, now every time I walk into that Benton arena I will always remember that hit and I will smile because I got to coach Brooke in that game."
A two-year all-conference player, Howell, the daughter of Mike and Kaye Howell, earned all-State honors as a senior. She led the team with 253 kills and had 221 blocking assists, 89 solo blocks and 259 digs. He was good on 95 percent of her serves.
"Her senior year, we knew she would be a powerhouse on the court," Solomon said. "In fact, news of how good she was and how hard she could hit traveled across the state and coaches that we hadn't even played before would ask me where we found her and how we taught her to hit like that, especially after our game in Benton.
"Brooke has become a role model for not only our current players but our future ones as well," the coach continued. "My niece came to camp last year and she still talks about Brooke. So she definitely left an impression in the minds of the younger ones too.
"She set an example," Solomon said. "And it wasn't just something just got on the court and did. Brooke worked hard to get where she's at and I have no doubt that she'll do that at Williams Baptist too. She'll work hard to get where she needs to be. She likes a challenge."
In fact, when asked when she suspected she might be good enough to play in college, Howell said, "It's not even that I might be good enough, it's that I'll work hard enough to be a part of a team and they'll make me better."
She said she chose Williams Baptist after also visiting Henderson State and Arkansas Tech.
"I signed up on line and filled out a recruiting questionnaire then I went and tried out with them," she recounted. "(Coach Newell) immediately responded and offered me. So I went to play with them again, visited the college and I decided that's where I want to be.
"They were so friendly and welcoming," she explained. "Everywhere else I tried out I just did not like the teammates. They just weren't friendly. I love it there and I'm so excited."
"They're lucky to be getting her," Solomon asserted. "Brooke's been a vital asset to me, especially this year big time. But even when she wasn't playing varsity, she's always been a leader with a positive attitude. Her stats, this year, were great."
Howell started playing volleyball in seventh grade and took to it right away.
"It was immediate," she stated. "It's my best sport. I love it. It's just that you can come together as a team and play for each other. It's not all about you. It's a team sport and if you don't do good, you've got teammates that'll pick you up immediately. And the adrenalin, I love getting to perform for people."
Academically, Howell is planning to major in Biology with an eye on nursing.