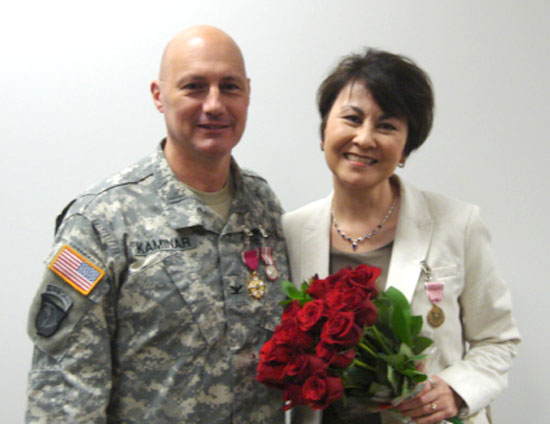 John I. Kaminar, 52, of Bryant is retiring with the rank of colonel after 30 years of active and[more] reserve Army service.
A native of Little Rock, Kaminar moved with his family to Texas as a small child. He was commissioned a Second Lieutenant of Infantry in the U.S. Army as a Distinguished Military Graduate of the Army R.O.T.C. scholarship program at Texas A&M University in 1983. He served on active duty for the next 10 years, completing an initial assignment in Germany followed by six years with the renowned 101st Airborne Division at Fort Campbell, Ky.
After duty with the international peacekeeping forces in Egypt's Sinai Peninsula in 1989 and combat service in the 1991 Persian Gulf War, Kaminar transferred to the Army Reserve in 1993 with the rank of captain and returned to Arkansas. He has pursued a civilian career as an educator, first as a foreign language instructor and then as a dean of students and principal. Currently he is the curriculum specialist for foreign languages, physical education, and health at the Arkansas Department of Education.
Continuing his military service in the Army Reserve, Kaminar served with units in North Little Rock and Arkadelphia, where he served in the 2nd Battalion, 379th Regiment for 10 years, eventually rising to command the unit. In 2005, he was recalled to active duty for service in Afghanistan, where he commanded a unique mission to create a Drill Sergeant Academy for the new Afghan National Army.
Kaminar later was deputy commander of the 90th Sustainment Brigade in North Little Rock before being promoted to full colonel and assuming his current duties as State Emergency Preparedness Liaison Officer for the State of Arkansas. In this role Kaminar worked alongside the staff of the Arkansas National Guard and the Arkansas Department of Emergency Management as an advisor on the use of federal military forces to support the state's emergency response operations in the event of a major disaster.
A paratrooper and Army Ranger, Kaminar is a graduate of Army Command and General Staff College and Air Force Command and Staff College. His many awards and decorations include the Bronze Star Medal, the Meritorious Service Medal, and the Combat Infantryman Badge, as well as awards from the governments of Afghanistan, Denmark, Germany, Kuwait, and Saudi Arabia.
Kaminar has been named by the National Infantry Association as a primicerius of the Order of St. Maurice, the patron saint of infantrymen, and is a companion of the Military Order of Foreign Wars.
He is married to the former Toni Davis of Tooele, Utah, an "Army brat" who serves in the office of the chief of staff at the Towbin Veterans Healthcare Center in North Little Rock. Mrs. Kaminar has been active in supporting her husband's service through her involvement in numerous family readiness ventures. She has been acknowledged several times for her volunteer work to support military families, and in 2004 was awarded the title of Heroine of Infantry by the National Infantry Association.
Col. and Mrs. Kaminar were recognized for their many years of service at a special ceremony held on April 18 at Camp Joe T. Robinson. Col. Kaminar was decorated with the Legion of Merit for his 30 years of service, and received the Arkansas Exceptional Service Medal in recognition of his four years in support of the Arkansas National Guard. Mrs. Kaminar was awarded the Army's Outstanding Civilian Service Medal for her steadfast support during her husband's career and a certificate of appreciation signed by Gov. Mike Beebe. The awards were presented by Major General William Wofford, Adjutant General of the Arkansas National Guard.
The Kaminars are justifiably proud of their family's record of service. Col. Kaminar's father served in World War II; Mrs. Kaminar's father served in the Vietnam War; and both of their sons, First Lieutenant Ben Kaminar of the Texas National Guard and First Lieutenant Jonathan Kaminar of the Arkansas National Guard, have served in the War in Iraq.
The Kaminars' daughter Krystal resides in Bryant and is employed at Arkansas Children's Hospital.
The Kaminars have deep ties to Saline County; his mother Eva Moore resides in Bryant; sister Kie Baxley, brother-in-law Tom Baxley, and nephews Bo and Jesse Baxley are residents of Benton. Col. and Mrs. Kaminar remain active in volunteer work through their congregation at Christ Episcopal Church in Little Rock, the Susan G. Komen Foundation, the Saline County Chapter of the American Cancer Society, and St. Jude Children's Research Hospital in Memphis, Tenn.