Photos courtesy of Jamie Hester
CONWAY — With team members home with the flu and other illnesses or at the all-Region band competition, the Bryant Hornets still managed to compile 148 points and finish sixth in a top-notch field of 18 schools at the Conway Wampus Cats Invitational swim and dive meet at Hendrix University Friday and Saturday.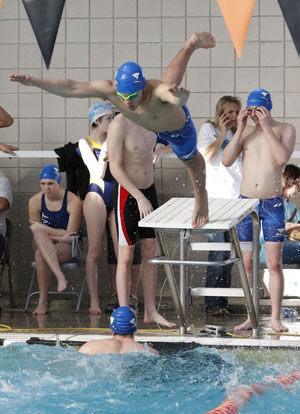 The Hornets finished with 148 points. Bentonville won with 533 points. Little Rock Cathlic was a distant second at 265 followed by Conway (223.5), Fayetteville (206.5) and Little Rock Central (201).
The Hornets were paced by Ray Weldon and Chandler Reep who each turned in third-place finishes in tough events. Weldon was third in the 100-yard backstroke behind two swimmers that were under 56.00, Gavin Vann of Bentonville (55.52) and Garrett Sullivan of Benton (55.64).
Reep was third in the 100 breast stroke with a time of 1:05.85. Ian Pusey of Rogers Heritage won in 1:04.99 and Matt Parisi of Fayetteville was second in 1:05.08, as all three finished within a second of each other. Bryant picked up 14th-place points in the event, as well, with Andrew Ball turning in a 1:16.39 clocking.
Weldon and Reep also contributed to the sixth-place 200-freestyle relay, joining Fonzee Bittle and Michael Higgs in a 1:38.05 clocking.
Ball teamed up with Derek Vos, Kyle Henry and Druid Wen to pick up a fifth-place finish in the 200 medley relay with a time of 1:51.30. The quartet of Jake Partain, Karim Elmanoury, John Dellorto and Jim Dellorto finished in 2:09.90 and picked up 15th-place points.
In the one-meter dive, Justin Combs was fifth with a score of 158.55 with Lucas Reitenger sixth at 141.60.
In the third relay, Ball, Jim Dellorto, Vos and Henry turned in a 4:05.99 over 400 yards to finish 11th.
Higgs added 12th-place points in two events. In the 200 individual medley, he turned in a 2:15.91. In the 100 butterfly, he finished in 1:00.45.
Henry was 15th (5:42.83) and Bittle 16th (5:51.00) in the 500 freestyle while Jim Dellorto scored with a 16th in the 200 free (2:20.89).
"Hopefully, we will be well before the Benton meet," said Bryant coach Angel Dale, referring to a meet at Bishop Park Aquatic Center this Thursday, Jan. 29, hosted by Benton.