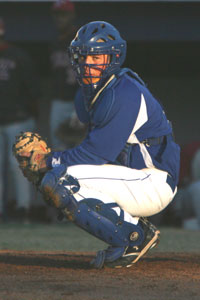 CEDAR RAPITS, Iowa — Bryant's Kaleb Jobe is one of nine Arkansas high school baseball players to be named to the 2009 Rawlings/Perfect Game Preseason Southeast Regional All High School Senior Team. Jobe was listed among those receiving Honorable Mention.
Two Arkansans were named to the Southeast Region 2nd Team, Ben Crumpton of Hot Springs Lakeside and D.J. Baxendale from Sylvan Hills.
Joining Jobe among the Honorable Mention players were Paul Anzalone of El Dorado, Tyler Cameron of Parker's Chapel, Duncan Collins of Trinity Christian of Texarkana, Matthew Henry of Fort Smith Southside, Art Slaton of Lakeside and Matt Vinson of Alma.[more]
Jobe, the Hornets starting catcher, has also played short and third. As a pitcher, he is 1-0 with three saves and a complete game, fanning 15 in 14 innings.
At the plate, Jobe is hitting .436 (17 of 39) through 14 games, second to teammate Tyler Sawyer's .439. He leads the team in walks with 14 and has driven in eight runs (second only to a quartet of Hornets, Sawyer, Hunter Mayall, Brady Butler and Justin Blankenship, with nine) with two doubles and a homer.
Jobe, who is signed to play at UALR next year, is just the third Bryant player to be so chosen by Rawlings/Perfect Game, according to Bryant American Legion coach Craig Harrison. The other two were Travis Wood of the Carolina Mudcats in the Cincinnati Reds organization) and Justin Wells, a senior for the Arkansas Razorbacks.