By Rob Patrick
Photos by Kevin Nagle
The Bryant Hornets freshman team built a 20-7 lead in the first half and pretty much maintained the rest of the game, never allowing the Benton Panthers to get closer than 9 points on the way to a 40-29 victory in Central Arkansas Junior High Conference play Thursday night.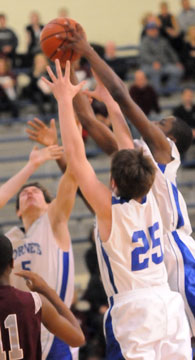 J.C. Newborn scored a game-high 17 points and K.J. Hill added 16, including 14 in the first half, to pace the Hornets' scoring. Benton was led by Braden Warhurst and Stone Paul with 7 points each.
Bryant suffered just one turnover in the game and, though the Hornets were out-rebounded 13-12, only one of the Panthers' boards came on the offensive end.
The win, Bryant's sixth in a row, improved the Hornets to 12-4 overall and 2-0 in conference play going into a trip to Lake Hamilton on Thursday, Jan. 17.
Benton is 0-3 in the league with 1-point and 2-point losses before visiting Bryant.
"We take every game in the conference very seriously," noted Hornets coach Jim Pennington. "It's just like in a tournament. You're playing for something. I thought we did a good job. We came out and executed. We're the type of team that, if we come out and execute and do the things that we do, we're hard to beat.
"I give a lot of credit to Coach (David) Torres and his Benton team," he added. "I know they're having a tough season but he's doing a really good job with those kids. They're very well coached."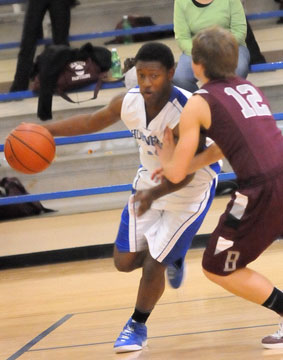 Benton's only lead of the night was 2-0 on a basket inside by Bryan Kirby. Two free throws by Newborn tied it then a drive by Hill that burned the trapping defense, gave the Hornets the lead for good.
Hill followed up with a steal and layup then scored off a drive to make it 8-2.
Benton used a variety of defenses to try to slow the Hornets down but Bryant controlled the tempo and hit 52 percent from the floor (15-of-29).
A three-point play by Ketiran Jones interrupted the Hornets' opening surge but Newborn answered with a driving jumper then Hill fed Brandan Warner for a layup to make it 12-5.
Benton called timeout but couldn't stem the tide. Hill was fouled on a drive and converted both free throws and, after Jones answered, Newborn scored off another feed from Hill to make it 16-7.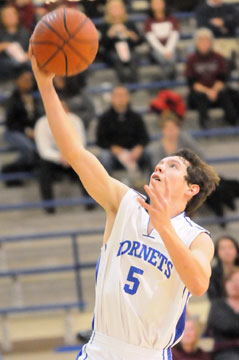 John Winn and Newborn combined on a steal that set up another drive by Hill to beat the buzzer. He was fouled on the play and closed out the period with a pair of free throws to make it a double-digit margin.
A steal and layup by Warner to start the second quarter gave Bryant its largest lead of the night of 13 points.
A 3-pointer by Paul helped get the Panthers on track and they were able to close the margin to 9 on a basket by Drake Patterson and a free throw by Paul but, by halftime, Bryant held a 24-14 lead.
The Hornets matched their largest advantage in the third quarter. It was 28-18 before Newborn added a free throw and Hill made another steal and layup to bump it to 31-18.
The teams traded points much of the rest of the game. Bryant led 34-22 going into the fourth quarter.
The Panthers cut it back to 9 after Cameron Spivey hit a 3 with 2:00 left in the game but a bucket inside by Newborn off an inbounds play set the final margin.

BRYANT 40, BENTON 29
Score by quarters
Benton 7 7 8 7 — 29
BRYANT 18 6 10 6 — 40
PANTHERS 29
Jones 2-3 1-1 5, Patterson 2-3 0-0 4, Kirby 1-3 0-0 2, Warhurst 3-5 0-0 7, Spivey 1-3 0-0 3, Hart 0-3 1-2 1, Paul 2-2 2-4 7, Baker 0-0 0-0 0, Humble 0-0 0-0 0. Totals 11-22 4-7 29.
HORNETS 40
Hill 5-9 6-6 16, Warner 3-5 0-0 6, Newborn 7-12 3-6 17, Winn 0-3 0-0 0, Hall 0-0 1-2 1, Withers 0-0 0-0 0. Totals 15-29 10-14 40.
Three-point field goals: Bryant 0-5 (Winn 0-3, Warner 0-2), Benton 4-8 (Spivey 1-2, Warhurst 1-1, Paul 1-1, Hart 0-2, Jones 0-1, Patterson 0-1). Rebounds: Bryant 12 (Hill 4), Benton 13 (Jones, Paul 3). Turnovers: Bryant 1, Benton 10. Team fouls: Bryant 8, Benton 12.