Junior Hornets overcome Catholic's second quarter blitz to stay unbeaten
EDITOR'S NOTE: Because the look back at each day in Bryant athletic history has been so favorably received during the time when there was no sports during the COVID-19 shutdown, BryantDaily.com will continueposting past stories of Bryant athletics either posted on BryantDaily.com (from 2009 to the present) or published in the Bryant Times (from 1998 to 2008).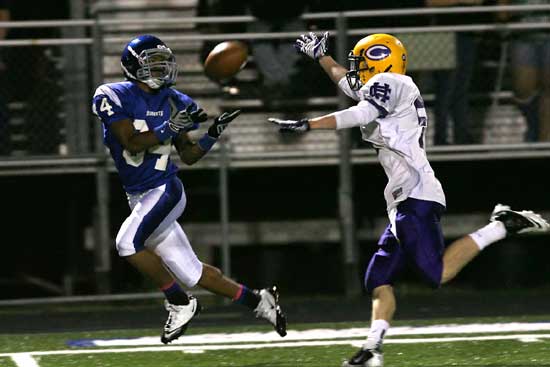 By Rob Patrick
Photos by Rick Nation and Kevin Nagle
Over the last three minutes of the first half, the Bryant Hornets freshman team had a seemingly comfortable[more] 22-0 lead disappear. The Catholic Junior Rockets scored three times to draw even and the Hornets faced a situation they hadn't experienced this season on the way to their 6-0 record.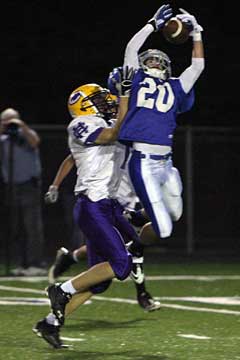 The Hornets put it back together at halftime and shut out the Rockets the rest of the game, extracting a 36-22 victory to keep a share of the Central Arkansas Junior High Conference lead.
And, with win in hand, Bryant head coach Kenny Horn acknowledged that facing the adversity probably made his team better.
"(At halftime) we were just calm and told them they were going to face some adversity sooner or later," he added. "We either had to step up or give in. 'It is 0-0 right now. We've got to win this half.'
"I thought we responded pretty well. We didn't tackle very well tonight but we tackled a little better in the second half and we finally got a break or two and we made a couple of plays. We responded well. We didn't play well."
Quarterback Brandan Warner threw four touchdown passes, three of them to Brushawn Hunter in the first half, the other to Mar'Kevius Nelson for the tie-breaking score. Hunter wound up making six catched for a whopping 152 yards. Warner finished 15 of 24 for 272 yards.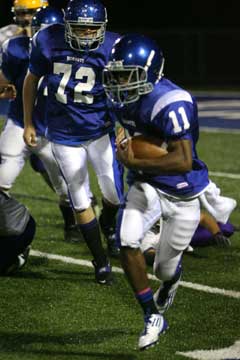 Nelson capped the scoring with a 7-yard run set up by Drew Tipton's leaping interception deep in Bryant territory. Tipton's pick thwarted Catholic's bid to tie the game back up.
The Rockets played press coverage much of the night and brought pressure to try to slow down the Hornets' high-powered offense. It proved to be hit and miss. The misses were often big.
On the first series, the Hornets struggled to get a first down but then Warner went deep to Hunter who ran a fly pattern right past the Rockets' defender that was head up on him. The play covered 45 yards for the touchdown. Hunter then ran in the two-point conversion as the Hornets used the swinging gate. Ty Harris got the option pitch to Hunter.
Catholic, in turn, went nowhere on its first series and had to punt. The Hornets got the ball back at the Rockets' 40 and, on the first play, Warner went deep to Hunter again for a touchdown. Alex Denker, despite being moved back 5 yards for a penalty, booted the extra point to make it 15-0.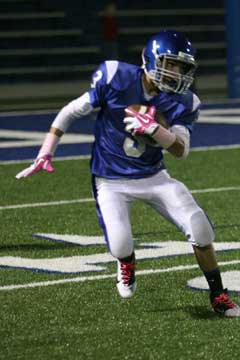 The Rockets again went three-and-out and the Hornets gained good field position once more.
Warner went deep for Hunter again but this time a pass interference penalty resulted. After an offsides penalty against the Rockets, the duo struck again from 32 yards out only to have a holding penalty negate the play.
A 24-yard pass to Steven Murdock reached the 15 but, on the next play, Warner was sacked by Catholic's Loredo Loyd and the Hornets wound up bringing in Denker for a field goal attempt. A fumbled snap sabotaged the try and Catholic took over on downs.
The Rockets still sputtered without a first down and had to punt again. This time, Hunter fielded the kick by Andrew Lee and wove his way through the Rocket defenders for 34 yards before being hauled out of bounds at the 8.
On the next play, Warner found Hunter in the left flat and, with Denker's kick, it was 22-0.
Catholic had yet to garner its initial first down at that point but, after the ensuing kickoff, they not only picked up a first down, they drove for a touchdown. A pass interference call against the Hornets helped. A play later, an unsportsmanlike conduct penalty against Bryant got the Rockets to the 9.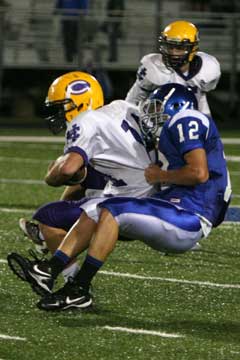 They eventually scored when running back D.J. Brown, working in the wildcat, passed to quarterback Hayden Hum for the TD. Michael Williamson's kick made it 22-7.
The Hornets, in turn, reached the 44. Going for it on fourth down, Nelson was stopped short of the first and, with 1:27 left in the half, Catholic took over on downs 46 yards away from paydirt.
A 41-yard run by Brown nearly took care of that. Hum eventually scored from the 1 with :46 left in the half to tighten the game to 22-14.
The Hornets made a bid to answer when Warner and Hunter combined on a 25-yard strike then Jacob Gorham grabbed a 9-yard toss. After a timeout with :09.7, the Hornets tried to set up a play to score but the Rockets' Will Chandler stepped in front of the deep out and raced down the sideline for a touchdown with the horn ending the half going off along the way.
On a try for two, Brown got into the end zone to tie the game.
"I probably should've punted," Horn said. "But we haven't punted all year long on fourth down and we've been very successful. So I didn't see any reason why, if we go for it then, we shouldn't just like any other time. But we didn't get it.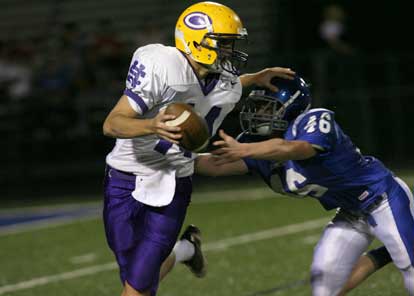 "It put us in bind," he added. "But I'm kind of glad we saw that adversity, kind of got our backs to the wall a little bit just to see if we'd kick our way out. And we did.
"I'll be honest, we weren't just real focused tonight," the coach concluded. "That's my fault. That's what we talked about at halftime, refocus, regroup, stay calm. All we've got to do is win the second half. It's not that big a deal. We're going to win this football game. Just make a play or two. And that's what they did."
The Rockets got the ball first in the second half. A couple of runs by Hum picked up a first down but, three plays later, they were forced to punt.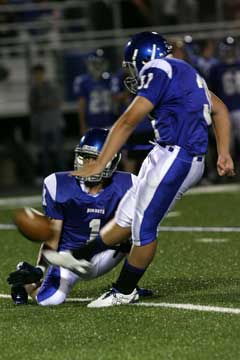 They got a reprieve, however, when the Hornets roughed up the punter.
From the 50, Brown passed to Hum again for 15 yards. But that's where the Hornet defense stepped up. Rashaan Jones and Drew Allen dropped Hum for a 3-yard loss then, on second down, Hunter Fugitt hauled him down for no gain. Brown picked up 6 yards on third down.
Going for it on fourth down, Hum completed a pass on a tackle-eligible to Loyd for an apparent first down but a holding penalty negated the play and, on a fourth-and-18, the Rockets wound up having to punt.
Lee's kick was downed at the 1.
Bryant proceeded to drive 99 yards in nine plays capped by a swing pass into the flat from Warner to Nelson, who sprinted to the sideline and down it for a 34-yard touchdown play. Denker's extra point made it 29-22 with 7:17 to play.
With a chance to answer, Catholic drove into Bryant territory. But, on a first down at the Bryant 44, Matt Shiew and Jones stopped Hum for a loss of 3. On the next play, the Rockets quarterback fired a deep pass that Tipton flagged down at the 10. He was dropped back at the 6 and the Bryant offense returned to the field.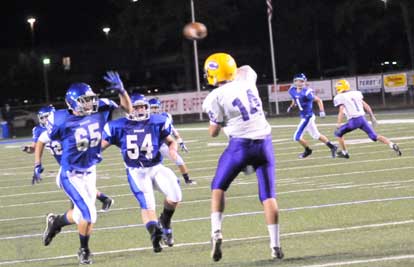 A 94-yard drive for a clinching touchdown ensued. Nelson's 11-yard run got the drive started. The Hornets benefitted from a personal foul penalty then Warner completed an 18-yard pass to Nelson who added a 14-yard run on the next play. An 11-yard dash by Hunter helped set up the 7-yard touchdown bolt by Nelson with 1:36 left to play.
And to cap things off moments later, Catholic tried a swing pass that wound up being a lateral. The ball got past receiver Burke Sanders and there was Tipton to cover it with 1:02 left in the game.
Now 7-0 overall and 4-0 in league play, the Hornets host Cabot North on Thursday, Oct. 20.
BRYANT 36, LR CATHOLIC 22
Score by quarters
Catholic 0 22 0 0 — 22
BRYANT 15 7 0 14 — 36
Scoring summary
First quarter
BRYANT — Hunter 45 pass from Warner (Warner run), 7:14
BRYANT — Hunter 40 pass from Warner (Denker kick), 5:34
Second quarter
BRYANT — Hunter 8 pass from Warner (Denker kick), 7:53
CATHOLIC — Hum 11 pass from Brown (Williamson kick), 2:50
CATHOLIC — Hum 1 run (Williamson kick), 0:46
CATHOLIC — Chandler 59 interception return (Brown run), :00.0
Fourth quarter
BRYANT — Nelson 34 pass from Warner (Denker kick), 7:17
BRYANT — Nelson 7 run (Denker kick), 1:36
Team stats
Catholic Bryant
First downs 8 16
Rushes-yds 27-88 15-56
Passing yds 51 272
Passing 6-10-1 15-24-1
Punts-avg. 4-32.3 0-00.0
Fumbles-lost 3-1 0-0
Penalties-yds 14-118 8-85
INDIVIDUAL STATS
Rushing: BRYANT, Nelson 5-44, Hunter 3-20, Warner 6-3, Denker 1-(-11); CATHOLIC, Brown 10-66, Hum 13-26, Sanders 3-5, Chumley 1-(-9).
Passing (C-A-I-Y): BRYANT, Warner 15-24-1-272; CATHOLIC, Hum 4-8-1-25, Brown 2-2-0-26.
Receiving: BRYANT, Hunter 6-152, Nelson 4-67, Gorham 3-22, Murdock 1-10, Reeves 1-7; CATHOLIC, Hum 2-26, Brown 2-2, Sanders 1-12, Chandler 1-11.