Photos courtesy of Jason Majors
CABOT — The Bryant Junior Hornets finished off the 2012 season in style with a runaway victory at[more] the Walmart Central Arkansas Junior High Championship cross country meet Saturday. The Junior Hornets took 10 of the top 15 places and had a total of 13 runners earn top 30 medals.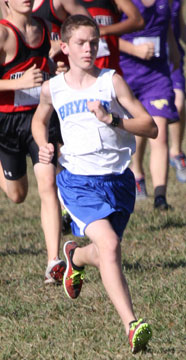 Bryant scored a total of 24 points to easily outdistance runner-up Cabot (89 points). Lake Hamilton (94), Pulaski Academy (111), Conway (116), Heber Springs (188), Central Arkansas Christian (197), Batesville (198), and Russellville (198) rounded out the field. A total of 167 runners completed the 2 mile race.
Ben Majors earned a runner-up finish to lead the way for the Junior Hornets with a time of 11:33. Bryant runners who earned top 30 medals included Stephen Cockmon (3rd in 11:43), Jhorman Cruz (4th in 11:49), Michael Higgs (7th in 11:56), Carson Cato (8th in 11:58), Joey Colvert (9th in 11:59), Ian Britt (10th in 12:02), Zane Pittman (11th in 12:06), Peyton Reber (14th in 12:10), Eric Stewart (15th in 12:14), Samuel Martin (21st in 12:27), Clayton Harvey (26th in 12:34), and Danny Vivar (29th in 12:36).
"What a way to finish the year!" stated Hornets coach Steve Oury. "It's always nice to win, but to win with so many guys running their best race makes it even sweeter.
"Coach Deanna Porter at Bryant Middle School and Coach Kayla Daniels at Bethel Middle School both did a great job of having their boys ready," he noted.
"We had two seventh graders and an eighth grader finish in the top 10, so it wasn't just the freshmen who ran well. From top to bottom we had great effort and great results, with lots of personal records being set.
"I'm very excited to see how this freshman class develops over the next couple of years," said the coach. "They have a chance to really help us out in the future at the senior high level, and the junior high team looks to be strong again next year as well with these younger runners coming up."