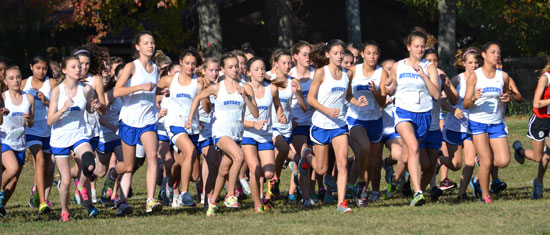 Photos courtesy of Lloyd Wilson
CABOT — At the Walmart Junior High Cross Country Championship held at Cabot Saturday,[more] Bryant eighth-grader Sidney Wilson won the individual title and led the Junior Lady Hornets to a second-place finish.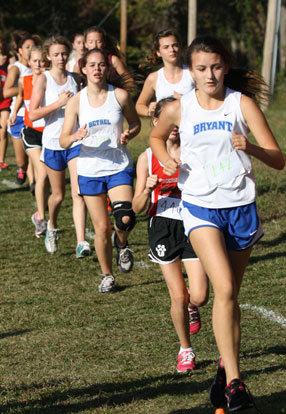 Bryant scored 77 points to take runner-up behind Lake Hamilton, which won the title with 62 points. Conway finished third with 88 points followed by Heber Springs (106), Pulaski Academy (120), Cabot (130), and Russellville (160). There were 10 teams and 151 individuals in the race.
Wilson won her fourth individual title of the season by surging to a commanding lead midway into the race and finishing in a near school-record time of 12:40.
"Sidney Wilson ran a great race today," declared Lady Hornets coach Danny Westbrook. "We had some surge points set up for her and she hit them perfectly. Her finish kick at the end of running two miles was simply incredible."
Other finishers for Bryant receiving top 30 medals were Reagan Smith (10th, 13:49), Hadley Dickinson (12th, 13:50), and Jessica Butler (25th, 14:18). Melissa Barrientos was Bryant's final scorer at 35th place in a time of 14:46. Completing the top seven were Camryn Bolton (35th, 14:52) and Delaney Hunter (42nd, 15:05).
"Team-wise we were not full strength because of two of our top freshman, Hannah Shelby and Sarah Cowell, having been moved up to the high school team," Westbrook noted. "Lake Hamilton only beat us by 15 points and I think with those two competing today we would have had a great shot at winning.
"Four out of our top seven finishers today were from our middle schools," the coach mentioned. "I really want to commend Coach Deanna Porter and Coach Kayla Daniels for their outstanding coaching job this season."