Additional photos courtesy of Ron Boyd
HOT SPRINGS — The Bryant Junior Hornets' undefeated season continued in dominating[more] fashion Saturday at the Lake Hamilton Invitational at Oaklawn Park in Hot Springs. The Junior Hornets placed six runners in the top 20 to score 48 points, easily outpacing runner-up Russellville, which finished with 93 points. A total of 16 teams and 234 runners competed in the meet.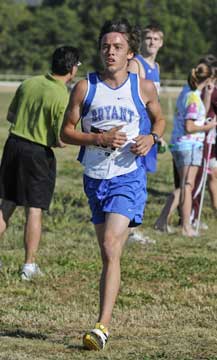 Connor Wilson returned from an injury, which forced him to miss the previous week's meet in Russellville. He led the Junior Hornets with a fourth place finish in a time of 11:53 over the 2.1-mile course. Charlie Terry (sixth in 11:59), Mark Winn (10th in 12:14), Ben Majors (13th in 12:25), Nicholas Schmidt (15th in 12:28), Dru Winn (18th in 12:35), and Antonyo Sanchez (31st in 13:07) completed the Hornets' top seven.
"We again ran a very smart and dominating race," commented Hornets coach Steve Oury. "We established our top runners up near the front and stayed there.
"It was great to see Connor Wilson back out there this week," he continued. "We had a 35-second gap from our first to fifth runner, and when your first runner is in the top five that means you're going to have a great chance to win.
"Next week, our top runners will be going to the Chile Pepper Invitational and will have to step up in distance to the 5k," noted the coach. "That will be a great challenge for these guys but I'm looking forward to seeing how they handle it.
"We are fortunate to have Coach Rhonda Hall at Bethel and Coach Deanna Porter at Bryant Middle pushing our middle schoolers to excel, and it has been paying off for us this year," Oury concluded.