Photos by Ron Boyd
HOT SPRINGS — The Bryant Junior Lady Hornets cross country team continued their[more] undefeated season at the Lake Hamilton Invitational Saturday, putting all five of their scoring runners in the top 15 places. Bryant took the team championship with 44 points.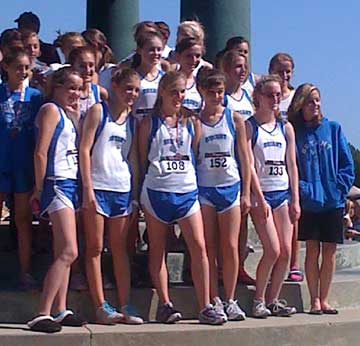 Lake Hamilton finished a very close second with a score of 52 points. Little Rock Christian finished third with 85 points followed by Batesville (108), Heber Spring (122), Russellville (137), and Caddo Hills (275). There were 17 teams and 247 runners in the two-mile race at Oaklawn Park.
"Our junior girls are doing awesome," stated coach Danny Westbrook. "All of our top seven runners got medals today. Lake Hamilton really went after us at the start of the race and they probably were leading at the mile mark, but we rallied with some very strong finishes."
Bryant was led by eighth-grader Hannah Shelby who finished second overall with a time of 13:45. Close behind was Caitlyn Bell at fourth place in 14:04. Eighth-grader Sarah Cowell was the third runner at 12th place in 14:21.
Rounding out the top five were Lindsey Butler (14th, 14:30) and seventh-grader Hadley Dickinson (15th, 14:32). Also receiving medals were Lauren Ackley (26th, 14:49) and seventh-grader Abby Ostrem (29th, 14:52).
"Hannah Shelby had a great performance today," Westbrook said. "She is a very gifted runner and is starting to really figure out how to race. I was proud of Caitlyn Bell for hanging in and finishing strong while running on very sore legs. Sarah Cowell ran an outstanding race today as well."
The Bryant Cross Country teams will be headed to the prestigious Chile Pepper Invitational at the University of Arkansas at Fayetteville next Saturday.