By Rob Patrick
Photos by Kevin Nagle
LITTLE ROCK — The Bryant Hornets freshman team's season of "almosts" came to an end[more] Monday night at Mount St. Mary Academy's McAuley Center.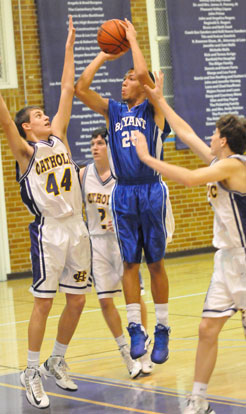 It was another "almost" for the Hornets who had a shot to forge a tie in the final seconds but struggled to get a good look then couldn't get a desperate attempt to fall as the Little Rock Catholic Rockets prevailed 31-28 in the Central Arkansas Junior High Conference Tournament play-in game between the eighth and ninth seeded teams.
Earlier in the evening, hosting Mount St. Mary's Mounties ended the season for the Benton Lady Panthers.
The prize for Catholic and Mount will be taking on the top-seeded teams, North Little Rock and Cabot North, respectively, as the league tournament gets under way in earnest in Cabot on Wednesday.
(The Bryant Lady Hornets' freshman team plays at 8:30 p.m., on Wednesday against Conway White at Panther Arena.)
Just moments after Monday's game, Catholic coach Tim Glancy happened by and noted in reference to his team and the Hornets, "Our teams are a lot alike. Either one could've been in the middle of the conference or higher except for little things."
Hornets coach Mike Simmons was asked what he told his team after the loss. He answered, "I told them there was good and bad about this game. The bad was that we got beat by the same things that have beat us all year.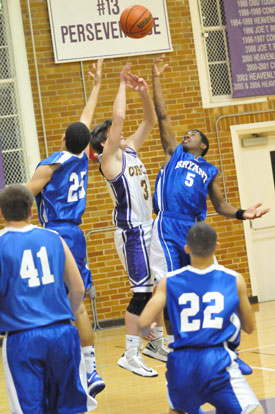 "But, every team in this conference that we lost to it's been by 5 of 6 points," he added. "When they mature and keep playing basketball and they keep doing fundamentals, all those little things they're still doing wrong, they start correcting those, this could be a good team down the line.
"Hopefully, they'll stay with it and keep working," Simmons concluded. "I know they'll get fundaments from Coach A (Bryant High coach Mike Abrahamson). He'll keep drilling the same stuff we're drilling and hopefully they'll be able to help the senior high."
Just a week before, the Hornets had hosted the Rockets and, behind a 25-point performance from Lance Thomas, Catholic won 40-33. This time, Thomas only got 10 points to go with a game-high seven rebounds but, when his team really needed it, he came through. In the third quarter, he scored 7 of his team's 9 points helping them to build their largest lead 23-16 before Bryant rallied.
"We did some things better but still got beat on the boards," Simmons mentioned. "(Thomas), when he absolutely wants to go get one, he does. We worked in practice the last couple of days on always knowing where he's at, but he still got his and we left some of their other kids open to get some boards too.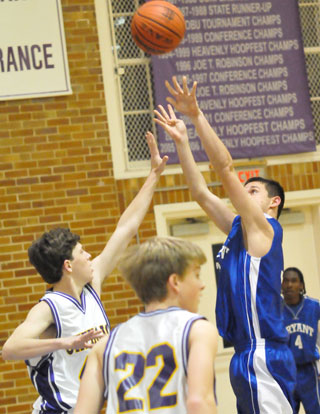 "That's just been a problem for us all year, rebounding the basketball," he continued. "Couple that with still missing free throws, which hurt down the stretch when you miss a few little shots that you should be making."
The Hornets were 2 of 9 from the line in the second half and the misses included a front end of a one-and-one.
Still, they whittled the 7-point lead down to 27-26 early in the fourth quarter and, because the Rockets missed chances to put the game away at the free-throw line, had a chance to tie it at the end.
Kris Croom finished with a game-high 11 points. Cameron Murray added 7 points to go with six rebounds. Kevin Hunt finished with 5 points, Dagan Carden 3 and Jaelynn Jones 2.
The Hornets fell behind 7-3 early in the game but a steal by Simeon Watson led to a basket by Murray off the offensive glass. Hunt added a free throw and, following another Rockets turnover, Murray scored inside to give Bryant the lead.
Hunt and Watson combined on a steal that Hunt cashed in with a three-point play. The result was Bryant's largest lead of the game at 11-7.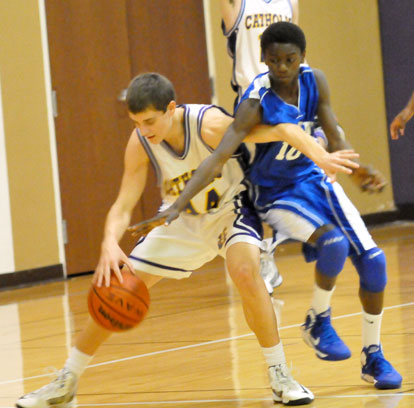 But by the end of the quarter, Catholic had tied it 11-11 and when Evan Sowell hit a 3 to start the second period, it put the Rockets in the lead for good.
Thomas' first basket was countered by a three-point play from Murray to cut it to 16-14 but those were the only points the Hornets could manage in the second quarter.
Still, they only trailed 18-14 at the break.
A drive by Chad Wharton opened the scoring in the second half and, after Croom hit a driving jumper, Thomas hit a free throw and hit a jumper to make it 23-16.
Hunt and Croom each hit free throws around a 3 from Croom as Bryant trimmed the lead to 23-21.
Thomas hit four free throws and the Rockets had a chance to increase the lead but Carden and Jordan Walker forced a turnover that Croom took advantage of by beating the buzzer ending the third quarter with a baseline drive for a deuce.
And when Carden opened the fourth quarter with a 3, the Hornets were within a point, 27-26.
That basket came with 5:21 left in the game. They wouldn't score again until Jones took a feed from Hunt and knocked down an eight-foot jumper with :36 left.
In between, Andre Sale, Wharton and Thomas hit free throws.
It was 31-26 going into the final minute. Catholic had chances to increase the lead at the :43.1 mark and with :27.8 to go but came up empty, leaving the door open for the Hornets.
With his team struggling to get an open look, Simmons called a timeout with :13.7 left to try to set something up. But the Rockets overplayed on the 3-point arc and Hunt had to force a shot from near the top of the key as time ran out.