Photos courtesy of Kim Lester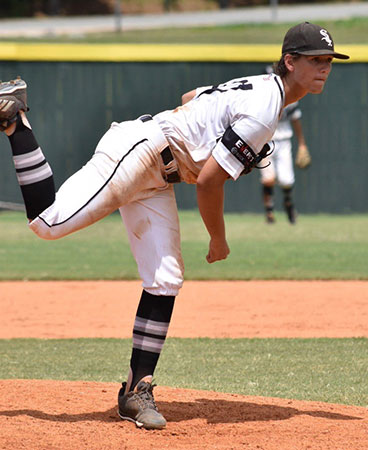 The Bryant Black Sox punched their ticket to the 2018 Junior American Legion State Tournament at Hendrix College in Conway with a win over rival Benton Sport Shop that got ugly late. Benton, hoping to save pitching for the losers bracket final later in the day, used eight pitchers.
Already leading 12-8 going into the seventh inning, the Sox scored seven times for a 19-8 victory in the winners bracket final as they finished 3-0 in the Area 3 District Tournament at Bryant High School Field.
Benton came back later to oust Little Rock 16-6 to earn the second bid for State as the 2 seed for State, which begins this Friday.
Bryant will open State at 4 p.m., probably against Fort Smith Sportsman Athletics. Benton opens at 11 a.m., probably against the Russellville Pirates.
In a 13-game tournament in which there were a whopping 222 walks (an average of 17 a game) and 52 hit batsmen (4 per game), Bryant and Benton combined on 26 walks and seven hit batsmen on Tuesday. Slade Renfrow had three of the Sox' 11 hits. Zion Collins, Brayden Lester and Noah Davis had two each.
When the game was tight early, Lester and Lawson Speer came through with big two-out two-run hits. Davis knocked in a pair with one down to highlight the six-run fourth that put Bryant in control.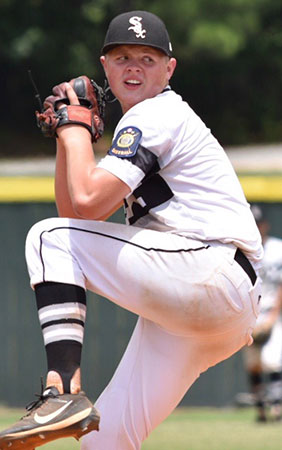 Five Bryant pitchers held Benton to seven hits. Adam Sims had two of those and three RBIs, including two on a third-inning home run. Tristan Hawkins and Payton Hudgens each had two hits as well.
Benton scored a run on an RBI single by Sims in the first after Keaton Collatt had reached on an error, took second on a sacrifice by Karsyn Buchanan, third on a single by Hudgens.
Bryant ended the inning with a doubleplay.
In the top of the second, the Sox took a 2-1 lead on Lester's two-run double. Renfrow had been hit by a pitch but was forced at second on Collins' bunt. With two down, Davis drew a walk to set the table for Lester's rocket to the fence in left-center.
Benton tied it in the bottom of the second on a double by Hawkins, who swiped third and came home on an errant throw.
One-out walks to Dalton Pugh and Jaden Ashlintubbi set the table for the top of the Sport Shop order. But Bryant's starter Peyton Dillon got out of the jam with a strikeout and a grounder off his glove to Collins at second.
Ashlintubbi took over for Pugh on the mound in the third and retired the first two. But a walk to Will Hathcote opened the floodgates. Renfrow singled up the middle and Collins cracked a solid single to left to load the bases for Speer, who delivered a lined single to right that made it 4-2.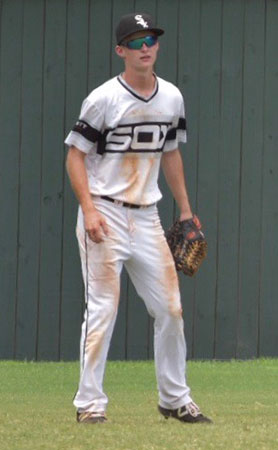 A walk to Davis brought another pitching change but, the next Benton hurler, Hawkins, issued consecutive walks to Lester and Dillon. Each forced in a run as the lead grew to 6-2.
Benton answered in the home half when Hudgens walked and Sims drilled his homer. But Dillon got back on track after that and set down the next three to keep it 6-4 going into the fourth.
And Bryant revved it up again, scoring six in the top of the inning, to take a commanding lead. Walks to Gage Stark and Hathcote spelled the end of Hawkins' work on the mound. Sims relieved and was greeted by Renfrow's RBI single.
Collins added an RBI with a sacrifice fly, making it 8-4. Speer was drilled by a pitch and, after a passed ball, followed Renfrow home on Davis' single.
Davis took second on the late throw to the plate then third on a wild pitch before Lester walked. With a 3-0 count on Dillon, Braden Pate became the fifth Benton pitcher. He balked, and Davis was awarded home. Dillon wound up drawing a walk then Ryan Riggs drove in the sixth run of the inning on a grounder to second.
Dillon worked around a pair of two-out walks in the top of the fourth then Tyler LaRue, Benton's sixth hurler, escaped unscathed despite a double by Renfrow and a single by Collins. Sport Shop turned a doubleplay to get out of the jam.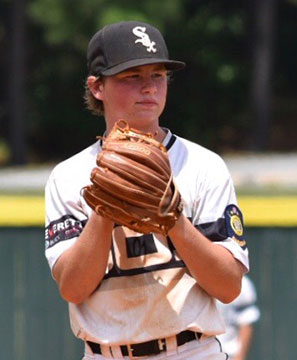 In the home fifth, Bryant turned a doubleplay after a walk to Ethan Hambric to start things for Hathcote ascendance onto the mound. But a single by Hawkins got Benton going. A hit batsman and an error loaded the bases then Ashlintubbi walked to force in a run.
Davis relieved but walks to Collate and Caleb Sollars force in runs to make it 12-5.
Lester came to the mound and, thanks to a sparkling play by Davis, back at short, got out of the inning with no further damage.
Benton trimmed another run off the lead to make it 12-8 in the sixth. Hambric walked, took second on a wild pitch, third on a single by Justin Walker and a sacrifice fly by Hawkins. After a walk to Blake Ferrell, Lester retired the next two including a strikeout of Ashlintubbi to end the inning.
Bryant's seventh-inning debacle started with walks to Stark and Christian Motes as Walker took over on the mound for Benton. Renfrow was hit by a pitch after being drilled in the face by a throw by the Benton catcher as he tried to throw to third on Stark's steal.
Stark scored on a wild pitch then Collins got Motes home with a sacrifice fly. Renfrow scored on a wild pitch then Speer was hit by a delivery. Walks to Davis and Lester followed before Hambric became Benton's eighth pitcher. He was greeted by Dillon's shot to the right-center gap that plated two more. Riggs grounded out to first but picked up and RBI.
The last two runs scored when Stark's fly to right was dropped.
Tyler Bates pitched the bottom of the seventh for the Sox. Stark robbed Collatt of a hit with a running catch in left then Speer came on to pluck Sollars liner for the second out.
Though Hudgens singled, Hambric was plunked and Walker drew a free pass, Bates ended it by getting Hawkins to fly to Speer in center.
The Junior Sox take a 15-9 record into State.
2018 ARKANSAS AMERICAN LEGION JUNIOR DISTRICT TOURNAMENT
At Bryant High School Field
Saturday, July 7
Game 1 — Sheridan Peoples Bank 10, Hot Springs Village Graves Sports 3
Game 2 — Benton Sports Shop 12, Benton Gingles 2
Game 3 — Little Rock Cobras 18, Benton Williams Tire 9
Game 4 — Bryant 13, Vilonia 4
Sunday, July 8
Game 5 — Sheridan Peoples Bank vs. Benton Sports Shop, suspended, rain
Game 6 — Little Rock Cobras vs. Bryant, ppd., rain
Game 7 — Hot Springs Village Graves Sports vs. Benton Gingles, ppd., rain
Game 8 — Benton Williams Tire vs. Vilonia, ppd., rain
Monday, July 9
Game 5 — Benton Sport Shop 15, Sheridan Peoples Bank 4
Game 6 — Bryant 12, Little Rock Cobras 5
Game 7 — Hot Springs Village Graves Sports 12, Benton Gingles 10
Game 8 — Benton Williams Tire 4, Vilonia 1 (Benton Williams Tire forfeits)
Game 9 — Little Rock 16, Hot Springs Village 6
Game 10 — Vilonia 11, Sheridan 1
Tuesday, July 10
Game 11 — Bryant 19, Benton Sport Shop 8 (winners bracket final)
Game 12 — Little Rock 22, Vilonia 14
Game 13 — Benton Sport Shop 16, Little Rock 6