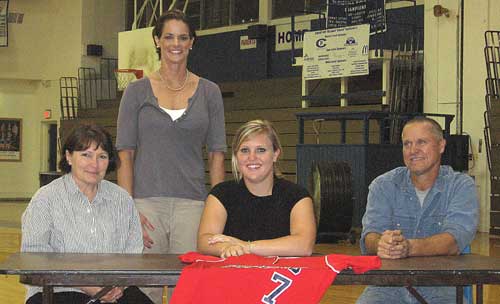 By Rob Patrick
On Tuesday, May 12, Bryant's Christen Kirchner made a formal commitment to a great adventure.
It's no surprise that one of the best softball players in the high school ranks in Arkansas accepted an offer to continue her career and education in college. The adventure involves where she will headed.
Kirchner is headed to New York City.
Actually, it's a suburb of the Big Apple, Orangeville, N.Y., where Dominican College is located, just 25 miles from Times Square.[more]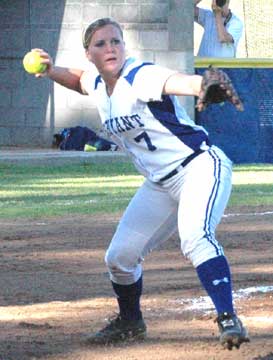 The school found out about her on the internet.
"They were searching," Kirchner, the daughter of Wanda and Chris Kirchner of Alexander, explained. "They said if you haven't signed with anybody, we need to talk. I said, 'Oh, New York. That sounds like fun.'"
They invited her for a visit.
"I went the weekend before Christmas and it was really crowded," she recalled. "It's New York. I liked the college. It's about the same size as Bryant. And this year, they made it to Regionals and last year, they were like three games from making the NCAA Tournament. It's a very good program."
The coaches haven't seen her play but, she added, "They said they've heard a lot about me. And when I went up there, they had this big, huge gym and I ran for them and hit the ball and threw for them. And the coach thought I was good then."
"I hope he knows what he's getting," commented Lady Hornets coach Lisa Stanfield. "He told her that some game in the fall he's going to let her play all nine positions in one game. Maybe they want to see that just to believe it. But I've seen it. I know she's special."
In fact, early in her high school career, Kirchner contributed to the track team, throwing the shot. She's been the Lady Hornets' primary pitcher over the last two seasons and has, indeed, played just about everywhere else. As a senior, she was mostly at shortstop when she wasn't throwing.
Primarily, she was told, she'll be stationed at third base for the Lady Chargers at Dominican. "And I get to keep my number (seven)," she added.
The school, Kirchner said, is known for its Physical Therapy program, which is what she wants to explore after serving as a student trainer for the Bryant High football team.
But her love for softball is obvious.
"She has put more work into this game, from a very young age until now, more work than probably most any player in Arkansas," Stanfield stated. "That's why she can do just about anything in the game."
"A lot of practice with my dad, me and him always practicing, at the batting cages," Kirchner said when asked what got her to this level of success. "He's always been my coach since I was 4. He's always pushed me. I owe him a lot of credit."
In fact, Chris Kirchner served as assistant to Stanfield this season as Christen and her teammates reached the Class 7A State finals, bringing the seniors full circle after the team made it to the finals when they were freshmen.
Regarding her eventful high school career, Christen said, "It was a lot of fun, just hanging out with the girls. And this year, especially, I really enjoyed the freshmen. They're such good ballplayers. I'm going to miss them."