By Rob Patrick
Photos by Kevin Nagle
The gauntlet for the Bryant Lady Hornets has begun. It's the stretch of their schedule in which they[more] play the powers of the 7A/6A-Central Conference consecutively. It actually started on Tuesday when they traveled to Van Buren and, lo and behold, they came away with a 51-47 win, just the third loss in 16 games for the Lady Pointers. It continued Friday night against a tough, tall, seasoned squad from Russellville that made a bid a week before to shock the powerful North Little Rock Lady Charging Wildcats.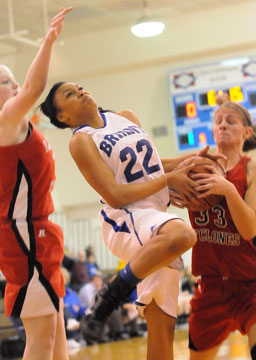 The minefield continues Tuesday at Conway, at home against Cabot on Friday, Jan. 20, then reaches North Little Rock on Tuesday, Jan. 24.
Coming into action on Friday, Jan. 13, that group of five teams had combined for almost 60 wins this season already.
Though things didn't go quite as well for the Lady Hornets against Russellville as they had against Van Buren, Bryant head coach Brad Matthews was encouraged by his team's play in what turned out to a be a 55-44 loss to a Lady Cyclones team that had pinned a 61-37 thumping on the Lady Hornets in early December.
It was Bryant's first league loss of the season.
"I thought we played really well in spurts tonight," Matthews stated. "Russellville's a really talented team. They have a good chance of winning the 6A State championship. They are so big and strong. They have a talented group of seniors that has a lot of experience. They're going to beat a lot of teams.
"But I was proud of our kids' fight," he noted. "I thought we fought and competed and that's something we can definitely take and build upon. Even though we want to win every game, that's something out of a loss that we can really build on. In this conference, if you don't compete, you're not going to have a chance at all.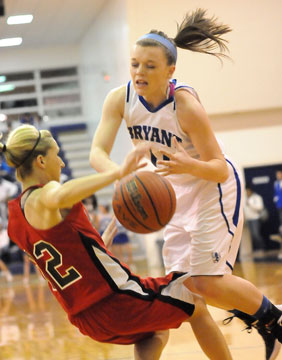 "I thought tonight was one of our better efforts in terms of being able to compete, fight and claw," the coach continued. "We're really starting to turn the corner on becoming a tough team. We've got a long ways to go in that regard but in order to win in this conference, at this level, you have to be tough. You have to be a lot of other things too but if you're not tough — mentally and physically — then these teams will take advantage of you."
The Lady Cyclones gained the upper hand in the first half by knocking down six 3-pointers. That's one of the tough things about Russellville, even their bigs will take and make 3's. In fact, post Natalie Shockey had three of those first-half triples.
And when Russellville missed, their size advantage at nearly every position — they start four seniors who have started since they were sophomores that all approach six-feet tall — they dominated the boards. The Lady Cyclones shot just 29 percent from the field but they attempted 18 more shots because 24 of the team's 45 rebounds came on the offensive end.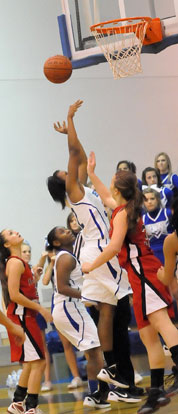 Russellville had three players hit double figures in rebounding, led by Shockey's 11. Mary Carol Davis and Lindsey Glover each collected 10 and Kaylee Wiedower hauled down seven more.
"There was a spell there in the third or fourth quarter where we let them have some offensive rebounds four, five, six possessions in a row," Matthews acknowledged. "We were playing decently good defense, just not finishing with rebounds.
"One of the things we've got to work on is we've got to rebound as a team," he mentioned. "We've got to learn to block out and then go get it. That's something we work on in practice. I thought, tonight, we did better competing for rebounds but when they're bigger and more physical than we are we've got to fundamentally block out. And we did it in spurts but against really good teams, spurts doesn't get it."
With Shockey, SaraH Prohaska and Wiedower each knocking down 3's, Russellville built a 12-6 lead in the first quarter. A bucket in the post by Taneasha Rhode had Bryant within 4 at the break.
And when Kiara Moore drove for a basket to start the second period, the lead was just 12-10. Bryant had three chances to tie or take the lead but turnovers undermined each opportunity.
Russellville, in turn, took advantage of Moore, Rhode and Dezerea Duckworth being on the bench in foul trouble and built a 10-point lead at 25-15. Free throws by Moore and Dezerea Duckworth who returned the play the final minute of the half, made it a 7-point game at the break.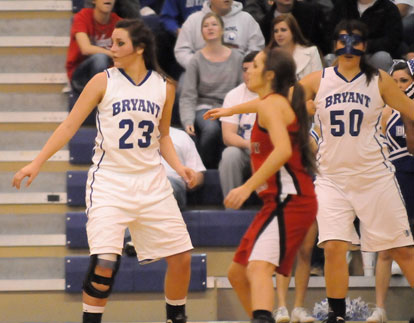 "We talked before the game about 'They're going to make shots. You have to expect them to make shots. You can't, from a mental standpoint, let that kind of knock you down a little bit mentally."
In the second half, Bryant tightened up the defense and the Lady Cyclones not only didn't make anymore 3's, they only attempted one.
The Lady Hornets broke from the second-half gate gamely. A couple of baskets inside by Rhode and a 3 that banked in from Logan Davis following a Moore steal brought Bryant even at 25 and forced a Russellville timeout.
"I thought there when we made our run that showed a lot of fight for our kids," Matthews said.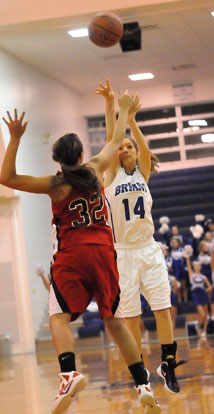 When play resumed, Shockey hit the offensive boards for a basket but Rhode grabbed an offensive rebound off a miss by Duckworth following her steal. She was fouled and knocked down both free throws to tie it at 27.
But a conventional three-point play by Shockey put Russellville back ahead to stay.
Rhode, who matched Shockey for game-high scoring honors with 19 points, helped her team stay within 2 at 33-31 before the Lady Cyclones put together an 8-0 run to end the period.
Bryant whittled on the margin at the start of the fourth quarter. Moore hit a free throw then Rhode rebounded her missed second shot and scored. Moore hit a driving jumper and Duckworth converted a pair of free throws as the Lady Hornets trimmed the lead back to 41-38.
Though they kept battling, that was as close as the Lady Hornets could get. It was 45-40 with 2:32 left after Duckworth's steal led to a basket by Moore. That's when the Lady Cyclones spread the floor and started a parade to the free-throw line. They missed just enough that the Lady Hornets retained a hope for a rally.
But Bryant managed just four free throws the rest of the game as the shots from the field started missing the mark. Eventually, Russellville found the range at the line and, in the final 1:30 converted 8 of 9 to secure the lead.
Moore finished with 16 points for Bryant. Wiedower had 14 for the Lady Cyclones.

LADY CYCLONES 55, LADY HORNETS 44


Score by quarters

Russellville 12 13 16 14 — 55
BRYANT 8 10 13 13 — 44
LADY CYCLONES (11-5, 2-1) 55
Player fg-fga ft-fta reb fls pts
o-d-t
Prohaska 1-3 0-0 3-1 4 5 3
Weidower 5-18 2-5 4-3 7 1 14
Shockey 7-15 2-3 7-4 11 4 19
M.C.Davis 1-5 7-10 5-5 10 3 9
Glover 1-8 2-2 5-5 10 4 4
Taylor 2-8 2-5 0-3 3 2 6
Hunt 0-1 0-0 0-0 0 0 0
Team 0-0 0
Totals 17-58 15-25 24-21 45 19 55
LADY HORNETS (10-7, 2-1) 44
Player fg-fga ft-fta reb fls pts
o-d-t
Moore 5-16 5-7 1-5 6 5 16
L.Davis 1-6 0-0 0-1 1 3 3
Duckworth 0-3 6-6 1-2 3 4 6
Rhode 7-10 5-7 3-4 7 5 19
Meyer 0-1 0-0 0-1 1 1 0
Allen 0-2 0-0 0-2 2 0 0
Davidson 0-1 0-0 2-5 7 3 0
Weaver 0-1 0-0 0-0 0 1 0
Team 1-2 3
Totals 13-40 16-20 8-22 30 22 44
Three-point field goals: Bryant 2-8 (L.Davis 1-3, Moore 1-3, Duckworth 0-1, Weaver 0-1), Russellville 6-16 (Shockey 3-5, Weidower 2-5, Prohaska 1-2, M.C.Davis 0-1, Glover 0-1, Taylor 0-1, Hunt 0-1). Turnovers: Bryant 14, Russellville 10.