By Rob Patrick
Photos by Kevin Nagle
It's reasonable to expect that, the second time around and with all but the final[more] week of the regular-season left, an opponent is going to be improved.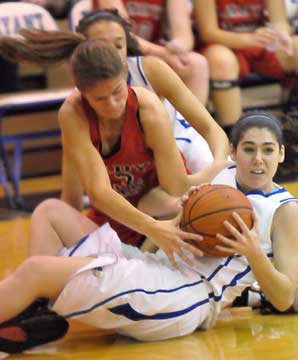 But, if Monday night is any indication, it's hard to imagine a team in the 7A/6A-Central Conference that has made greater strides than the Russellville Lady Cyclones. Admittedly, the defending State champion North Little Rock Lady Charging Wildcats have been consistently good all season — after all, they're unbeaten for a second season in a row — but the Lady Cyclones came into Monday's make-up game with the Bryant Lady Hornets second only to North Little Rock.
And they kept that standing when the scorched the nets at a 59 percent rate from the field, handing Bryant its worst loss of the season, 55-35, at the Hornets Nest.
It was impressive enough to make you believe that Russellville may well be a contender for the Class 6A State championship, which begins in Marion next week. The Lady Cylcones improved to 20-5 overall and 8-4 against the mostly Class 7A teams in the Central Conference. They're vying for a No. 2 seed at State.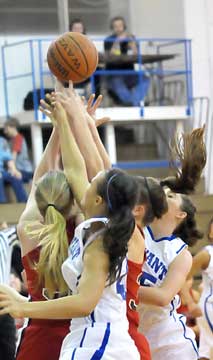 Bryant, trying to hang on for a bid to the 7A State in Rogers, dropped to 17-7 overall and 5-7 versus the league. The Lady Hornets travel to North Little Rock tonight before closing out the regular season at home on Thursday against Mount St. Mary Academy and on Friday when Little Rock Central visits.
The Lady Hornets have the inside track for the sixth and final bid to State from the Central. With the right combination of results, they could finish fifth. One more win or a West Memphis loss (in the 7A/6A-East) would officially clinch Bryant's State bid.
The Lady Cyclones had handed Bryant its first loss of the season, 44-39, at Russellville on Friday, Jan. 14. This time, they hit 9 of 13 shots in the first quarter (69 percent), rushing to a 20-5 lead. Bryant was unable to whittle the margin below double digits the rest of the contest.
Russellville's starters combined to go 18-of-28 (65 percent) from the field for the game. Lindsy Glover led with 15 points. Kaylee Wiedower and Susan Taylor added 9 each and Sarah Prochazka added 8 off the bench.
"They shot well," acknowledged Lady Hornets coach Blake Condley before turning to his team's performance. "I was disappointed in our adjustments. When a girl scores in a certain way, then let's try to do something different in how we guard. It's like the girls are waiting on me to hold their hand and walk them through everything. You know we talk in practice, 'Hey, we can't be the same all the time. It gets predictable and teams know what to do against it. Do something different. If a girl scores, let's see if she can adjust and see if she can do something different.' We just need to make those adjustments.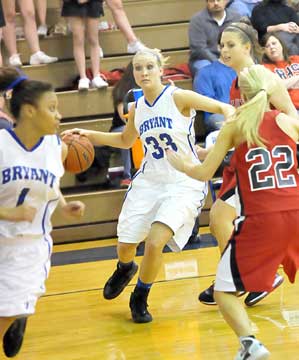 "I didn't feel like our focus and intensity was where it needed to be," he added. "We couldn't get stops when we needed to get stops and we couldn't score when we needed to score. That's not a good combination in the game of basketball."
By contrast, the Lady Hornets converted just 11 of 39 shots from the field. That's 28 percent. They did do a good job of attacking the basket and getting to the free throw line where they converted 12 of 20 but that was no match for the Russellville firepower. McKenzie Adams finished with 17 points. Breanna Blundell added 8 but no one else had more than 4.
Glover scored 9 of her points during Russellville's opening salvo. Her 3-pointer a minute into the game snapped a 2-2 tie and the Lady Cyclones were ahead to stay.
Bryant's basket had come on a layup by Kiara Moore at the 7:30 mark. Over the next 6:29, the Lady Hornets were limited to a single free throw by Adams. Russellville's 16-1 blitz was capped by Wiedower's first 3-pointer. After Blundell scored inside, Glover answered to make it 20-5. Adams tacked on a pair of free throws to trim the lead to 13 going into the second period.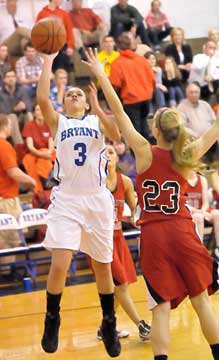 The lead was 28-13 with 2:48 left in the half. Blundell grabbed an offensive rebound and scored and, after a Russellville turnover, Abbi Stearns converted a free throw to trim the margin to 12. But the Lady Cyclones, behind a pair of late baskets by Prochazka held a 32-18 advantage at the break.
Stearns drained a 3 to start the scoring in the second half, bring Bryant as close at it had been since early on, 32-21. But Wiedower sandwiched a basket by Blundell with a pair of triples, pushing the lead back to 15 and the Lady Hornets were never that close again.
It was 40-26 going into the final two minutes of the third quarter. Natalie Shockey hit a long jumper then Susan Taylor drained a 3 and when Prochazka beat the buzzer with a running jumper, the lead had ballooned to 47-26. A scoop shot off a drive by Taylor to start the fourth quarter scoring gave the Lady Cyclones their largest lead of the game at 49-26.
LADY CYCLONES 55, LADY HORNETS 35
Score by quarters
Russellville 20 12 15 8 — 55
BRYANT 7 11 8 9 — 35
LADY CYCLONES (20-5, 8-4) 55
Player fg-fga ft-fta reb fls pts
o-d-t
Taylor 4-6 0-0 0-2 2 2 9
M.Davis 2-4 0-0 3-2 5 3 4
Glover 7-11 0-2 0-5 5 4 15
Wiedower 3-5 0-0 0-5 5 0 9
Shockey 2-2 0-0 1-2 3 4 5
Long 2-7 1-2 0-1 1 3 5
Prochazka 4-6 0-2 1-1 2 0 8
Team 0-0 0
Totals 24-41 1-6 5-18 23 16 55
LADY HORNETS (17-7, 4-7) 35
Player fg-fga ft-fta reb fls pts
o-d-t
Moore 1-3 0-2 0-1 1 5 2
Adams 4-14 9-11 1-0 1 1 17
Abernathy 1-7 2-2 3-0 3 0 4
Stearns 1-8 1-3 3-5 8 1 4
Blundell 4-5 0-0 2-6 8 0 8
Davidson 0-0 0-0 0-1 1 0 0
L.Davis 0-1 0-0 2-1 3 2 0
Hogancamp 0-1 0-2 0-0 0 0 0
Team 2-0 2
Totals 11-39 12-20 13-14 27 9 35
Three-point field goals: Bryant 1-13 (Stearns 1-2, Abernathy 0-5, Adams 0-3, Moore 0-1, Blundell 0-1, Hogancamp 0-1), Russellville 6-13 (Wiedower 3-5, Glover 1-2, Taylor 1-2, Shockey 1-1, M.Davis 0-2, Prochazka 0-1). Turnovers: Bryant 12, Russellville 9.