By Rob Patrick
Photos by Kevin Nagle
The Bryant Hornets appear to be gaining[more] momentum and confidence.
And it may be just in time.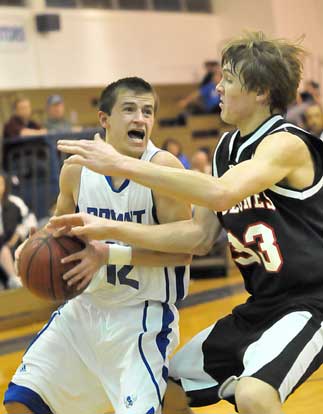 The Hornets, in a late bid to make the Class 7A State Tournament at Rogers Heritage, won their second 7A/6A-Central Conference game in a row on Monday night, 52-44, over the Russellville Cyclones, avenging a 33-31 loss on Jan. 14.
The Hornets are trying to catch Little Rock Catholic, a Central rival that visits Bryant this Thursday, and/or West Memphis, a team that has been competing in the 7A/6A-East Conference. Bryant improved to 3-8 in league play going into its final three games of the regular season at North Little Rock tonight then home against Catholic before finishing up at home against Little Rock Central on Friday. Catholic is 5-6 with three to play (at Little Rock Central, at Bryant and hosting Conway) and West Memphis is 4-8 with two to go (against East co-leaders Jacksonville, on Tuesday, and Little Rock Parkview, on Friday).
Of course with the convoluted ratings system involved, won-loss records may not be all that's taken into consideration.
Actually, it's all much simpler for Russellville which will be dropping down to Class 6A for post-season play. This year, all Class 6A teams will go to State, which will be held in Marion.
In Monday's game, the Hornets got out to a fast start, knocking down five 3-pointers in the first quarter including three by Jordan Griffin, building a 17-6 lead. They eventually led by as much as 18 points before Russellville rallied to within 5 midway through the fourth quarter. But Bryant converted enough free throws down the stretch to hang on for the win, which improved their overall record to 7-17.
"They've worked so hard," said Bryant coach Mike Abrahamson. "They've maintained a great attitude as individuals right on down the line and as a unit. They deserve to play well. They deserve to be confident. And I think that we're seeing that now. And, just as a coach, I'm happy to finally see them starting to reap some rewards for all their hard work.
"Our main focus is playing the best that we can play but it's hard to lose 17 games in a season," he continued. "And they keep coming back. They keep practicing hard. They keep a great attitude. They're high character kids and it's paying off. I'm just happy for them that they get to experience it."
Griffin finished with 17 points. Brantley Cozart added 15 and Macus Wilson 10. Griffin and Cozart combined to convert 15 of 19 free throws in the game including 10 of 12 in the fourth quarter when they were handling the ball against Russellville's desperate, trapping defense.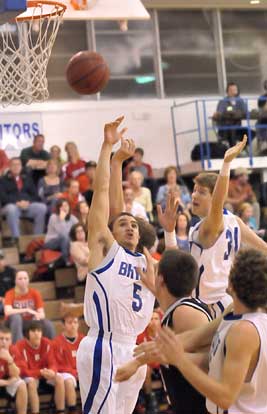 "Jordan and Brantley did an unbelievable job handling the ball, getting to the free-throw line," Abrahamson stated. "They're our leaders and they led us to victory at crunch time tonight.
"I was really impressed with all my guys to be honest," he added regarding his team's fast start. "Offensively and defensively, we were really playing well. When you shoot the ball well, everything looks better but, at the same time, I thought we were playing good defense and rebounding. It was a good quarter."
Cozart and Griffin connected on back-to-back 3's to turn a 2-2 game into an 8-2 Bryant lead. Grey Harris, who led Russellville with 13 points and 10 rebounds, answered but Wilson's first troika made it 11-4. After Jordan Barrett hit a jumper in the lane for the Cyclones, Griffin bombed a deep 3 then added another moments later to give his team the 11-point lead it took into the second period.
Cozart answered a basket by Wes Heilman with Bryant's only 2-point field goal of the first half then 3-pointers by Wilson and Griffin produced Bryant's 25-10 halftime lead.
Quinton Motto broke the ice on the second half increasing the lead to 17. After a Russellville miss and a timeout, Motto added a free throw that stretched the advantage to 28-10, Bryant's largest lead of the night.
Gamely, however, Russellville put together a 12-2 run starting with a three-point play by Harris that whittled the margin to 31-24 going into the final seconds of the third period. But Wilson knocked down a key with :18 showing so when Harris missed at the other end, the Hornets' lead was 34-24.
Three-point buckets of Eric Turner and Brandon Turner and a drive to the rack by Harris got the Cyclones within 40-35 at the 3:59 mark. Russellville called a timeout at 3:58.
"It was to be expected," Abrahamson said of the Cyclone rally. "Russellville, they have good coaches. They come to practice and work hard every day just like we do. They have pride just like we do and they were going to make a run. They were going to make an attempt to get back in the game and we knew that. We just had to sustain our play enough to come out with a victory.
"Credit to Russellville," he continued. "They fought back and they didn't give up. They started making some shots in the fourth quarter and they kept playing hard. But, I think, to my guys' credit, when it got to 5 and there was the timeout, they responded. They took care of the ball and went back to the free-throw line and we made free throws. We got a couple of stops and we got a couple of rebounds."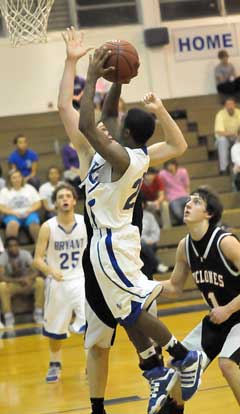 Bryant's response began with a free throw by Motto and, after a miss by Eric Turner on a 3-point try, Cozart rebounded and was fouled. He converted twice to push the lead back to 43-35.
Brandon Turner's layup came with 3:04 left but, after eating nearly a minute, the Hornets got those two back when Cozart drained two more free throws after a drive to the rack. And, on the rebound, Russellville's Wes Heilman got tangled up with Motto and was called for a foul. Motto converted once to bump the lead to 9.
Lance Woerner of Russellville was fouled on the rebound for the second shot. He too converted once and it was 46-38.
Wilson then had a layup blocked but, at the other end, he took a charge on a drive by Harris. The Hornets spread the floor again and kept the ball in the hands of Cozart and Griffin for the most part until, with 1:21 left, Houston Garner snuck in behind the Russellville defense and Cozart fired a strike to him for a layup that re-established Bryant's double-digit lead at 48-38.
The Hornets had weathered to storm. In the final minute, Griffin, Cozart and Garner converted free throws to help preserve the advantage.
"I just thought overall, it was a good experience for us," Abrahamson mentioned. "We haven't played with a lead very much this year and we're not used to it. It was all a learning experience. Everything else this year has been a learning experience, coming from behind, close games, overtime and, now, only for the second time that I can remember this year, we played with a comfortable lead."
The only other time, he said, was against Central Arkansas Christian in the Spa City Classic over the holidays.
HORNETS 52, CYCLONES 44
Score by quarters
Russellville 6 4 14 20 — 44
BRYANT 17 8 9 18 — 52
CYCLONES (9-15, 2-10) 44
Player fg-fga ft-fta reb fls pts
o-d-t
Barrett 3-8 4-6 2-0 2 5 10
B.Turner 3-8 0-0 1-1 2 1 8
Harris 6-17 1-1 4-6 10 5 13
Heilman 1-3 0-1 0-3 3 1 2
Woerner 0-0 1-2 1-3 4 3 1
Washington 0-1 0-0 0-0 0 5 0
E.Turner 3-10 1-2 0-7 7 2 9
Hall 0-0 0-2 1-1 2 0 0
Sacrey 0-1 1-2 0-0 0 1 1
Team 3-0 3
Totals 16-48 8-16 12-21 33 23 44
HORNETS (7-17, 3-8) 52
Player fg-fga ft-fta reb fls pts
o-d-t
Griffin 4-11 5-6 0-0 0 1 17
Cozart 2-5 10-13 0-7 7 2 15
Wilson 3-6 1-2 1-3 4 0 10
Garner 1-4 0-2 1-6 7 2 2
Motto 1-1 3-6 0-2 2 5 5
Nossaman 0-1 0-0 1-1 2 2 0
Cambron 1-1 1-2 0-1 1 2 3
Trudell 0-0 0-0 0-1 1 0 0
Moore 0-1 0-0 0-0 0 1 0
Team 0-4 4
Totals 12-30 20-31 3-25 28 15 52
Three-point field goals: Bryant 8-19 (Griffin 4-8, Wilson 3-5, Cozart 1-3, Garner 0-3), Russellville 4-23 (E.Turner 2-7, B.Turner 2-6, Harris 0-7, Heilman 0-1, Washington 0-1, Sacrey 0-1). Turnovers: Bryant 7, Russellville 3.