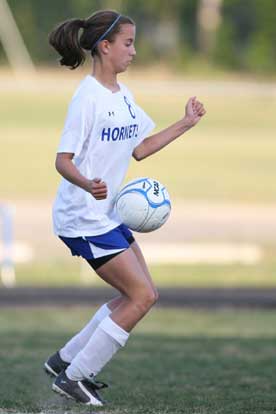 CABOT — The Bryant Lady Hornets would like nothing better than another win streak right now. They got a start on one on Thursday night with a 2-1 win over the Cabot Lady Panthers.
Bryant had won six in a row before a tough 2-1 loss to league-leading Conway on Tuesday.
Thursday's bounce-back makes it seven of the last eight as they head into a crucial final regular-season finale against North Little Rock on Monday, April 26, on Senior Night at Bryant Stadium.
With a win, the Lady Hornets would secure the No. 3 seed from the 7A-Central Conference for the State tournament. They'll take a 14-7 overall record and an 8-5 league mark into Monday's contest. On April 1, the Lady Hornets went to shootout to beat North Little Rock 1-0.
Shelby Gartrell scored a goal and assisted on another to lead the way on Thursday. The Bryant defense stayed stout. Cabot's lone goal came on a penalty kick late in the contest, spoiling the Lady Hornets' chance for their 11th shutout of the season.[more]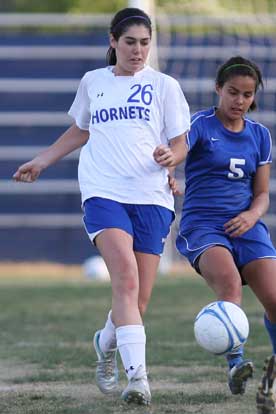 "We came out with high intensity," stated Lady Hornets coach Julie Long. "We put one in early. Shelby pressured the ball and then got a tough off to McKenzie Adams who scored."
That held up for 1-0 halftime score. In the second half, Maggie Hart fed Gartrell who put it in the back of the net to make it 2-0.
"The girls played really hard at times and let down at others," Long assessed. "I'll have to say this wasn't our best showing but it was a win, and a win is a win.
"The girls still did a lot of things right," she continued. "They worked hard and moved the ball well at times. We still have a few things to go over and fine-tune before State."
Long noted that a pair of key players were not available for the game. "So some people had to step up and fill the gaps where others were missing," she said. "I felt, overall, the girls are finally starting to play better as a team and not as individuals, which is something we've been working on all year. Katie Moore and Lexie Balisterri did a great job in the midfield and my back line is still holding strong. Taylor Bryant applied pressure up top which helped out us a lot.
"The girls are still learning and are eager to learn," Long mentioned. "I think they are in a good place right now. We have to focus on Monday's game. It is huge. The girls are going to have to once again come out and win."