For more photos by Rick Nation, go here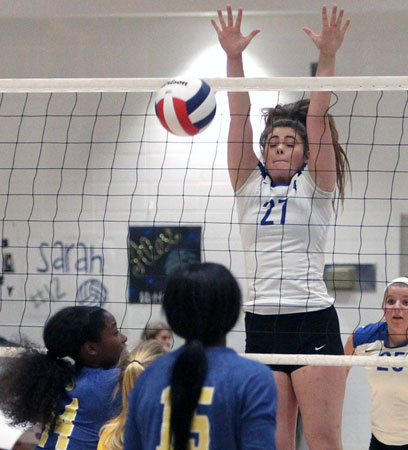 Seniors Reagan Blend, Sarah Clemmons, Alex Dillard, Riley Hill and Sarah Kennedy were honored as they played their final home volleyball game for the Bryant Lady Hornets Thursday night.
Unfortunately, the North Little Rock Lady Charging Wildcats put a bit of a damper on the proceedings with a straight set victory over Bryant, 25-21, 25-10, 25-22.
The Lady Hornets will conclude the 2016 season with rivalry matches at Conway on Tuesday and Benton on Thursday.
The Lady Charging Wildcats' size proved to be tough on the Lady Hornets' front line. Raven Loveless led with five kills. Hill had four, Lylah Washington and Clemmons three each. Blend contributed two kills with Dillard and Kyla Baker each scoring one.
Ashlyn Lee had 13 assists and one of the four aces the team produced. Clemmons had two aces and Blend had one. Lee was good on all nine of her serves and Hill was 8 for 8.
Clemmons also contributed two solo blocks. Loveless had one.