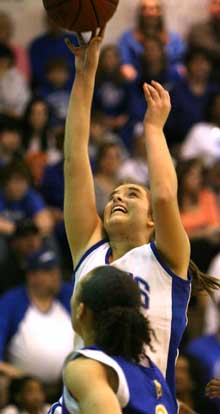 By Rob Patrick
When you're playing a team that 26-0 on the season, just clinched their fourth straight 7A-Central Conference championship and is riding a 33 game conference winning streak, you're team can't afford to play anything but its best from start to finish.
And that would just give you a chance to win, nothing would be certain about the outcome even then.
You just can't afford a letdown along the way.
Well, for most of three quarters, the Bryant Lady Hornets, who came in 22-3 overall in their own right and second only to North Little Rock in the 7A-Central Conference standings, stayed right with the top-ranked visitors to the Hornets' Nest on Tuesday night.
In fact, when Bryant's Alana Morris posted up for a bucket with 4:42 left in the third period, the Lady Hornets were within a point, 43-42. Even after baskets by North Little Rock's Kayla Brown and Lexus Williams, Bryant's Haley Montgomery connected on a pair of free throws that had her team within 47-44 with 1:57 left in the period.
But, it was at that point, that the Lady Wildcats locked into a 15-0 blitz that the Lady Hornets just couldn't overcome.
North Little Rock closed out a 72-50 win to keep all its streaks intact.[more]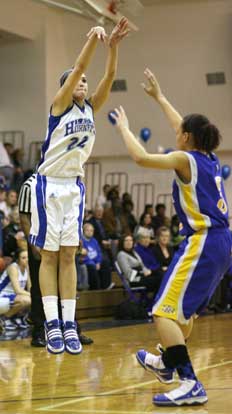 The loss dropped Bryant to 10-3 in conference play, just a game ahead of Conway. Figuring Conway would finish out their season at home on Friday with a win over last-place Mount St. Mary, the Lady Hornets will need to win at Little Rock Central — never easy — on Friday to assure themselves of a second-place finish and the first-round bye at the State tournament that goes with it.
"We really haven't had a night where all of our girls have played well and had a good night," noted Lady Hornets coach Blake Condley. "But I thought we put that together tonight. I thought all the girls came out focused, played well defensively. Offensive, we hit shots. I mean you have to hit shots whenever a team plays good defense. But we hit shots and put ourselves in position to have a chance to win.
"We just came up short," he stated. "We just didn't have the stamina to stay with them once it got down the stretch.
"We'd like another shot at them," Condley asserted.
If the Lady Hornets could wrap up that second seed on Friday, they would have to make the State championship game to face North Little Rock again. If they finish as the No. 3 seed, they could meet them in the semifinals.
The State tourney begins in Van Buren on Wednesday, March 3.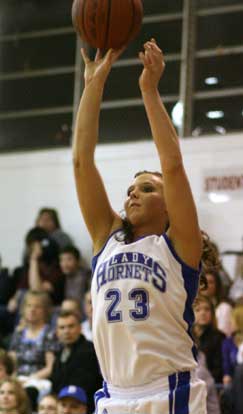 "North Little Rock's just a good team," Condley acknowledged. "Not many weaknesses. And I really felt like where they got us was on the inside. When they missed it, they'd get an offensive rebound and put it back. But I'm sure it wasn't for our lack of effort. The girls were getting after it."
The game turned, Condley said, "When we couldn't get a stop defensively then we couldn't get a score offensively. That just kind of snowballs on you and that's where they were able to stretch the lead out. We go a couple of possession without getting a stop and then a couple of possessions without getting a score. All of a sudden, we're down 10."
Indeed, North Little Rock had 14 offensive rebounds in the game with Williams and Markeisha Hawkins accounting for nine between them. They both, incidentally, finished with 18 points. Jerica James added 11, Brown 10 off the bench, and Sandy Jackson 9.
For Bryant, Kenzee Calley and Alana Morris finished with 10 points each. Montgomery added 9, Shanika Johnson 7, Hanna Goshien and Abbi Stearns 5 each and Brooke Parish 4.
The Lady Charging Wildcats out-rebounded Bryant 31-26 and forced 20 turnovers while committing just five.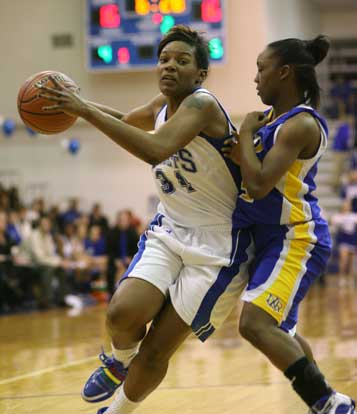 Bryant broke out to an 8-5 lead early with Calley starting the opening salvo and finishing it. In between, Montgomery banked in a jumper after chasing down an offensive rebound and Morris hit two free throws.
Williams cut it to 8-7 but Johnson canned a 3 to make it a 4-point game.
But North Little Rock eventually tied it at 11 and took a lead on Hawkins' first basket. Parish hit two free throws to knot it at 13. Before the quarter was over, Jackson and Stearns traded three-point plays and it was 16-16 going into the second period.
Montgomery drained a 3 to give Bryant the edge again. After a free throw by Hawkins, Calley knocked down a jumper from the baseline to make it 21-17, which was Bryant's largest lead.
After a timeout, North Little Rock put together a 9-2 run to create a 3-point advantage. But Calley popped from the corner again to trim the lead to 26-25 only to have North Little Rock respond behind Williams to build the margin back up to 34-28 before Morris finished the scoring in the half with a three-point play.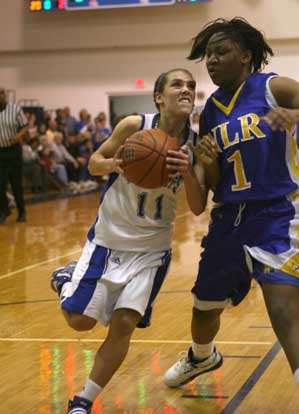 To start the second half, Hawkins was offset by Calley's drive to the rack then Brown's 3 was answered by Goshien.
Williams tried to answer inside but missed and Montgomery flashed into the lane for the long rebound and raced coast-to-coast for a layup that had Bryant down just 39-38.Williams scored inside but Morris fed Stearns with an eye-popping, no-look pass that led to a layup. Hawkins drove the baseline before Morris posted up for the basket that had Bryant within 43-42.
The Lady Hornets had one chance to take the lead at that point after James missed a jumper but a turnover undermined the opportunity and Brown drove for a layup. Another turnover led to a basket by Williams but, after Goshien couldn't get a 3 to go, Montgomery made a steal and was fouled going to the hoop. Her free throws had Bryant within 47-44.
But, in the final 1:30 of the quarter, North Little Rock started its game-breaking run. Hawkins hit a 15-footer, Vaughn scored off the offensive glass as did Hawkins moments later. The Lady Charging Wildcats led 53-44 going into the fourth quarter.
Still in range of pulling the upset, things got away as the run continued. A stickback by Williams was followed by a pair of free throws by Brown as Morris picked up her fourth foul.
On the subsequent possession, Montgomery made one of her fearless drives into the lane. Along the way she tripped to the floor and, it appeared, she hit her head on the floor. No foul was called on the play and Condley was tagged with a technical foul after protesting it.
Hawkins hit one of the two technical free throws and, in the subsequent possession, James hit a 12-footer and Bryant took a timeout, trailing 59-44.
Stearns earned a trip to the line after play resumed but she couldn't get either free throw to fall. So, when Jackson drove for a basket, Bryant turned the ball over and Hawkins hit two from the line, the lead had ballooned to 62-44.
Parish took a nice feed from Morris and hit a layup to end Bryant's 5:25 scoreless stretch but the damage had been done. North Little Rock closed out the win, extending its margin to its biggest lead of 22 at the end of the game.
LADY CHARGING WILDCATS 72, LADY HORNETS 50
Score by quarters
North Little Rock 16 18 19 19 — 72
BRYANT 16 15 13 6 — 50
LADY CHARGING WILDCATS (27-0, 13-0) 72
Player fg-fga ft-fta reb fls pts
o-d-t
James 5-12 0-0 1-4 5 1 11
Jackson 3-6 3-3 1-2 3 4 9
Hawkins 7-13 3-6 5-1 6 1 18
Williams 8-13 2-4 4-5 9 1 18
Vaughn 2-7 0-2 2-2 4 2 4
King 1-2 0-0 0-0 0 4 2
Ka.Brown 3-5 3-4 0-2 2 2 10
Slocum 0-0 0-0 0-0 0 0 0
Patterson 0-0 0-0 0-0 0 0 0
Ke.Brown 0-0 0-0 0-0 0 0 0
A.Brown 0-0 0-0 0-0 0 0 0
Hale 0-0 0-0 0-1 1 0 0
Team 1-0 1
Totals 29-58 11-19 14-17 31 15 72
LADY HORNETS (22-4, 10-3) 50
Player fg-fga ft-fta reb fls pts
o-d-t
Montgomery 3-7 2-2 1-1 2 2 9
Goshien 1-9 2-2 0-5 5 3 5
Calley 5-7 0-0 1-2 3 0 10
Stearns 2-3 1-3 0-3 3 3 5
Morris 2-4 6-8 1-4 5 4 10
Parish 1-2 2-2 1-1 2 0 4
Johnson 3-4 0-0 1-1 2 3 7
Hogancamp 0-0 0-0 0-0 0 0 0
Neal 0-2 0-0 0-0 0 0 0
Barker 0-0 0-0 0-0 0 0 0
Abernathy 0-0 0-0 0-0 0 0 0
Sory 0-0 0-0 0-0 0 0 0
Team 2-2 4
Totals 17-38 13-17 7-19 26 15 50
Three-point field goals: North Little Rock 3-11 (James 1-4, Ka.Brown 1-3, Hawkins 1-2, Jackson 0-2), Bryant 3-14 (Goshien 1-8, Montgomery 1-4, Johnson 1-1, Neal 0-1). Turnovers: North Little Rock 5, Bryant 20. Technical fouls: Bryant Coach Condley.