By Rob Patrick
Close.
Time after time this season, the Bryant Hornets basketball team has been close without reward.
And in their final home game of the season, Senior Night, on Tuesday, Feb. 23, it was no different. The North Little Rock Charging Wildcats managed a 55-41 win by hitting a bunch of free throws in the last two minutes but, with 3:15 to go, Bryant was within 44-41.
But, much to their frustration, the Hornets didn't score after that as the Charging Wildcats pulled away.
"You know, we've stayed in most every game," acknowledged Hornets coach Ron Marvel. "I knew that if we were going to be in a game, it was going to be close. We just haven't managed to win enough close ballgames. Our team is not blessed with a whole bunch of talent. We just have to play hard to stay in a game. It's just unfortunate that we didn't knock down some shots and we could've had a really nice season."[more]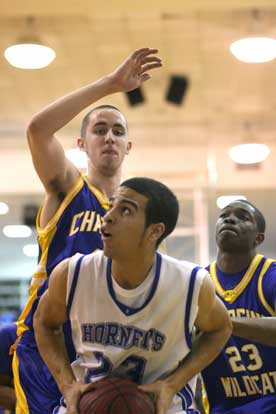 To their credit, the Hornets played about as well as they have this season for most of the game despite the fact that they had been eliminated from State tournament contention the previous Friday. They continued to scrap and hustle but, as they did in North Little Rock earlier in the season when they fell in a gut-wrenching 42-40 game, they just couldn't get over the hump.
The Hornets' seniors, Brandon Parish, K-Ron Lairy, Conner Rayburn, Kendall Butzlaff, K.J. Hampton and Dontay Renuard, were honored prior to the game as was Marvel, who came out of retirement after a long and distinguished career as a high school and college coach, to serve as an interim coach for this season.
Actually, Bryant led most of the game, opening with an 8-0 run. North Little Rock didn't have a lead until Mike Malvin's three-point play with :31.1 left in the third quarter put them up 38-37.
Bryant had a trio of chances to regain the advantage but a turnover sabotaged their effort when they tried to hold for the last shot of the third quarter. In the fourth, North Little Rock's Reggie Bryles misfired and Renuard was fouled. With the Hornets in the bonus, Renuard went to the line but couldn't get the front end shot to fall.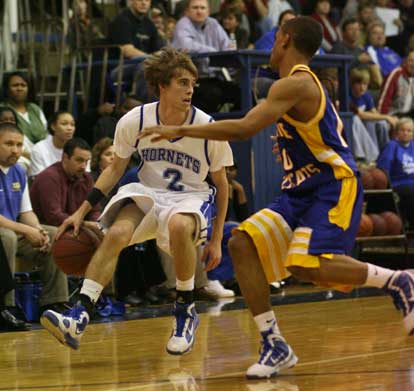 The Charging Wildcats' Tyree's Hollister missed a 3-pointer shot and Bryant got one more try to regain the advantage only to have Lairy's 3-point try rim out.
Lairy, who finished with a game-high 25 points, got a chance to tie it moments after North Little Rock Mike Evans hit a free throw to make it 39-37. But Lairy's shot again refused to fall.
An offensive-rebound basket by Chris Campbell extended the margin for the Wildcats. After Lairy and Hollister traded free throws, Malvin grabbed the carom off Hollister's second miss and was fouled with 3:50 left. He converted both shots so the North Little Rock lead was up to 44-38.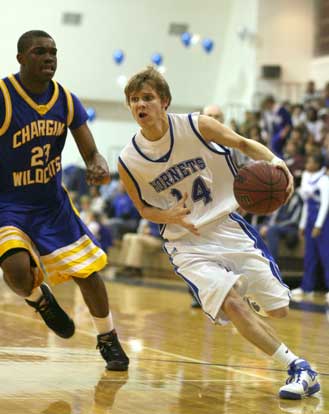 That's when Renuard, making a nice backdoor cut and getting a nice bounce-pass feed from Lairy, hit a layup and was fouled. His free throw made it 44-41 with 3:15 to go.
Campbell hit a driving jumper in response then Bryant missed shots on each of the next four possessions while free throws by Bryles, Malvin and Hollister built up the final 12-point margin.
Malvin finished with 18 points and eight rebounds.
Bryant got off to a scintillating start when Evans won the opening toss only to have Parish flash to steal it. He dashed to a layup.
It stayed 2-0 for two minutes as both teams struggled to settle in. Finally, Lairy ripped the cords for a 3. And when he hit another one with 4:32 left in the opening quarter, North Little Rock needed a timeout, trailing 8-0.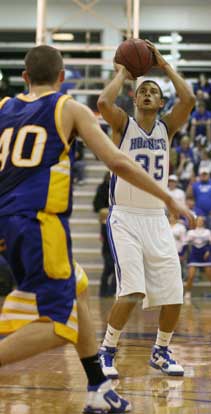 Though the Charging Wildcats made a run to within 8-6, they just couldn't gain the advantage as Lairy hit two free throws and, after Malvin hit one, Hampton knocked one down, Rayburn, who has become the team leader in taking charges, absorbed one while defending Evans, and Parish nailed a 3 to make it 14-7.
Malvin scored inside in the final minute to trim the lead to 5 going into the second period.
Lairy proceeded to score 11 of Bryant's 13 points in the second quarter, for the most part trading baskets with the Wildcats. A three-point play by the Bryant point guard had produced a 25-18 lead only to have Malvin get those points back with a three-point play on the other end.
North Little Rock trimmed the lead to 25-23 but Rayburn came through with two free throws and the Hornets took a 27-24 lead at the half.
The Charging Wildcats eventually tied the game midway through the third quarter, 30-30. LJ. McLaughlin too a feed from Parish and knocked down a baseline jumper to keep Bryant on top. Evans hit a turnaround jumper from the post to knot it at 32.
Lairy added a free throw and a 3 to bump the margin back to 4 but Hollister connected on an answering 3. McLaughlin added a free throw but Malvin's three-point play finally put the Wildcats in the lead.
The win secured second place in the 7A-Central Conference for North Little Rock, which will thus earn a first-round bye at State in Van Buren. The Wildcats are 17-9 overall, 9-3 in conference play going into a finale at home against Van Buren on Friday, Feb. 26.
The Hornets dropped to 9-18 overall and 2-11 in the league. They'll finish their season at Little Rock Central on Friday.
NORTH LITTLE ROCK 53, BRYANT 41
Score by quarters
North Little Rock 9 15 14 15 — 53
BRYANT 14 13 10 4 — 41
CHARGING WILDCATS (17-9, 9-3) 53
Player fg-fga ft-fta reb fls pts
o-d-t
Tyler 2-4 0-0 0-2 2 4 4
Bryles 0-3 5-6 1-3 4 2 5
Campbell 3-7 1-2 2-7 9 4 7
Malvin 5-10 8-10 4-4 8 2 18
Evans 2-5 4-6 2-5 7 3 8
Hollister 2-6 3-4 0-0 0 1 8
Gibson 0-4 3-4 1-0 1 0 3
Team 2-2 4
Totals 14-39 24-32 12-23 34 16 53
HORNETS (9-18, 2-11) 41
Player fg-fga ft-fta reb fls pts
o-d-t
Lairy 8-15 6-9 2-2 4 0 25
Parish 2-5 0-0 0-0 0 1 5
Butzlaff 0-1 0-0 2-2 4 4 0
Hampton 0-4 1-2 0-4 4 5 1
Renuard 1-7 1-2 0-5 5 5 3
Rayburn 0-2 2-2 1-0 1 3 2
McLaughlin 0-2 2-2 1-0 1 3 2
Motto 0-0 0-0 0-0 0 1 0
Team 1-0 1
Totals 12-37 13-19 6-15 21 20 41
Three-point field goals: North Little Rock 1-6 (Hollister 1-4, Bryles 0-1, Campbell 0-1), Bryant 4-17 (Lairy 3-8, Parish 1-4, Renuard 0-4, Rayburn 0-1). Turnovers: North Little Rock 4, Bryant 8. Technical foul: North Little Rock, Campbell.