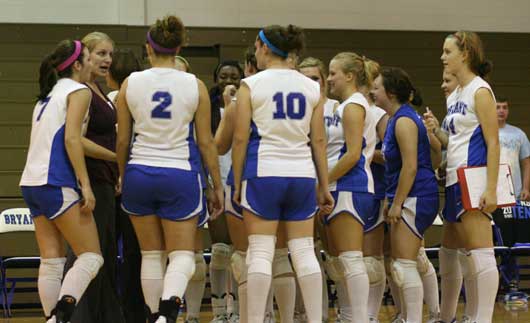 The end of any season is bittersweet but it's especially so when the end comes sooner than you'd planned.
The Bryant Lady Hornets volleyball team had their sites set on finishing the season with a trip to the Class 7A State Tournament in Van Buren, taking a shot at making some noise there.[more]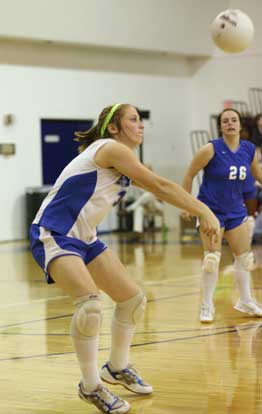 But three straight losses to finish the regular season and a rally by the Cabot Lady Panthers during that same stretch wound up costing the Lady Hornets that trip despite a six-win conference campaign, the most of any Lady Hornets' team since the late '90's.
So, on Thursday, Oct. 22, the Lady Hornets celebrated the seniors that led them to that success and what they hope will be a turning-point season with a 3-0 win over the Sheridan Lady Yellowjackets at the Hornets Nest.
"The last two losses really hurt us," acknowledged Beth Solomon, who completed her first season as the team's head coach. "They took us from third to seventh place. It's hard to believe that we're not going with six wins when we went last year with only three. But that's how tight our conference is now."
The 25-12, 25-14, 25-11 victory marked the final BHS performance for seniors Jordan Armstrong, Kasey Baker, Kayla Davidson, Brianna Hays, Jenifer Hubbard, Heather Light and Taylor Shutt.
"I'm going to miss the seniors a lot," Solomon said. "They've set a new standard for Bryant volleyball by having one of the best seasons in memory. I wish them all the best of luck with their future plans."
On Thursday, Hubbard was stellar in service with 19 good serves in 20 attempts with three aces. Armstrong was 15 of 16 with three aces of her own. Baker was good on all 11 of her serves while Light was good on 6 of 7 with two aces. Davidson was 7 of 9 and Hays was 5 of 7.
The group had only one passing error. Light and Armstrong were 10 of 10, Baker and Hays 7 of 7, Hubbard 7 of 8 and Davidson 5 of 5.
Hubbard came up with 12 digs, Light six, Hays five and Armstrong four.
Armstrong added 23 assists, Baker five.
At the net, Shutt and Davidson led with 11 kills each. Davidson added three solo blocks, Armstrong two with an assist with Shutt.