Editor's note: This is a regular feature profiling senior athletes at Bryant High School.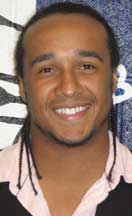 NAME: James Jones
DATE OF BIRTH: April 9, 1992
PARENTS: James and Ann
SIBLINGS: I have two brothers, Angel and Brandon, and a sister named Summer. Brandon's 24, Angel's 18 and Summer's 30.
FAVORITE SUBJECT IN SCHOOL: Math.
WHAT DO YOU LIKE TO DO IN YOUR SPARE TIME? I like to hang out with people from my church.
FAVORITE FOOD: Pizza
FAVORITE MUSIC ARTIST OR GROUP: Drake and Hillsong.[more]
FAVORITE MOVIE: Hitch.
FAVORITE TV SHOW: Fresh Prince of Bel Air
WHAT WAS YOUR FAVORITE TOY AS A KID? It's not really a toy but I liked to play with water when I was a little kid.
WHAT ARE YOUR PLANS AFTER HIGH SCHOOL? To be involved somewhere in ministry.
OTHER THAN YOUR PARENTS, WHO HAS HAD THE BIGGEST INFLUENCE ON YOUR LIFE? My brothers, just keeping me on the right path and helping me raise up right and do the right things.
WHAT'S YOUR FAVORITE THING ABOUT FOOTBALL? Having teammates and having a sense of leadership and having somebody to lean on.
POSITION: Running back.
WHAT DO YOU FEEL LIKE IS YOUR PRIMARY RESPONSIBILITY THERE? To not fumble the football, to hang onto it, and score.
WHAT DO YOU THINK OF THE SEASON SO FAR? I think we've done pretty good. It was a little bit of a disappointment with Russellville but I think we're going to bounce back and finish well. We're very close-knit. There's no arguments among teammates and we all work towards a common goal.
WHAT'S BEEN THE HIGHLIGHT TO THE SEASON SO FAR? Even though I wasn't there, probably beating Catholic.
WHAT'S IT GOING TO TAKE FOR THE TEAM TO BE SUCCESSFUL THE REST OF THE SEASON? Not being complacent and working hard every day.
INDIVIDUALLY, WHAT ABOUT YOUR GAME ARE YOU MOST CONFIDENT ABOUT? I feel like I run hard when I have the football and I'm hard to take down.
WHAT DO YOU WORK HARDEST TO IMPROVE? Probably ball security.
AFTER YOU'RE THROUGH PLAYING FOOTBALL AT BHS, WHAT DO YOU THINK YOU'LL REMEMBER MOST FONDLY ABOUT IT? This is my first year so just looking back, hopefully, at a State championship. That's something to look forward to.