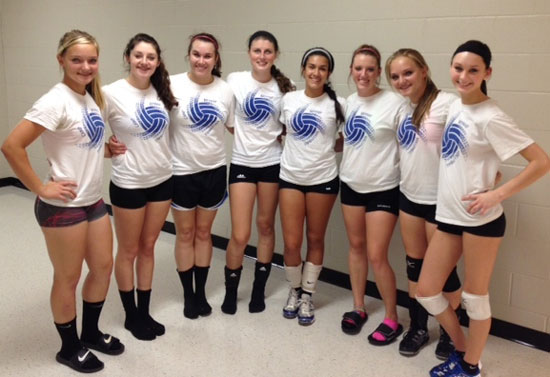 The Bryant Lady Hornets varsity volleyball team, coming off a season in which they[more] earned a No. 2 seed for the Class 7A State Tournament, completed summer work with a 10-0 record in a team camp held at Heritage High School in Rogers.
"I know that Rogers is kind of a long way to travel for a camp, but I wanted to get the girls some good playing time in with other 7A schools and I wanted the girls to play at Heritage since they're hosting the state tournament this year," said Lady Hornets coach Beth Solomon.
There were 22 varsity teams and 13 JV squads at the camp, which concluded Thursday. Each match included two games to 25.
"Our wins included four 7A teams that we could possibly see at the State Tournament, Rogers, Heritage, Springdale and Har-Ber.
"Our wins also included a total shutout of a team (Pea Ridge 1), allowing them to score no points in one of our games and allowing Lincoln to score only one point in one of our games with them."
Many of the games later in the day began at 4-4 because many of the contests were running overtime, Solomon noted.
Before that point, the Bryant varsity defeated Huntsville 25-9, 25-14; Har-Ber, 25-17, 25-21; and Lavaca, 25-13, 25-8.
In contests that started 4-4, Bryant defeated Heritage 25-21, 25-17; Prairie Grove, 25-18, 25-11; Rogers, 28-26, 26-24; Lincoln, 25-11, 25-5; Pea Ridge 1, 25-4, 25-14; Alpena, 25-13, 25-22; and Springdale, 25-10, 25-14.
"One thing that made a huge difference is that we did not 'play down' to weaker teams," noted the coach. "Sure, we had our moments, but they were able to pull out of it. The girls also played together on the court. They kept each other together, something we've been working on for a long time and they seem to finally have it. Now, we just have to keep it."
Varsity team members include seniors Alyssa Anderson, Rochelle Aguilar, McKenzie Rice, Hannah Rice, Britten Hays, Kaylon Wilson, Brooke Howell, and Courtney Davidson.
The JV team finished 7-5 in its 12 matches. Members include juniors Aubree Allen and Erica Smith along with sophomores Abby Staton, Mercedes Dillard, Nikki Clay, Mariah Aguilar, Rylee Phillips, Emily Henson and Madison Greeno.
"Our JV is young and we have a lot of learning to do, but they are already starting to pick it up and play well," Solomon said.
"Heritage was actually the second camp we've gone to this summer," she noted. "We went to a team camp at Nettleton in July and were successful there. We got to see some really good State champion volleyball. At that camp, we played schools like Nettleton, Valley View, Mountain Home, Jonesboro, and Jonesboro Westside; schools familiar with State tournament and JO volleyball play. The girls got a lot out of that camp.
"The girls have been working hard this summer and we've only just begun," the coach concluded. "We've been successful and they're playing better than I've ever seen them play."
The Lady Hornets open the season with the annual jamboree at Benton on Thursday, Aug. 16. On Aug. 21, they travel to Russellville to play against Van Buren.
"Until then, the girls will be working hard at practices, battling the heat," Solomon mentioned.