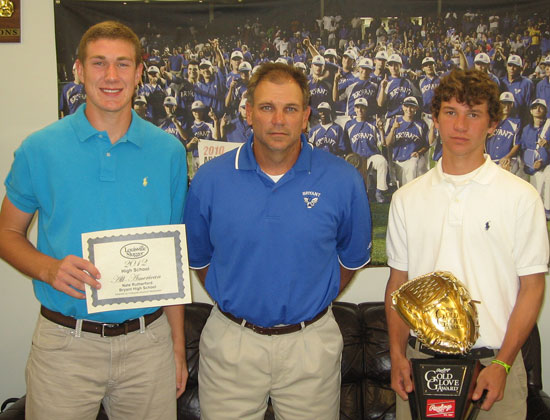 By Rob Patrick
"At the beginning of the year, I was thinking I was a strikeout pitcher with[more] the way I throw," recalled Nate Rutherford who, as a junior last spring, surged into the limelight with 15 shutout innings during the Bryant Hornets' Class 7A State Tournament championship run. "What I needed to do was to get groundball after groundball after groundball. That's the way you have to attack the game. You're not going to try to strike anybody out. You're just going to try to throw as few pitches as you can and get the most outs you can.
"You've just got to have your faith in the defense," he continued. "And that's pretty easy especially with a defense like ours. We didn't have any errors in the two games I threw. They were just lights out altogether."
On Thursday, Bryant head baseball coach Kirk Bock announced that Rutherford and the top defender on that great defensive team, second baseman Ozzie Hurt, had each received honors for their work during the stellar 2012 season in which the Hornets were ranked 20th in the nation — the third straight year for the team to be ranked nationally by Collegiate Baseball magazine. Rutherford, who was named the Most Valuable Player of the State tourney last spring, has been named a High School All-American by Louisville Slugger while Hurt was awarded a Rawlings Gold Glove given to high school players in conjunction with the American Baseball Coaches Association (ABCA).
"It means the world," said Hurt. "Just thinking about it, it's the best in the nation, the best second baseman. It means a lot."
Second base has always been his spot.
"Ever since I was 8 and playing," he said. "I've always been on the infield. It's been good. I've had to be good at fielding. That way I can stay in the lineup because the hitting . . . as long as you can catch the ball, that's what I've always thought. Just catch it.
"Actually Coach Bock put me at shortstop during the pre-season but that wasn't good," he allowed. "It's just different. I've always been at second base. It's crazy but it's a whole new world over there at shortstop."
Hurt's given name is Donavan but his dad, Darren, gave him the nickname of Ozzie because his favorite player on his favorite team was Hall of Famer Ozzie Smith of the St. Louis Cardinals, one of the best infielders of all time.
"My mom wasn't happy but that's how it went," Hurt acknowledge. "Ozzie Smith, that was right in his prime."
He's done his namesake, not to mention mom and dad and coach, proud.
"He's the best that we've had, that I've coached," Bock said. "Since I've been around, our staff has coached a lot of great infielders but Ozzie's innate ability to read hops. It seems like he never gets a bad hop and, if he does get a bad hop, he makes up for it with his glove — sometimes with his bare hand."
Bock was referring to an eye-popping play Hurt made to end a crucial conference win against Little Rock Catholic. Protecting a one-run lead in the bottom of the final inning, the Hornets retired the first two then a bouncer toward Hurt at second took a wicked hop. The ball looked like it was on its way over his head and into right field to keep the Rockets alive. But Hurt leapt and reached high with his throwing hand, latched onto the ball and threw for the game-ending out at first.
"He made some tremendous plays in Florida that just really wowed you," Bock added. "At Catholic, he made that great one. He made two or three great ones the other night in the (Legion) State Tournament. He had one in the last game, a short-hop backhand. His feet got him in position, and he just makes it look easy.
"I hope we have some come through that are a lot better than Ozzie but, as of right now, he's the best that I've been around," the coach concluded. "I've had great infielders but not like Ozzie."
As for Rutherford, Bock said, "Coming into the year, he was a guy that we really weren't counting on. He wasn't with us last year (as a sophomore).
"I tell you, Nate's work ethic is unbelievable," he continued. "We got him in the 'pen and he was really, really rough starting off. A lot of guys would not have come through that but Nate took it home every day and he practiced. He came back to practice every day better that he was the day before. I think that's what allowed him to have that great ending to his junior year. He really came through for us."
"I just started finding my fastball," Rutherford related. "It started moving later. And the more I learned to control it, the more I was able to spot it up. Then my curveball finally started. I found the right curveball and the right change-up. Then I finally just decided I wasn't going to try to strike everybody out. I just had to let my defense make plays. It all came together at the end."
Indeed, after the Hornets had to use three pitchers to get through a wild game against Fayetteville, Rutherford got the start in the semifinals against Bentonville, the champion of the 7A-West Conference. He whipped up a five-hit shutout in which he walked no one, hit a batter and struck out five. The following weekend, he came on in relief during the title game against Rogers Heritage and stopped the War Eagles without a hit over the final four innings. He walked one and struck out four.
"I knew my coaches and teammates had faith in me," he commented. "I didn't expect to have to come in in the kind of situations I came into. We had to pitch so many people in that first game, but I never expected to get a start in the game against Bentonville. I just took it as a challenge."
Add those 11 innings to five shutout frames in his final start of the regular season against Lake Hamilton along with an inning and a third against Conway before that and 2 1/3 in a start against Monticello and Rutherford takes a 19 2/3 scoreless innings streak into next spring's high school action.
Of course, both Rutherford and Hurt have also played key roles in the State championship run of the Bryant Black Sox Senior American Legion team this summer. They'll be representing the state starting Aug. 9 at the Southwest Regional Tournament in New Orleans.
Bock also received recognition for guiding the Hornets to their third straight State final and second State championship. He was named the ABCA Regional Coach of the Year for the fourth time. The Region covers Arkansas, Texas, Oklahoma, Louisiana and Mississippi. He was National Coach of the Year in 2005 and 2008 when he was at Harrison.
"It's a big honor to me," Bock said.
He'll be speaking for the second time at the ABCA clinic in Chicago. In the neighborhood of 5,000 coaches from around the country will be in attendance. Bock said the first time he spoke at the clinic, he was scheduled between former Los Angeles Dodger manager Tommy Lasorda and Hall of Fame shortstop Cal Ripken Jr.