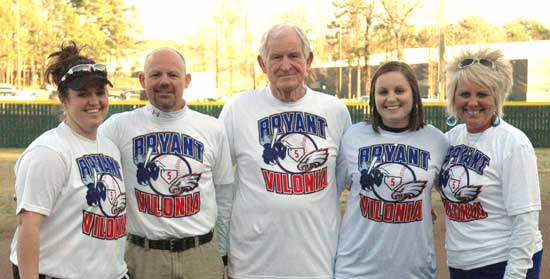 Photos by Valerie Nagle
Prior to their game against the Vilonia Lady Eagles, the Bryant Lady Hornets softball team held a[more] ceremony to honor head coach Debbie Clark's mother, Earlene Ragan, who passed away Dec. 29, 2011 at the age of 78. Several members of Clark's family attended, including her father Bobby, who threw out the ceremonial first pitch.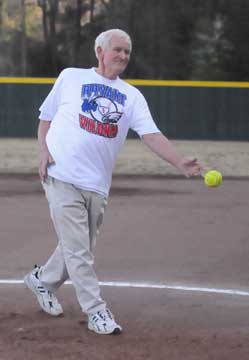 "Game Time Supply provided us a memorial jerseys that had Bryant with a Hornet and Vilonia with an Eagle and No. 5 was on the front and back because that was my mom's number," Coach Clark related. "It was really cool. She and my dad had been married 53 years.
"She was just a real supporter of all of us," the coach continued. "In fact, she scored 55 points in a high school basketball game and was asked to play with the Redheads. So she was athlete in her day too.
"It was really neat to have them there," Clark said. "And, you know, I'm trying to teach the girls about more than just softball, more about life. So it was really nice to be able to dedicate the game to my mom. All these girls have parents that support them too. It's about those people that make investments in our lives that we can't measure in dollars and cents."