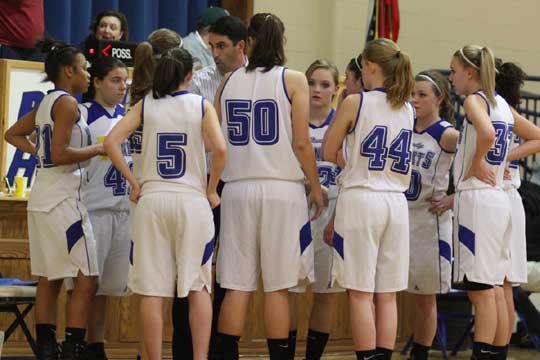 By Rob Patrick
It's been a struggle this year for the Conway Blue Lady Cats in the South Division of the Central Arkansas Junior High Conference. After losing their first six league games, however, they were able to capture their first conference victory against Sheridan earlier this week. But any thoughts of getting a late-season roll going figured to take a step back on Thursday night when they visited Bryant to play the 17-0 freshman Lady Hornets.
And, sure enough, the Lady Hornets added another win to their ever-more impressive total, easing to a 57-26 win in which everyone played.[more]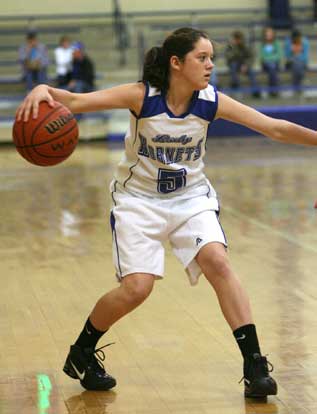 Both teams will take Monday, Jan. 18, off for the Martin Luther King holiday then return to the court for the season's home stretch on Thursday, Jan. 21. Bryant will head to Sheridan while Conway Blue hosts Benton.
Earlier in the season, the Lady Hornets had won at Conway 46-25. This time, they broke out to a 8-0 lead on baskets by Courtney Davidson, Lauren Buck and McKenzie Adams plus free throws by Buck and Kiara Moore.
After a timeout, the Lady Cats cut the margin to 10-5 but, after that, the Lady Hornets took the game over with a 20-3 blitz.
Adams, in her way to a game-high 19 points, hit a free throw to start the run after grabbing an offensive rebound. After a Conway miss, Davidson fed Logan Davis for a layup. Davis, by the way, wold leave the game soon after with a leg ailment.
In the final minute of the first quarter, Adams hit the boards for another bucket then nailed a 3 to make it 19-5 before Conway's Ieasha Earnest connected from 3-point range with :13 left to make it an 11-point difference at the first break.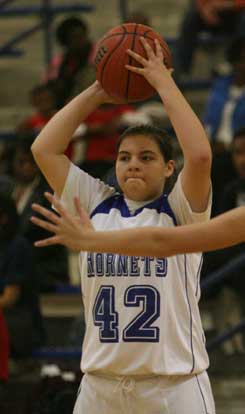 Bryant revved it back up at the start of the second quarter with Moore drained a triple and, after a turnover, McKenzie Rice picking up an assist on a hoop by Buck. Conway's Courtney Young missed a pair of free throws and, moments later, Adams converted a pair for Bryant. A steal and layup by Moore gave the Lady Hornets their first 20-point advantage. After a Conway timeout, another basket by Moore completed the streak.
Earnest interrupted with another 3 then the Lady Hornets finished the half with a 7-0 skein that included free throws by Rice, Moore and Adams along with a jumper in the lane by Moore who would finish with 14 points.
It was 37-11 at the half. And when Adams grabbed the carom off a teammate's miss to score the first basket of the second half, the margin was up to 28.
To their credit, the Lady Cats continued to play hard which enabled them to take advantage in Bryant's drop in intensity with the big lead in place. McCall Wilkins scored off a steal to start an 11-4 run by the Conway team. Kiana Doby contributed 7 points to the run including a 3-pointer.
But a free throw by Adams and a 12-foot jay by Rice meant that, after their run, the Lady Cats had merely whittled the lead back to 20. After Moore hit a free throw and Adams scored off her fifth offensive rebound, the advantage was up to 45-22 to start the fourth quarter. Conway never got it back to 20 after that.
Davidson and Young traded free throws early in the fourth quarter. Adams finished her night with a layup then an assist on a basket by Davidson as the lead grew to 50-24. Another layup by Davidson made it a 28-point game.
At the end, Kristen Scarlett hit a free throw for the Lady Hornets then, on one crazy trip into the offensive court, the Lady Hornets' reserves collected eight offensive rebounds, battling to keep possession, before Rice finally got a shot to go with :44 left. Scarlett finished the scoring in the final seconds off a nice inside dish from Kimberly Henderson.
Buck and Davidson each finished with 7 points. Rice had 5 to go with a game-high nine rebounds. For Conway Blue, Wilkins and Doby each had 7.
LADY HORNETS 57, LADY CATS 26
Score by quarters
Conway Blue 8 3 11 4 — 26
BRYANT 19 18 8 12 — 57
LADY CATS 26
Wilkins 3-9 0-0 7, Doby 2-5 2-2 7, Earnest 2-4 0-0 6, Pippins 1-2 0-0 2, Young 1-6 2-6 4, Cannon 0-3 0-0 0, Hopkins 0-1 0-0 0. Totals 9-30 4-8 26.
LADY HORNETS 57
Moore 4-8 5-6 14, Adams 5-12 8-10 19, Davis 1-2 0-0 2, Davidson 3-7 1-2 7, Buck 3-5 1-2 7, Meyer 0-0 0-0 0, Rice 2-10 1-2 5, Murphy 0-4 0-0 0, Scarlett 1-2 1-2 3, Henderson 0-1 0-0 0, Combs 0-3 0-0 0. Totals 19-54 17-24 57.
Three-point field goals: Conway Blue 4-8 (Earnest 2-3, Wilkins 1-3, Doby 1-2), Bryant 2-6 (Moore 1-3, Adams 1-2, Davis 0-1). Rebounds: Conway Blue 15 (Cannon 4), Bryant 46 (Rice 9, Scarlett, Adams 7). Turnovers: Conway Blue 15, Bryant 6. Team fouls: Conway Blue 14, Bryant 9.