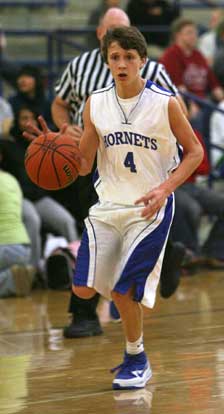 By Rob Patrick
Bryant freshman basketball coach Steve Wilson has two platoons of five players that he alternates through, at least, the first half of every game. Sometimes it continues into the third quarter then he mixes and matches according to how the game is going.
Recently, the same group of five had been doing most of the starting but, on Thursday, Jan. 14, he started the other platoon — he says there's very little difference between the two squads, that they're interchangeable anyway. The Conway Blue Wampus Kittens can attest to that after the first group combined for 22 points and the second group for 30 in Bryant's 52-27 win.
Leon Neale, who has been starting of late, came off the bench to score a game-high 14 points for the Hornets. Scott Workman, who has been coming off the bench of late, contributed a season-high 12 points as a starter to lead the way. Marcus Wilson had 9 points and six others scored for Bryant.
Conway's Brandon Sargent hit a free throw to start the scoring in the game but, after Workman scored off a lob-in on an inbounds play moments later, Bryant was ahead to stay. Conway's Jalon Hughes answered to make it 4-3 but then Luke Rayburn hit a jumper and Josh Davis buried a 3 to expand the lead to 6. Damontay Ridgell answered with a 3 to make it 9-6 but then the second group of five entered the game for Bryant. Zach Cambron hit a 12-footer and Wilson drove for a layup to give the Hornets a 13-6 lead going into the second period.[more]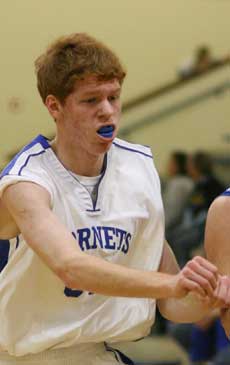 Sargent's driving jumper started the scoring in the second but then Riley Hall trumped that for Bryant with a 3. Strodney Davis fed Neale for a short jumper then, moments later, Neale hit the offensive glass for a bucket to make ti 20-8 all of a sudden.
By halftime, the Kittens had whittled the lead to 22-14.
Workman hit a 10-foot jumper to start the second-half scoring then combined with Rayburn to force a turnover. Aaron Bell converted a free throw to make it 25-14. The Hornets forced a turnover and Bell took advantage, hitting the offensive glass for a bucket to make it 27-14.
Justin Leon interrupted with a driving layup for Conway but Workman canned another jay and, after a Kitten turnover, scored inside off a sweet feed from Josh Davis. The lead had ballooned to 31-16.
The Kittens, aided by a three-point play by Hughes, trimmed the margin to 10 going into the final minute of the quarter and had a chance to get closer when Wilson made a steal and drove for a layup then Hall made a steal and fed Neale for an easy 2 to make it 37-23. A layup by Hughes made it a 12-point game going into the final six minutes.
The Hornets then took any doubt out of the outcome with an 8-0 run. Neale scored of a steal then, after a theft by Strodney Davis, Neale scored again to make it 41-25. An offensive-rebound basket by Neale was followed by a jumper from Wilson that bumped the lead to 20.
Wilson would later add a 3 then Jalen Hewitt and Cambron finished off the scoring.
The win improved the Hornets to 12-5 overall this season and 5-3 in the South Division of the Central Arkansas Junior High Conference going into a trip to Sheridan on Thursday, Jan. 21.
HORNETS 52, WAMPUS KITTENS 27
Score by quarters
Conway Blue 6 8 11 2 — 27
BRYANT 13 9 15 15 — 52
WAMPUS KITTENS 27
Bradley 1-8 0-0 2, Sargent 2-8 0-0 4, Hughes 3-8 1-1 7, Ridgell 2-5 0-2 5, Leon 3-7 3-4 9, Ruth 0-2 0-0 0, Eckwood 0-0 0-0 0, McClendon 0-0 0-0 0, Barlow 0-1 0-0 0. Totals 11-39 4-7 27.
HORNETS 52
Rayburn 1-3 0-0 2, Bell 1-2 1-2 3, Hewitt 1-5 0-0 2, Jo.Davis 1-2 0-0 3, Workman 6-12 0-0 12, S.Davis 0-3 0-0 0, Wilson 4-8 0-0 9, Hall 1-5 0-0 3, Neale 7-10 0-1 14, Cambron 1-4 2-2 4, Salas 0-1 0-0 0, McKissock 0-1 0-0 0, Privett 0-0 0-0 0, Ja.Davis 0-1 0-0 0. Totals 23-57 3-5 52.
Three-point field goals: Conway Blue 1-5 (Ridgell 1-2, Bradley 0-2, Hughes 0-1), Bryant 3-11 (Hall 1-4, Wilson 1-2, Jo.Davis 1-1, Bell 0-1, Hewitt 0-1, Rayburn 0-1, Cambron 0-1). Rebounds: Conway Blue 28 (Leon 9), Bryant 37 (Workman 7, Neale, Cambron 5). Turnovers: Conway Blue 19, Bryant 12. Team fouls: Conway Blue 9, Bryant 8.