Lady Hornets dominate Benton in 2017 debut
EDITOR'S NOTE: Because the look back at each day in Bryant athletic history has been so favorably received during the time when there was no sports during the COVID-19 shutdown, BryantDaily.com will continue posting past stories of Bryant athletics either posted on BryantDaily.com (from 2009 to the present) or published in the Bryant Times (from 1998 to 2008).
For more photos from this event by Kevin Nagle, go here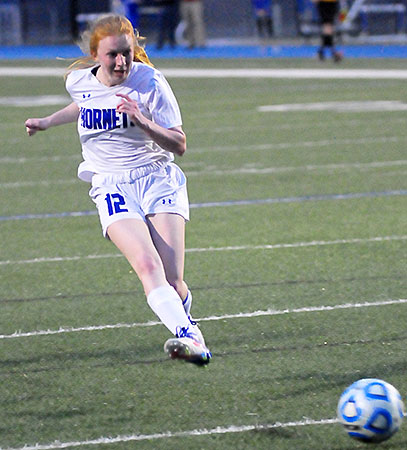 Senior Caroline Campbell and freshman Lauren Heath each scored two goals as the Bryant Lady Hornets rushed to a 6-0 lead in the first half on the way to a 7-0 win over the rival Benton Lady Panthers at Bryant Stadium Tuesday night.
Campbell made it a hat trick with a third goal midway through the second half, which was played with the time cut in half in accordance with the sportsmanship rule.
It didn't take long for Bryant to find the back of the net. Less than two minutes in, sophomore Alyssa Fason took a feed from senior Natalie Pierce and scored to break the ice. At 29:01 left, Heath drilled the first goal of her high school career with senior Ashlie Sparks earning the assist.
Just less than six minutes later, Heath found the range again, this time on a feed from sophomore Ashlyn Thompson. Campbell followed up about a minute and a half later as Heath got the assist.
At the 10:59 mark, sophomore Mary Catherine Selig fed Campbell for her second goal and a 5-0 advantage. At 6:14, Campbell assisted on sophomore Madison Humbard's goal.
Heath's second assist helped Campbell pound home her third goal at 9:36 of the second half.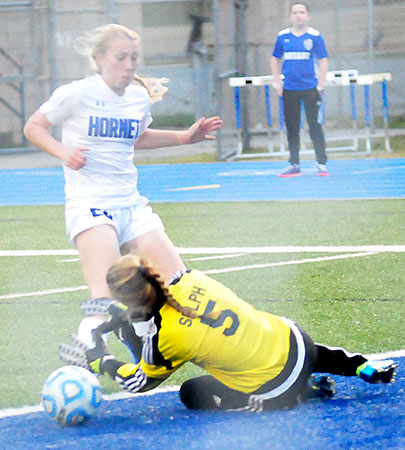 "I liked that several different people scored," said Lady Hornets coach James Paul. "We had a defender score. We had a couple of midfielders and we had a forward. Some of them were younger. That was encouraging.
"We played fast," he added, "and we played as a team. We're on the right track, I think. Hopefully, we'll continue to get better.
"I think we can get better playing together, stringing some more passes together, more than just a few, stretching the field more in the midfield," the coach elaborated. "Overall, just getting more confident in what we're doing."
Paul lauded his team's defense.
"I had to go up to Jad'n (Nichols) and Sarah (Kennedy) and congratulate them and say how great they were doing at halftime," he related. "They were just shutting it down in the back. They deserve a lot of credit back there."
Benton couldn't manage many shots on goal. Keeper Brittney Warner did have a save along the way.
The Lady Hornets face a busy end of the week. They'll travel to Little Rock Christian on Thursday then head to Fort Smith for the annual invitational tourney, which they won a year ago.