For more photos of this event by Rick Nation, go here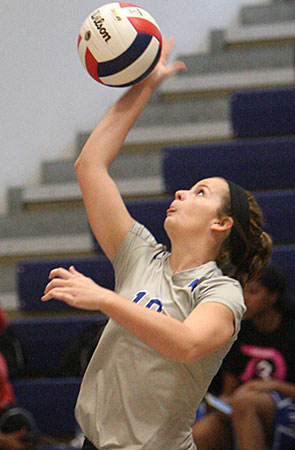 Bryant head volleyball coach Beth Solomon called it an important week for her team and the Lady Hornets got it started on the right foot with their first 7A-Central Conference victory, 21-25, 25-21, 25-22, 25-23.
In a junior varsity match, the Lady Hornets absorbed a two-set loss, 19-25, 23-25.
"I'm very proud of our girls tonight," Solomon stated. "Varsity played great. It took us a little bit to get going, which is probably why we lost game one, but we made sure that we came back and fought hard.
"Our girls played very smart and we, for the most part, just refused to let the ball hit the ground," she noted. "Mount is usually very good at mixing things up and throwing in a tip ball here or there and we did a very good job of defending that and seeing it."
Cassie Ray had two digs while Erin Thompson, Raven Loveless and Reagan Dabbs each had one.
Loveless also had a team-high 13 kills and two blocks. Faith Stone had 12 kills while Ashlyn Lee and Kristen Boyle added eight each. Thompson and Ivory Russ had one apiece as well.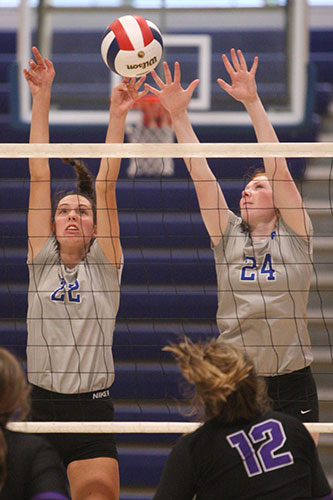 Lexi Brown contributed three service aces. Kyla Baker and Lee each had one. Lee finished with 17 assists and Brown had 13.
"Our setters had a really good night," Solomon said. "I was very proud of the fact that even when a ball was not passed just perfect tonight they found a way to make a play out of it regardless."
Now 5-3-2 overall, the Lady Hornets host Little Rock Central on Thursday in a game that was originally scheduled to be at Central. They host Fort Smith Southside on Tuesday, Sept. 12. Both are big opportunities for Bryant to earn conference victories on their home floor.
"We're looking forward to our next two home games," Solomon asserted.
In the junior varsity match, eight players had kills led by Grace Camferdam and Beatriz Hernandez who had three apiece. Cora Edwards, Imanii Jones, Casey Welch and Brooke Abney had two each while Kiarra Beard and Brown added one apiece.
Hernandez recorded five assists and three digs. Ashley Davis picked up thee digs and Beard had two. Edwards and Shannon Stewart served up with two aces. Camferdam and Hernandez had one each.
"Unfortunately, JV couldn't pull out a win today," Solomon said. "But they're going to keep working and I expect that to be different on Thursday night when we play Central. They get two games Thursday night to show what they're fully capable of."