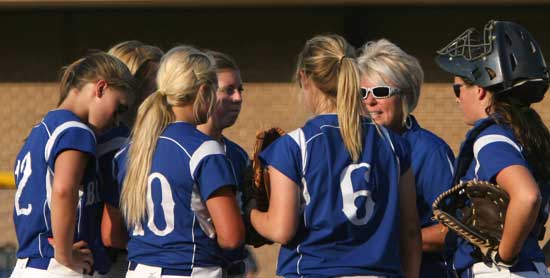 By Rob Patrick
Photos by Rick Nation
NORTH LITTLE ROCK — Go figure.
The North Little Rock Lady Charging Wildcats were[more] defeated twice this season by the Russellville Lady Cylcones. Bryant's Lady Hornets, on the other hand, run-ruled Russellville twice. Now, however, North Little Rock has edged the Lady Hornets two times, much to their frustration.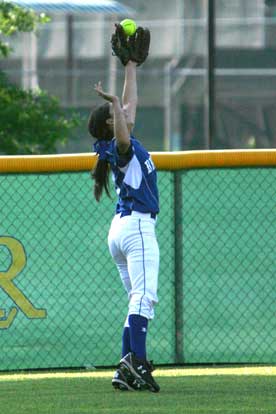 As a result of Monday's 4-3 win for the Lady Cats in eight innings, the rivals share the 7A/6A-Central Conference championship but North Little Rock gains the No. 1 seed from the league to the Class 7A State Tournament in Bentonville this weekend. Bryant, hoping to successfully defend its 2010 State title, will be No. 2. Both teams will have first-round byes, putting them just two wins away from the championship game at Bogle Park, where they could meet again.
The Lady Hornets would relish that opportunity after heartbreaking losses in both of their meetings with the Lady Cats this season. Bryant led early in both contests only to have North Little Rock rally for one-run victories. On April 14 at the Lady Hornets' field, a pair of late home runs gave the Lady Cats a 2-1 win. This time, at Burns Park, Bryant was up 3-0 before North Little Rock started whittling on the lead, tying it in the bottom of the sixth.
In the eighth inning, with the international tiebreaker rule (each inning starts with a runner at second) in effect, Bryant's Kayla Sory successfully sacrificed Peyton Jenkins to third. But a pop up on the infield and a fly to right ended their chance.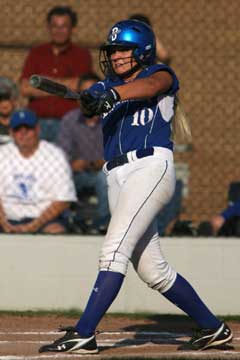 In the bottom of the inning, a single by Alexandria Seaton and a sacrifice fly to left by Olivia Bozarth brought home Mariah Bozarth with the winning run.
"They just hit the ball at the time they needed to, in the right spot," commented Lady Hornets coach Debbie Clark.
"I don't think they wanted it any more than my girls and I don't think their talent level is better than our girls," she added. "They're really talented and they have good coaches but still, I know that we're right there too.
"A lot of things can happen and, as a coach, it's a sleepless night, trying to re-evaluate, thinking we should have the hay in the barn but we've got to fine-tune some things so we're ready next weekend to play."
The Lady Hornets, now 22-5 on the season, are set to play a non-conference tune-up for State today at Lake Hamilton. Bryant's pitcher Peyton Jenkins will get the day off after throwing all eight innings, striking out eight without a walk and surrendering seven hits.
"Peyton is sick and she's tired," Clark noted. "She's doing everything she can.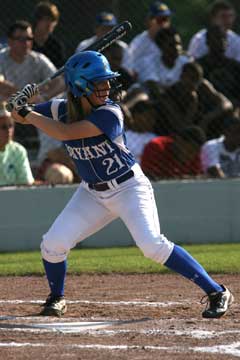 "Our bats are just not coming through when we need to," she added. "We've made a couple of line-up changes, moving people around to see if that would help. We do everything we can to bunt, to hit-and-run, to get runners in scoring position then we have people come up that have, in the past, taken care of business but are popping up. We popped up a bunch and that's something we work on every day. If that person doesn't do that, but moves our runner to third and the next girl hits the ball to the right side, another run scores. It's just that we're not executing offensively the way we need to execute. "They know what they need to do," concluded the coach who agreed that her hitters may have been a little over-anxious on Monday.
"They're not being as patient as they need to be. We'll keep practicing. They need to believe they can go up there and hit a ground ball. Practice makes permanent — not perfect but permanent. That's what we're looking for."
The Lady Hornets actually had nine hits, including five for extra bases to just two extra-base hits for North Little Rock.
Bryant took the lead initially when Jenna Bruick led off the game with a liner to left for a single. Katy Stillman sacrificed her to second then Jessie Taylor unloaded on a 1-0 pitch for her 12th home run of the season.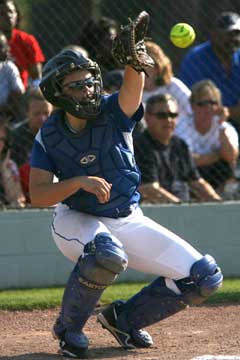 In the bottom of the inning, North Little Rock loaded the bases on a single by Hannah Escovedo and two hit batters but Jenkins got a strikeout to end the threat.
In the second, Cassidy Wilson shot a double to center and, with one out, took third on a grounder to short but was stranded.
After the Lady Cats were retired in order, Bryant added a run. Stillman singled with one out and Taylor walked. With two down, Sory came through in the clutch with a double over the center fielder's head to make it 3-0.
But a double by Tiffany Roby and a single by Escovedo to start the bottom of the third got North Little Rock on the board.
The fourth inning proved frustrating for the Lady Hornets. Ashley Chaloner led off with a single and Carly Yazza sacrificed her to second. With two out, Bruick singled on a line to center field. The ball was hit too sharply for Chaloner to score and both were stranded.
Jenkins worked a 1-2-3 home fourth but her counterpart worked around a two-out double by Sory in the top of the fifth. In turn, the Lady Cats knocked another run off the Bryant lead with a triple by Roby and Escovedo's sacrifice fly.
The sixth was the only inning in which the Lady Hornets were retired in order. And, in the bottom of the inning, North Little Rock tied it. A lead-off single from Seaton, a sacrifice by Olivia Bozarth and a grounder to first by Erin Columbus had a runner at third. Jenkins got within a strike of escaping unscathed but, on an 0-2 pitch, Hannah Owens singled to center to drive in the tying tally.
A two-out double by Taylor in the bottom of the seventh came to naught for the Lady Hornets but then Jenkins worked around a hit batter with one out in the bottom of the inning, sending it to extras.
With games still to be played today and Wednesday in the West conference, it's still a bit uncertain how the full bracket will look for State. The Lady Hornets will open against the winner of Friday's first round game probably between Springdale Har-Ber (or maybe Bentonville) and Little Rock Hall (or maybe Mount St. Mary).