Photos by Rick Nation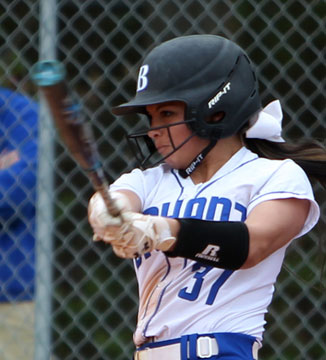 So you're riding a disappointing three-game losing streak and you settle in for your first home game in two weeks-plus and you're facing the defending Class 7A State champions.
So just when it looked like the Bryant Lady Hornets might be facing a fourth straight loss, they explode for seven runs in the third inning to build a 9-0 lead on the North Little Rock Lady Charging Wildcats then hang on for a 10-8 win to snap their streak and stun the defending champs.
Freshman Meagan Chism blasted a two-run homer in the second and singled in two in the big third inning while Macey Jaramillo and Sarah Evans each had two hits with Jaramillo knocking in a pair of runs to highlight the Lady Hornets' offensive production.
Starting pitcher Raven Loveless shut out the hard-hitting Lady Cats for four innings before they broke through with a five-run fifth. Kerrigan Allen worked into the seventh in relief then gave way to Anna Turpin who got the final out and picked up a save.
The win improved the Lady Hornets to 8-5 on the season going into today's make-up game at home against Lake Hamilton at noon. North Little Rock dropped to 10-4 on the season.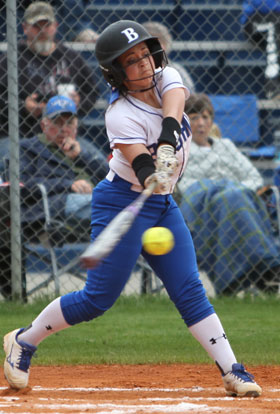 The Lady Hornets won despite the fact that North Little Rock's Reagan Sperling went 5 for 5 with three runs batted in.
Chism's blast came after Loveless had been hit by a pitch from Lady Cats' starter Lainey Necessary. It came after North Little Rock had threatened in each of the first two frames and come up empty. In the first two singles and a two-out error loaded the bases but Loveless struck out Anna Beavers to end the threat.
In the second, Loveless fanned the first two then gave up a single to Necessary and walked Sydney Parr before getting the final out on a fly to Reagan Keesee in right. In the third, Sperling led off with a single but was stranded.
Bryant's eruption in the home third began with Shayla McKissock reaching on an error, Julie Ward drawing a walk and Evans lining a single to center to load the bases.
After a pitching change for the Lady Cats, Jaramillo ripped a two-run double to make it 4-0.
Maddie Stephens tapped back to the pitch resulting in an out at the plate but when Loveless reached on an error, the bags were packed again. This time, Chism singled to left to get Jaramillo and Stephens home.
Callie Bradley, running for Loveless, and Chism each scored on a two-out single to left by McKissock, making it 9-0.
To start the top of the fourth, McKenzie Roberts stroke a hit to left but was thrown out by Stephens when she tried to stretch it to a double.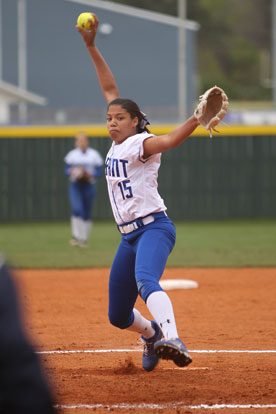 In the fifth, however, Parr doubled to start North Little Rock's five-run rally that was aided by an error. Sperling, Beavers, Roberts and Necessary each singled in runs.
Bryant added an insurance run in the bottom of the fifth, which proved to be big. Keesee was hit by a pitch, was sacrificed to second by McKissock and advanced to third on a grounder by Regan Ryan. Waird knocked her in with a double to center, making it 10-5.
On Allen's fourth pitch of her relief stint, Maddi Bobbitt put the ball in play and reached on an error. Sperling singled then Bobbitt was forced at third on a grounder to short by Cassidy Tucker.
A wild pitch allowed runners to move up to second and third for Hannah Lovercheck. Her grounder to short resulted in an out at third but Sperling scored to make it 10-6. Beavers flew out to Keesee in right to end the inning.
North Little Rock made a final push in the top of the seventh. A one-out error and a two-out walk led to the pitching change. Turpin allowed a single to Bobbitt to load the bases for Sperling who doubled in two. But a groundout to McKissock at third ended the game with the potential tying runs standed in scoring position.