Lady Hornets finish regular season on winning note
EDITOR'S NOTE: In this time of COVID-19, with no sports action, BryantDaily.com will be posting past stories of Bryant athletics either posted on BryantDaily.com (from 2009 to the present) or published in the Bryant Times (from 1998 to 2008).
For more photos from this event by Kevin Nagle, go here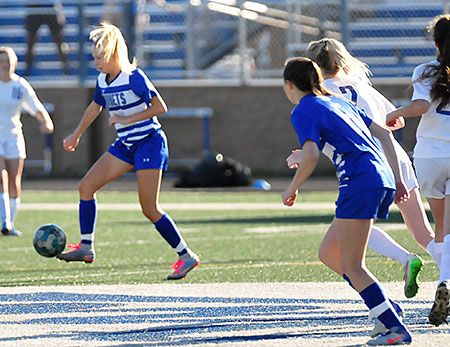 CONWAY — To the winner went a No. 5 seed to the State Tournament with the loser going as the 6 seed from the 7A-Central Conference.
Though the teams were tied in league play going into Friday's match at John McConnell Stadium, the Bryant Lady Hornets proceeded to finish the season with a home-and-home sweep of the Conway this season, following up the 3-1 win on April 11, with a 3-0 win in the regular-season closer on Friday night.
Bryant will open Class 7A State play at 10 a.m., on Thursday, May 11, against either Springdale Har-Ber or Rogers, whichever garners the 4 seed from the 7A-West. Conway will play at 4 that afternoon against Van Buren, the No. 3 seed from the West.
Senior Caroline Campbell provided the only goal of the first half, scoring unassisted less than four minutes in.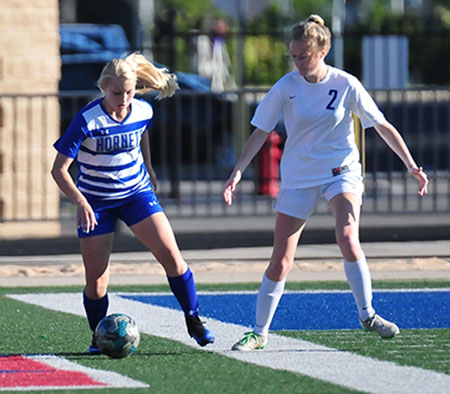 The Lady Hornets managed eight more shots in the half but they went to intermission clinging to the 1-0 edge.
But, in the first minute of the second half, Jessica Butler found the back of the net off a feed from Natalie Pierce to provide a bit more security at 2-0.
The defense continued to stymie Conway, which couldn't manage a shot in the box in the first half and managed just two shots on goal in the second half, both saved by Bryant keeper Brittney Warner.
With 12:20 left in the match, Mary Catherine Selig put the finishing touches on the scoring. Her goal was set up by an assist from Butler.
"We played decently well," said Lady Hornets coach James Paul. "Although there are some things we need to clean up before the State Tournament next week."
The coach praised Selig.
"She stepped up and led after we decided to rest a couple of girls due to minor injuries," Paul noted.
The win improved the Lady Hornets to 10-9 overall this season, 7-7 in conference play.