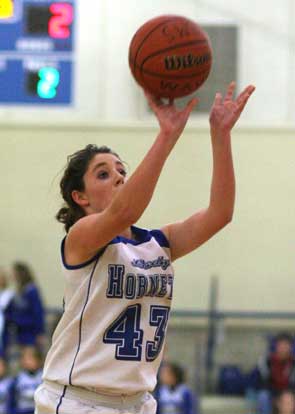 By Rob Patrick
Twenty wins in a row.
That's what the Bryant Lady Hornets freshman basketball team has done this season so far. Their 34-17 win over the Mount St. Mary Academy Mounties on Monday night marked that impressive achievement. And, with five games left in the regular season and the Central Arkansas Junior High Conference post-season tournament to follow, they're far from done.
Still, 20-0 looks pretty good, doesn't it?
Couple that with the fact that many of the members of the team were also on the 18-0 Bryant White team a year ago — it's downright phenomenal.
They'll go for 21 on Thursday at Lake Hamilton, a place that hasn't been very friendly to some very good Lady Hornets' teams of the past.
Will the pressure of being unbeaten take its toll on this team?[more]
"I don't know," allowed head coach Eric Andrews. "These girls have won a lot of games. So I don't know if they worry about that so much. I think they've been doing a really good job of making sure we focus on the next game, and getting prepared for that. Take them one at a time, that's all we can do."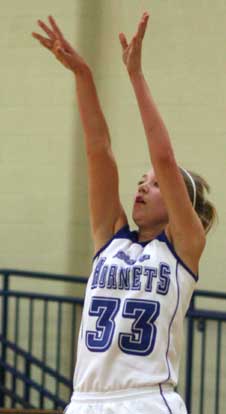 They are, as might be expected, getting the best shot from their opponents. Monday, for the second game in a row, the opposition hung with them for a half then the Lady Hornets ratcheted up the intensity and pressure in the second half and went off and left them.
The Lady Hornets actually trailed the Sheridan Stingers at halftime last Thursday but rolled to a 39-20 win. On Monday, Bryant held a 19-13 advantage at the break then, after giving up the first basket of the second half, held the Mounties to just 4 points the rest of the game. In fact, Mount's Madigan Norman attempted and missed a shot with just under a minute left in the third quarter then the Mounties couldn't even attempt a shot until just 1:18 remained in the game. By then the reserves were in the game. Moments later, Lauren Widmar scored just the second basket of the half for MSM. The first, a drive to the hoop by Emma Kauffman had broken the ice on the second-half scoring at the 3:49 mark of the third quarter.
Kaufman's hoop actually had the Mounties within 19-15. Bryant's game-breaking 15-0 run followed.
It certainly would've been worse had the Lady Hornets shot the ball better. Part of the cause of their 30 percent shooting from the field was certainly Mount's defense which included variations of the triangle-and-two and the box-and-one as they tried to slow down Bryant guards McKenzie Adams and Kiara Moore.
Adams finished with 6 points, well below her average, but she was getting shots. They just weren't going in. Moore had 8 despite foul trouble.
While acknowledging the Mount defense, Andrews added, "I chalk it up to being just one of those nights. We had several shots that looked good. They just wouldn't go down for us. Whenever those shots don't go in, it keeps us from getting into our press, which is a big part of our game.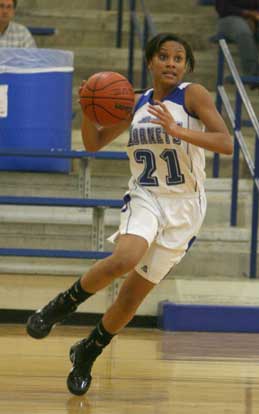 "Defensively, we played great," he added. "You know, you hold a team to 17 points, you've got to feel good about that. I tell the girls, you can play defense every night, and I feel confidant we've been doing that. We've just got to get those shots falling for us."
The Lady Hornets were just 1 of 12 from the field and 2 of 8 from the line in the third quarter yet they extended their lead by 2 points.
In the fourth quarter, they got a lift from Courtney Davidson, who got a pair of open looks from the right corner and buried her shots. Logan Davis, still on the mend from shin splints, came on to contribute a layup. Davidson and Lauren Buck each had 6 points, Davis 4 in the game.
Actually, it looked like the Lady Hornets might run off with the game off the bat, building a 6-2 lead in the first two minutes forcing an early timeout by the Mounties.
McKenzie Rice drove the baseline and fed Adams for a basket to start the scoring.
Kauffman, who had 8 of her team's points in the game, answered but Moore fed Davidson for a bucket then Rice made a steal that Moore cashed in.
When play resumed, the Mounties surged into the lead behind a pair of baskets and a free throw from Mallory Kleine.
After that, the Lady Hornets shut down Kleine, who led her team in scoring when the two squads met earlier in the season. She not only didn't score, she managed just two shot attempts, though she was plagued by foul trouble.
Bryant managed a 10-9 lead at the first break thanks to an offensive-rebound basket at the buzzer by Whitney Meyer who was one of three players with a team-high five rebounds in the game. Fourteen of Bryant's 26 rebounds in the contest came at the offensive end.
While limiting the Mounties to one basket, a layup by Kauffman, the Lady Hornets inched out to a 19-11 lead with Buck capping the 9-2 run with a baseline jumper with :17 left in the half, a play she had set up by making a steal at the other end.
But an offensive rebound basket by Emily Hudson beat the buzzer and the lead was just 6 at the break.
After Kauffman cut it to 4 early in the second half, Bryant added a pair of free throws by Adams and a short jumper by Buck off a steal by Moore. But the Lady Hornets missed a lot of opportunities to expand the lead to more than the 23-15 edge they held going into the final period.
That's when Davidson burned the Mounties' special defense with baskets on either side of Davis' layup.
Before both coaches turned to their reserves, Buck added a free throw and Adams canned a 15-footer on a nice curl to make it 32-15. Rice would finish Bryant's scoring with a drive to the rack with 1:44 to play.
LADY HORNETS 34, MOUNTIES 17
Score by quarters
MSM 9 4 2 2 — 17
BRYANT 10 9 4 11 — 34
MOUNTIES 17
Stuff 0-0 0-0 0, Iriana 0-2 0-0 0, Sloan 0-3 0-0 0, Kauffman 3-6 2-3 8, Kleine 2-5 1-2 5, Hudson 1-2 0-0 2, Virdon 0-1 0-1 0, Norman0-1 0-0 0, Niedzwiedz 0-0 0-0 0, Forst 0-0 0-0 0, Seachris 0-0 0-0 0, Corder 0-0 0-0 0, Bradley 0-1 0-0 0, Widmar 1-1 0-0 2. Totals: 7-22 3-6 17.
LADY HORNETS 34
Moore 3-9 2-2 8, Adams 2-16 2-6 6, Buck 2-6 2-4 6, Rice 1-2 0-0 2, Davidson 3-5 0-0 6, Meyer 1-1 0-2 2, Murphy 0-0 0-0 0, Davis 2-6 0-0 4, Scarlett 0-1 0-0 0, Combs 0-0 0-0 0, Henderson 0-0 0-0 0. Totals: 14-46 6-14 34.
Three-point field goals: Mount St. Mary 0-4 (Sloan 0-2, Iriana 0-1, Virdon 0-1), Bryant 0-3 (Moore 0-1, Davidson 0-1, Davis 0-1). Rebounds: Mount St. Mary 28 (Kleine 9), Bryant 26 (Moore, Adams, Meyer 5). Turnovers: Mount St. Mary 23, Bryant 6. Total fouls: Mount St. Mary 13, Bryant 15.