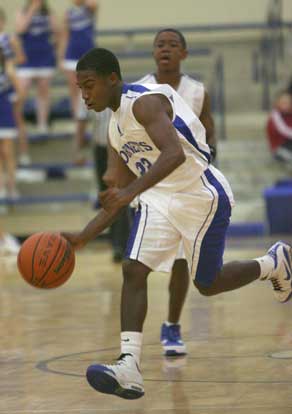 By Rob Patrick
The Bryant Hornets freshman team took sole possession of third place in the South Division of the Central Arkansas Junior High Conference and kept alive their slim hopes of a share of the league title with a 49-36 victory over the Little Rock Catholic freshman Rockets at the Bryant Middle School gym on Monday night.
It was the team's third straight victory and fourth in the last five games. The Hornets improved to 14-5 overall and 7-3 in the division with four games to play, three of them on the road starting with a trip to Lake Hamilton on Thursday.
North Little Rock remained unbeaten atop the league standings and may be too far ahead to catch, though the Hornets will get a shot at knocking them off at North Little Rock on Monday, Feb. 1. Bryant has a better chance of catching second-place Benton which improved to 9-1 in the league after a win Monday over Lake Hamilton. The Panthers host North Little Rock on Thursday, Feb. 4, before finishing up at home against the Hornets.
Bryant and Catholic came into Monday's game tied at 6-3. If the two teams wind up tied in the standings now, the Hornets will have the advantage with a winning margin of over 10 points after losing to Catholic earlier by 5.[more]
"That was a big win for us," acknowledged Hornets coach Steve Wilson. "We avenged an earlier loss and there at the end we were able to get a little breathing room and play everybody."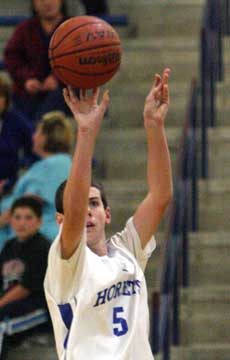 Indeed the Hornets led by as much as 21 before reserves finished for both squads.
"For the past two weeks, this is probably one of the hardest working groups I've had," Wilson declared. "We've really been working at getting our shots to fall and I think they did tonight. And we've been working the ball better on offense for the last couple of weeks."
Bryant finished 19 of 36 from the field (53 percent) including 4 of 8 from 3-point range.
It was also a bit of a breakthrough that the Hornets won a key game on a Monday, something that has been a challenge for them this season. Four of their five losses this season have come on a Monday night.
"Maybe we got rid of (that problem)," Wilson said. "I asked these kids what time they wanted to practice Saturday and they said 9 o'clock. And they were here and worked hard. We had a real good practice not only for a Saturday but for anytime. This group loves to work hard and I think it's going to pay off. I'm looking forward to the next three weeks."
That would include the final four games of the regular season and the CAJHC post-season tournament in Sheridan.
Against Catholic, the Hornets turned the tables right off the bat. In their previous meeting, the Rockets had blown out to a 17-3 lead then held off a late Bryant rally. This time, Bryant rushed to a 15-2 advantage on some hot outside shooting by Luke Rayburn and Jaden Hewitt. Rayburn scored all 8 of his points for the game during that surge including a pair of 3-pointers. Hewitt added a 3 and, with 2:32 left in the first quarter, Aaron Bell capped the opening salvo with a drive that produced a three-point play the old-fashioned way.
Catholic's Devan James interrupted with a 3-pointer but another drive by Bell and a buzzer-beating 15-foot jumper by Leon Neal made it 19-5 at the first break.
James and his twin brother Evan had combined for 25 points in the previous match between the two teams. This time, the Hornets held them to 16.
The Rockets started the second quarter with a surge, holding Bryant without a point for 4:30 while several of the Hornets began to pile up fouls. Catholic converted 8 of 13 free throws in the second period.
Initially, the trimmed the lead to 6, 19-13 with 6 of those 8 points coming from the line. Bryant's Marcus Wilson finally broke the cold spell for the Hornets with a 3 and, later, Zach Cambron hit a layup. But when Devan James beat the buzzer with a 3, the Rockets were within 24-20 at the break and the game was on.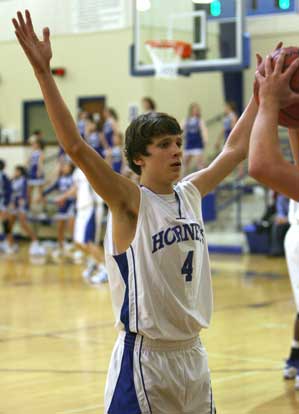 At that point, the Hornets had been cited for 14 fouls to seven for Catholic. Neal, Cambron and center Scott Workman each had three.
But the Hornets' depth paid off, as did the continued defensive pressure in the second half.
While taking on the bigger Devan James in the box-and-one that the Hornets used in the third quarter, Bell also exploded offensively, scoring 9 of his game-high 16 points in the period.
The Rockets were within 26-23 after a 3 from Carson Case early in the third quarter. At the other end, Cambron had his shot blocked but Bell snatched the ricochet, scored and was fouled. The three-point play doubled the margin.
With Devan James bottled up and getting frustrated, Bell drove for a layup after Case misfired on another 3-point try. The 31-23 lead stayed that way for three minutes in the heart of the third quarter before Bell took advantage of a Catholic turnover for another layup.
Devan James took a lob inside to score with 1:25 left in the period but, before the quarter was through, Neal followed his own miss for a bucket then, following a steal by Bell, banked in a shot. Wilson and Bell forced another turnover and Bell took it to the rack again to make it 39-25 going into the fourth.
"Our mainstay has always been our defense and I think that's really what did it for us during our run in the third quarter," Wilson said.
Of the box-and-one against Devan James, Wilson related, "We went to that the second half. We did it just a little bit. They went to make an adjustment and, after that, we just played some of our regular defenses and keyed on him. We kind of figured out on the press, they were going through him and his brother so we kind of keyed on them in the press too and that's when the turnaround really happened."
James made a free throw to start the final period then didn't score again. In fact, the Rockets didn't score again until the final two minutes after the reserves had taken over the game.
In the interim, the Hornets went on an 8-0 run that included layups by Cambron and Bell, and free throws by Bell and Wilson.
HORNETS 49, ROCKETS 36
Score by quarters
LR Catholic 5 15 5 11 — 36
BRYANT 19 5 15 10 — 49
ROCKETS 36
Findley 0-1 3-5 3, Luther 0-3 0-0 0, Morse 0-0 0-0 0, D.James 4-8 2-5 12, Boardman 0-2 0-0 0, E.James 1-4 2-2 4, Onelawelu3-4 0-0 7, Harris 0-1 0-0 0, Case 1-7 2-2 5, Miller 1-1 0-0 2, Gunderman 0-0 0-0 0, Miller 0-0 0-0 0, Zurga 1-1 0-0 3. Totals: 11-32 9-14 36.
HORNETS 49
Rayburn 2-3 2-3 8, Bell 7-8 2-5 16, Hall 0-3 0-0 0, Workman 0-1 0-0 0, Hewitt 3-4 0-0 7, Neal 3-6 0-2 6, Cambron 3-6 0-2 6, S.Davis 1-4 3-4 6, Wilson 1-4 3-4 6, McKissock 0-0 0-0 0, Ja.Davis 0-0 0-0 0, Privett 0-0 0-0 0, Salas 0-0 0-0 0. Totals: 19-36 7-16 49.
Three-point field goals: Little Rock Catholic 5-14 (D.James 2-3, Case 1-4, Onelawelu 1-1, Zurga 1-1, Luther 0-2, Findley 0-1, Boardman 0-1, E.James 0-1), Bryant 4-8 (Rayburn 2-2, Wilson 1-3, Hewitt 1-2). Rebounds: Little Rock Catholic 23 (D.James 6), Bryant 23 (Hall, Bell 6, Neal 4). Turnovers: Little Rock Catholic 15, Bryant 11. Team fouls: Little Rock Catholic 18, Bryant 17.