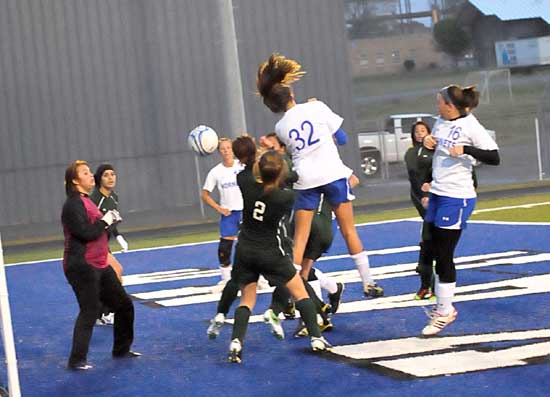 By Aaron Shuttleworth
Photos by Kevin Nagle
164 miles. That's how far it is from Bryant Hornet Stadium to[more] Van Buren. 164 miles the Van Buren Lady Pointers had to reflect on a 7-0 loss to the Bryant Lady Hornets. That's a long drive.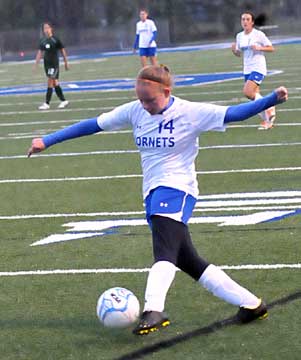 Kaitlin Gaiser started off the night for the Lady Hornets with a crossing shot from 13 yards out that hit off the top rail. At 34.02 from 9 yards out, she shot again. This time, it saw the back of the net on the left side.
The pressure the Bryant girls were putting on the Lady Pointers was outstanding. The ball did not get into the Bryant side until 31:55. And when it did, it was back out. The first time the Lady Pointers threatened Bryant was at 28:57. That's 11 minutes and 3 seconds later. It takes some fast drivers (my wife) less time to get to the mall. Chalk that up to great midfielders and defenders.
Tarra Hendricks had a free kick at 29:22 from 26 yards that went into goal. She had a corner kick at 24:13 that Rori Whittaker headed in from four yards out. At 23:02, Hendricks struck again from 22 yards out when the Lady Pointer keeper tried to stop the ball but it bounced off her and into the goal.
Victoria Rose had a free kick at 19:40 in the first half but it was stopped by the Lady Pointer wall. At 16:04, the Lady Pointer keeper almost had another goal get by her but she scrambled and she got it covered.
McKenzie Adams, Madison Land, Taylor Bryant and Katie Moore were just all over the Van Buren defenders. Rose took a corner kick at 13:00 but a Lady Pointer pushed off a Bryant player and received a yellow card. Moore took the penalty kick but it was stopped by the keeper.
At 8:05 a flurry of three shots came in and the Lady Pointers stopped them all. Shelby Gartrell took the ball 30 yards herself and shot but just went wide right.There are a few things in sports that are hard to do. Like bowling a 300, a hole in one in golf or pitching a perfect game.
There is also the hat trick. Thursday night, Tarra Hendricks got the hat trick. And it fits her just right. The shot that sent her into that special category came at 37:21 in the second half from 28 yards out.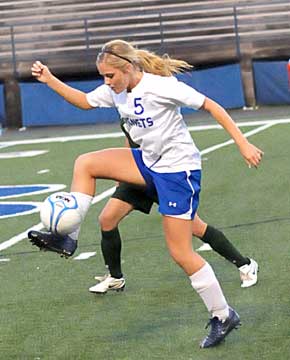 The next goal came from Erica Selig at 34:14 from 23 yards away. At that point the sportsmanship rule came into affect and the time was cut into half with 17 minutes left in the game.
Keeper Kaitlyn Miller was replaced by Kristin Cartwright. Miller left the game with no saves but that's because she had nothing to save. She did get some playing time. She sent a rocket of a ball just wide left of the goal and really brought out the cheers in the crowd.
The new keeper Cartwright held her own though. She had two saves. Taylor Matthews, Addie Chaloupa, and Kara Taylor got some time helping the new keeper in the goal. Callie Schalk and Madison Land were there for support as well.
The last goal of the night came from Jacie McMahan at 4:18 on a nice header 5 yards away.
It was a very dominating performance by the Lady Hornets, now 9-5 overall and 2-1 in the 7A/6A-Central Conference, and a boost in confidence as they strive for their goals, ultimately to become the State champions. They need to carry this win over into the coming practices and games because this type of playing can be duplicated. They will get their chance Tuesday, April 5 when Russellville comes to town.