By Rob Patrick
Photos by Kevin Nagle
The Bryant Lady Hornets junior varsity team scored the first 13 points of their three-quarter game[more] against the Mount St. Mary Academy Belles JV Tuesday night then never led by less than 9 on the way to a 32-15 victory.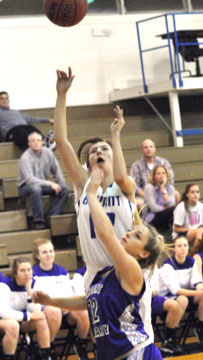 Destiny Huffman scored 16 points and Madeleine Baxter 10 in the victory which improved the Lady Hornets to 2-0 on the season. Erica Smith, Jayla Anderson and Destin Nichols each had 2 points.
Huffman started the opening run with a short jumper about a minute into the game then neither team could find the range for over four minutes. Baxter broke the ice with a 15-foot jumper and, off a turnover, drove for a layup to make it 6-0 in short order. Another Mount turnover led to a shot jumper by Smith that made it 8-0 going into the second quarter.
As the the new period got under way, Baxter was fouled after taking a nice feed from Anderson. Her free throws made it 10-0. Another turnover was cashed in, moments later, by Huffman, who drained a 3, forcing a Belles' timeout.
Bailey Weinsinger scored inside for Mount St. Mary's first points with 6:49 left in the second quarter. Jaynee Arroyo drove for a basket off a Bryant turnover and the Belles had pulled within 13-4.
Baxter and Weinsinger traded free throws to make it 15-6 but when Anderson fed Huffman for a basket with 5:37 left in the second quarter, the Lady Hornets were head by double digits for good.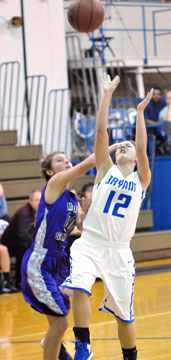 Bryant led 23-9 at the end of the period then Mount's Cassie Sloan hit a 3 to start the third quarter, cutting the margin to 11. After that, however, the Belles didn't score for almost four minutes.
In the interim, Huffman hit two free throws, Nichols scored on an inbounds play and Anderson added a free throw to make it 26-11. Huffman scored on a follow shot then, after a steal by Anderson pitched in a pair of free throws as the lead grew to 30-11.
Bryant JV is scheduled to return to action on Monday, Nov. 26, at home against Benton.