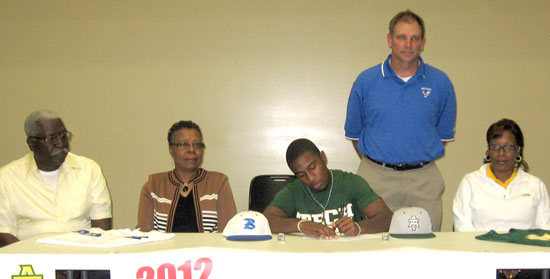 By Rob Patrick
While the 2012 run to the Class 7A State baseball championship was a tremendous season for[more] the Bryant Hornets as a whole and for several players individually, it was both exhilirating and frustrating for junior outfielder Marcus Wilson.
He came into the campaign after a basketball season in which he was a cornerstone for a Hornets team that put together a landmark run to the State semifinals, the best season for the program in nearly 30 years. He had, however, battled through the later stages of that season with a turf toe.
The injury limited him as he joined the baseball team following the hoops season. But that was just the start of the adversity.
"My first varsity game out there for baseball I got into a collision and had a concussion," he recalled Tuesday. "I was out for a while then my first game back I got another concussion. That put me out for almost the whole season."
While he joined his teammates in celebrating the State title, Wilson figured to be looking forward to the American Legion season in the summer for a fresh start, a chance to play healthy and on a regular bases.
"I just worked really hard, kept grinding and kept grinding," he said.
Plugged into left field by Bryant Black Sox manager Darren Hurt, Wilson gradually found his stroke at the plate then he got hot at just the right time.
"In District for Legion, I felt like I was clicking," he related. "I started seeing the ball really good. I just had all the confidence in the world. I felt like nobody could get me out. I was swinging it really well."
The Sox won District, beating out the two-time defending State champion (and District host) TEXAR Razorbacks, who boasted a bevy of college players and high school stars from all over southwest Arkansas and northeast Texas. That earned them a trip to the Senior Legion State Tournament.
For the first time ever, Bryant teams won both the State high school title and the State Legion crown in the same year. And Wilson played a big part in it, batting a scorching .579 (11 of 19) in the State Tournament and earning the award as the event's top hitter and finishing runner-up to teammate Hunter Mayall for the tournament MVP award.
"I felt really good about that," he stated.
"He did a tremendous job," agreed Hornets head coach Kirk Bock. "This spring, he's going to be an everyday player for us and hopefully he'll have the same spring that he had last summer offensively. Really, it was amazing at the end of the year."
So eye-catching, in fact, that college coaches in attendance at the Legion State tourney took notice. A process started then concluded Tuesday when Wilson signed a letter of intent to continue his baseball career and education on scholarship at Arkansas Tech University in Russellville.
"They gave me a call after the State championship game for Legion and asked me if I was interested," Wilson explained. "We set up a visit and went and I worked out with them. I got acquainted with the team real good and the coaches are really cool. It's kind of like the team here (at BHS) and the coaching staff here and the work ethic is kind of like ours. It's a hard-nosed work ethic and I really like that.
"After the workout, they offered me a full ride," he continued. "That's what my granddad has been harping on me about ever since I started playing high school ball. If I can get me a full ride, he'd be happy. I did it for my grandparents and my family."
Fittingly, Wilson was joined by his grandparents Willie and Mary Alexander along with his mother Valoria Wilson at the signing.
There were others that showed interest, Wilson acknowledged. "The UCA coach came up to me and talked to me about getting a visit up there. And I talked to the Arkansas State coach, and a couple of JUCO's, — junior colleges — asked about me and gave me calls.
"When I visited Tech, I felt like that was the right place for me to go, that it was where God was telling me," he added. "Without God, I wouldn't be where I'm at right now."
Bock said he expects Wilson to not only excel this spring but in college as well.
"They're going to get a guy that I think has an opportunity to start for four years, play a lot for four years," the coach stated. "He's got speed. He's got good baseball knowledge.
"Like everybody, the skills need to get a little bit better but, you know, he's got a great mindset and a great work ethic and he's got a knowledge of the game," Bock continued. "A lot of times, you don't get all those things with high school kids coming out. JUCO kids you tend to but not a high school kid."
Wilson wound up hitting .374 for the summer (37 of 99), fourth on the Sox team after getting to the plate just six times in the spring because of the injuries.
He said he plans to study Kinesiology at Tech with designs on becoming a coach.