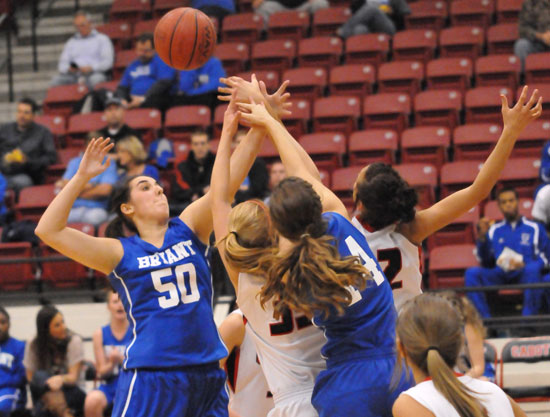 Photos by Kevin Nagle
By Rob Patrick
CABOT — The Bryant Lady Hornets were coming off their most impressive win of the[more] season over the West Memphis Lady Blue Devils at the Wampus Cat Invitational on Saturday and they figured to be primed six days afterwards to take on the defending Class 7A State champion Cabot Lady Panthers on Friday night.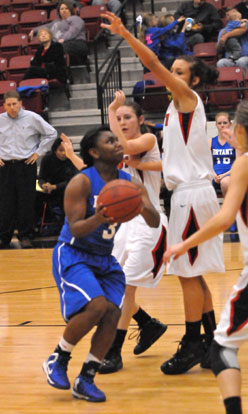 Actually, this year's version isn't quite up to the same standard as last year's — a team that overwhelmed the Lady Hornets 68-34 on the same court — but the Lady Panthers returned two particularly good players in Jaylin Bridges and Eliot Taylor. Lady Hornets head coach Brad Matthews had even devised a special defense for the duo.
But Taylor wasn't dressed out for Friday's game, which actually appeared to deflate the Lady Hornets some, not to mention the fact that their special defense had to be scrapped.
Neither team, in fact, looked very inspired for most of the first half. But, with the game tied 12-12, Cabot put together an 8-2 run to end it then started the third quarter with an 11-1 run and the Lady Hornets never really recovered as the Lady Panthers went on to win 47-34.
When they struggled some from the outside early on, the Lady Hornets, as usual, tried to attack the basket. They've often done that this season and either scored or got to the free throw line. But they let 'em play inside. It got physical and, on their moves to the hoop, the Lady Hornets were knocked off stride, had their shots blocked or both. Through three quarters, they only shot six free throws.
It was the same on both ends. Cabot wound up shooting just four free throws in the game.
Still, it took its toll on the Lady Hornets. For the game, Bryant shot just under 26 percent from the field (9 of 36) though they were able to get to the line in the fourth quarter, hitting 8 of 11. But it was too little too late as Cabot had pushed its lead out to as much as 17.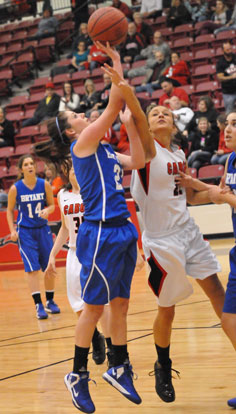 "They're a little bit taller with long arms and I think that's why we struggled to finish tonight," said Matthews of the Lady Panthers' defense. "We didn't do a good job attacking them to where we got to the foul line. I thought we settled and avoided contact and tried to shoot around them and over them instead of getting through them. The refereeing tonight was as good as we've had all year.
"There's going to be nights like that," he added. "We've just got to make sure we defend better on nights like that. We've got to make sure we execute better on nights like that. We've got to make sure we get to the free-throw line more on nights like that, limit their transition on nights like that.
"Every team has those," the coach noted. "We didn't shoot it well but we're not the first basketball team not to shoot it well on any given night. On nights you don't shoot it well, you've got to make sure that other stuff's not just good but really good.
"We never really could make a run at them," he concluded. "I always felt we had a run in us but we never could string together baskets."
Courtney Davidson led Bryant with 11 points but 7 of that came in the fourth quarter. Logan Davis added 9, Dezerea Duckworth 8, Peyton Weaver and Whitney Meyer 3 each.
Cabot was led by a pair of forwards. Alyssa Hamilton finished with 16 points and 12 rebounds. Ally Van Enk added 12 points. Meanwhile, Bridges got into early foul trouble and wound up setting up her teammates more than scoring. She had 3 points.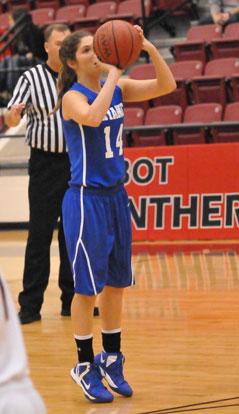 The Lady Hornets started pretty well, holding Cabot to just 2 points for over half the first period. But they were only able to muster a 6-2 lead out of that defensive effort. Davis drove for the opening hoop and Duckworth added a short pull-up jay in the lane for a 4-0 lead. Davis followed a basket by Cabot's Abbey Allgood with a steal and a trip to the free-throw line where she converted twice to make it 6-2.
Van Enk scored off the offensive glass but Davidson got her first basket on a short jumper to make it 8-4 with 1:42 left in the opening quarter.
Hamilton, however, scored the last two baskets of the quarter to tie it at 8.
And it was tied at 10 and 12 before Cabot strung together 8 straight points. With :17 left, Meyer grabbed an offensive rebound and scored to make it 20-14 at the half.
But any momentum that figured to produce for Bryant was dashed when Cabot held the Lady Hornets to just a free throw by Meyer over the first 5:11 of the third quarter.
The lead grew to 31-15 before Weaver nailed a 3 to end Bryant's scoring drought.
But Cabot led 37-21 going into the fourth quarter. Davidson interrupted with a three-point play to start the final period but consecutive baskets by Van Enk gave the Lady Panthers their largest lead at 41-24.
The final margin wound up being as close as the Lady Hornets could get after that as they closed with a flurry. Davis hit a 3 then Davidson and Duckworth converted free throws at the end.
Now 5-5 on the season, the Lady Hornets close out their pre-Christmas schedule this Friday at Texarkana, Texas.
LADY PANTHERS 47, LADY HORNETS 34
Score by quarters
BRYANT 8 6 7 13 — 34
Cabot 8 12 17 10 — 47
LADY HORNETS 34
Player fg-fga ft-fta reb fls pts
o-d-t
Duckworth 2-10 4-5 1-4 5 2 8
Davis 3-9 2-2 0-2 2 1 9
Weaver 1-2 0-0 0-2 2 3 3
Davidson 2-10 7-9 2-2 4 3 11
Meyer 1-2 1-2 2-3 5 0 3
Scarlett 0-0 0-0 0-0 0 0 0
Anderson 0-0 0-0 0-2 2 1 0
Murphy 0-0 0-0 0-0 0 0 0
Smith 0-2 0-0 0-1 1 0 0
Team 1-0 1
Totals 9-35 14-18 6-16 22 10 34
LADY PANTHERS 47
Player fg-fga ft-fta reb fls pts
o-d-t
Bridges 1-6 0-0 0-0 0 3 3
McWilliams3-6 1-2 0-2 2 2 8
Hamilton 7-13 2-2 6-6 12 0 16
Allgood 3-5 0-0 2-4 6 3 6
Van Enk 6-11 0-0 3-1 4 2 12
Wilson 0-3 0-0 2-0 2 2 0
Patterson 1-3 0-0 0-4 4 1 2
Attendorn 0-1 0-0 0-0 0 1 0
Jones 0-0 0-0 0-0 0 0 0
Thompson 0-0 0-0 0-0 0 1 0
Wise 0-0 0-0 0-2 2 1 0
Team 0-3 3
Totals 21-48 3-4 13-22 35 16 47
Three-point field goals: Bryant 2-10 (Davis 1-5, Weaver 1-2, Davidson 0-2, Duckworth 0-1), Cabot 2-9 (Bridges 1-5, McWilliams 1-1, Van Enk 0-2, Wilson 0-1). Turnovers: Cabot 16, Bryant 17.