By Rob Patrick
Photos by Kevin Nagle
CABOT — After being tied at the end of a quarter, the Bryant Hornets junior varsity team found[more] itself trailing 15-7 late in the second. Cedarrian Crosby hit a driving jumper, made a steal and John Winn hit the offensive glass for a bucket that had them back with 15-11 against the Cabot Panthers JV Friday night.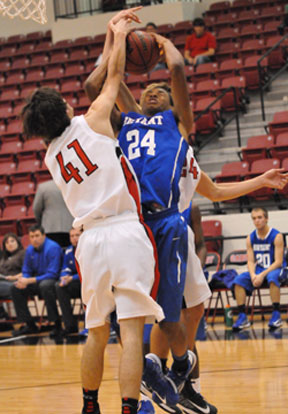 But Cabot scored the last 6 points of the half then the first 6 points of the third quarter and Bryant was never as close again. The Panthers built as much as a 20-point margin on the way to a 48-38 win.
Brushawn Hunter led Bryant with 13 points. Kevin Rudd added 9, Crosby 8 and Ryan Hall 4. Winn had 2 with Ketrick Wilson and Jaylen Peterson adding a free throw apiece.
Bryant's scoring drought went from Winn's basket with 2:01 left in the half and two free throws by Hall with 5:12 left in the third quarter. Still, the Hornets were within 26-13 after those free throws.
Cabot scored then Hunter drove the baseline for a basket. And when Wilson added his free throw, the margin was down to 12 with 3:26 left in the third quarter.
After a timeout, the Panthers put together back-to-back baskets before Hunter came through with a three-point play with :32.8 to go.
The Hornets were down 32-18 at that point but when the Panthers hit a 3 in the final seconds, the margin was 17 points.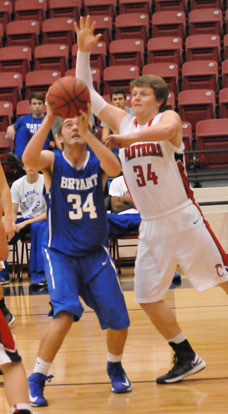 The margin grew to 44-24 by the 2:44 mark of the final period then Bryant closed with a flurry. A running jumper by Rudd initiated a 14-4 finish. Hunter hit a 3 then took a feed from Davonte Howard that resulted in a three-point play. In the final minute, Rudd hit a 15-footer, Crosby made a steal and a layup and Rudd canned a jumper in the lane to set the final score.
The Hornets' JV will play again on Friday at Texarkana, Texas.