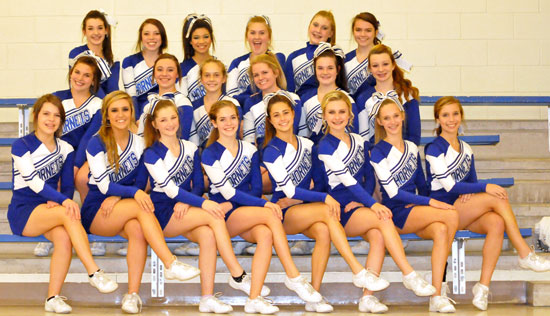 Photo by Kevin Nagle
The Bryant Freshman Cheerleaders just finished an outstanding 2012 competition[more] season.
They placed first in the 7A Division at the 2012 Benton Cheer Invitational and first in the 7A Division and won Best Stunts at the 2012 ACCA Mayflower Cheer Classic.
In addition, they placed first in the 7A Division and won the overall Grand Champion award at the 2012 Tiger City Classic, which means they were given the highest score out of all 14 teams that competed.
Members of the team are Allie Mack Atkinson, Mattie Bunch, Jordyn Chapin, Jamie Cheek, Kynlee Cunningham, Emily Davis, Morgan Dobbins, Blakelee Gray, Ashley Groves, Sydney Henjum, Haley Hood (Captain), Alexys Kuchinski, Maddy Laisure, Abby McGee, Shayla McKissock (Co Captain), Maddie Murphy (Captain), Sydney Reynolds, Jordan Sawyer (Co Captain), Kayley Smith, Maddy Toler and Courtney Walls.
The squad is coached by Sharon Brown.