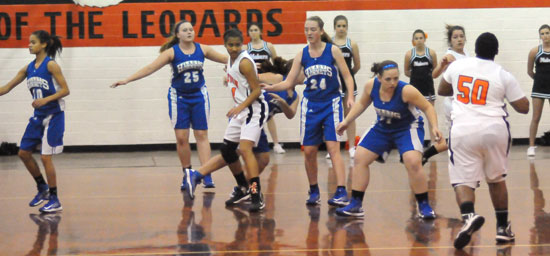 By Rob Patrick
Photos by Kevin Nagle
MALVERN — It's like the chicken and the egg conundrum: With winning comes confidence or[more] with confidence comes winning.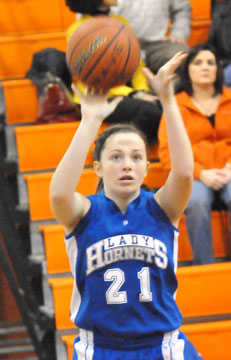 Whichever came first, the Bryant Lady Hornets freshman team has got both going right now as they followed up a tournament championship at Lake Hamilton last week with a 36-18 victory over the Malvern Lady Leopard Cubs on Monday, Jan. 7, in a game that wasn't even that close. The Lady Hornets had the Lady Cubs overmatched as they built as much as a 20-point lead. Everyone played and nine different players contributed to the scoring as Bryant won its fourth game in a row.
Four in a row at a very good time, in fact, as the Lady Hornets embark on Central Arkansas Conference play this Thursday when they host the Cabot North Lady Panthers.
Skylar Davis led the team with 9 points. Britney Sahlmann added 6 and Annie Patton 5. Kara Moser and Carolyn Reeves finished with 4 each while Rachel Miller, Anne Marie Keith, Anna Turpin and Anna Lowery tossed in 2 apiece.
The Lady Hornets broke out to an 8-2 lead with Sahlmann accounting for 4 of those early points.
After a Malvern basket with 1:49 left in the first quarter, Bryant reeled off a 9-0 run, sparked by Davis' 3. Moser followed with a 15 footer from the wing to make it 13-4 going into the second quarter. Reeves hit a driving jumper an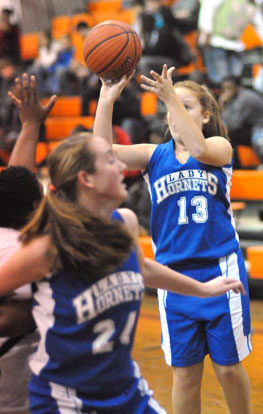 d banked in a 12-footer to complete the surge.
Over the last four minutes of the half, however, the Lady Cubs held Bryant to 2 points, a basket by Patton on a jumper from the left wing. That enabled Malvern to cut the lead to 19-11 at the half as Bryant head coach Nathan Castaldi, who coached at Malvern before coming to Bryant three years ago, mixed and matched his lineup.
The Lady Cubs scored the first basket of the second half to get within 6 but then the Lady Hornets held them scoreless the rest of the third quarter, putting together a 14-0 run with six different players producing points. Patton hit a baseline jumper, Davis fed Lowery for a 5-footer, Sahlmann hit the offensive glass for a hoop, Davis made a steal and a layup then fed Turpin inside to make it 29-13 going into the fourth quarter.
Keith drove from the left wing for a layup to keep the run going. She then took a charge. Later, Davis canned a 15-footer to make it 33-13. Taylor Hill made a steal but the Lady Hornets were unable to take advantage and, with 3:04 left in the game, Malvern scored to end a nearly nine minute drought.
Patton hit a free throw and Miller knocked down a jump hook from the post to complete the Bryant scoring.